Pool equipment

Pool lighting, projectors and bulbs...

LED ASTRAL LUMIPLUS multicoloured pool projector
LED ASTRAL LUMIPLUS multicoloured pool projector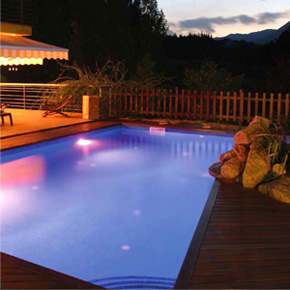 Recommended retail price 2023 starting from :
Our Price starting from :
Ref. Abatik 001795
Ref. Provider 45079RGBNEW
LUMIPLUS LED bulb multicoloured without alcove
LED bulb for pools
Easy installation in PAR56 alcove
Powerful 1100lm beam
Low energy consumption
Multicoloured lighting
Push button, receptor modulator and remote control available on option
In stock
AstralPool presents the LumiPlus range, innovating lighting system by LED.

Personalise your pool, create coloured atmospheres, enjoy your pool in a different way, everyday.

With LumiPlus, you can program an automatic sequence to correspond with your desired atmosphere.

Simple and easy to install, LumiPlus lasts 100 longer than a classic bulb, consumes up to 80% less energy, programmed by remote control.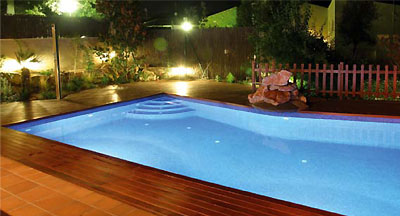 When you choose LumiPlus, you can play with colours, creating your individual lighting atmosphere. By making colour combinations you can create agreeable and diverse scenarios, soft, harmonious colours contribute to well-being and relaxation.
Technical details
The LumiPlus system uses Luxon LEDs, a guarantee of quality. The lifespan of Luxeon LEDs is 100 000 hours compared to a conventional bulb that has a lifespan of 1000 hours.
You can use your existing installation ! No need to change cables or transformer - With the new PAR-56, you can simply change the existing bulb with a LumiPlus LEDs.
The Lumiplus does not require maintenance.


LED stands for "Light Emitting Diode". This technology was developed during the 60's and was recognised as THE TECHNOLOGY of the future. LEDs are generally used in electronic equipment, games, domestic appliances, road signals etc. In general, LEDS are low lumen.
High lumen LED technology was first used in the automobile industry, and then, in a domestic context.
Light is created by electricity that passes through the LED. As there are no filaments, LEDs cannot burn or break. The result is a lifespan which is multiplied by 100 times greater than a conventional bulb coupled with reduced consumption.
Along with these advantages, is the efficiency of LED lamps in reflection to their performance compared to their consumption, lifespan and ease of use.
Technical characteristics
Index of protection
IP68 Class III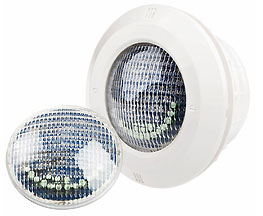 Pallet of colours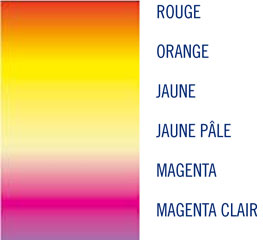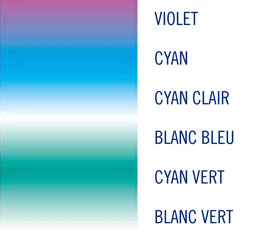 A LED that does not have the characteristics of a LED !
• Different types of LED's exist : High Power LEDs and low powered LED's (5lm). AstralPool only use Luxeon LEDs that have high power - 1W to 3W.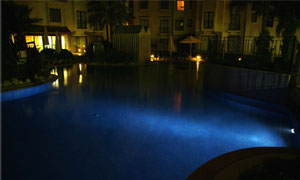 Lighting using LED PAR-56 - low luminosity (white)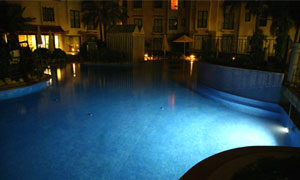 Lighting by LED PAR-56 LumiPlus high luminosity (white)
Push button option
• Button normally closed, commanding a maximum of 12 LED projectors : change of colour and sequence.
• 7 colours, 7 sequences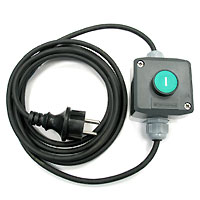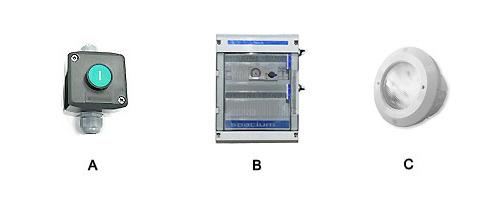 • Watertight box with connection cables.
The push button (A) is connected to the electrical cabinet (B) that distributes electricity to your pool (C).
Receptor modulator option
• Controls up to 15 projectors: start, stop, colour and sequence change, programmed stop.
• 12 colours and 9 sequences.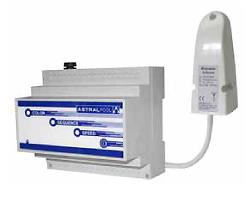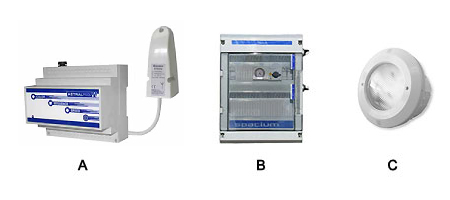 The receptor modulator can be programmed directly on the unit casing .
The Receptor modulator (A), is connected to the electrical cabinet (B) that distributes electricity to your pool (C).
Remote control
• The remote control can deactivate colours and sequences that you do not want.
• 12 colours + 9 sequences.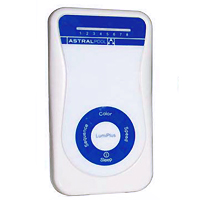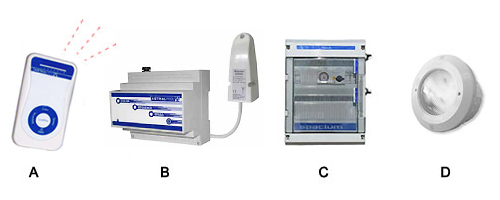 • The carrying range of the remote control is 100m, outdoors in a clear space.

• The remote control always prevails over the receptor modulator. To avoid interference, the remote control must be cut when the receptor modulator is being used manually.
The remote control (A), sends information to the receptor modulator unit ( B) which is connected to the electrical cabinet (C) which distributes the power supply required by the projectors (D).
The receptor modulator features a mobile antenna that betters the carrying range and communication of the remote control.
Installation advice
• We recommend the installation of a LumiPlus every 20m² of surface area.
• The LumiPlus PAR-56 is adapted to the majority of projectors on the market and does not require a modification of the cabeling or transformer.
Photos non-contractual
Price incl. VAT
Ask for a free quote led astral lumiplus multicoloured pool projector
Other product : LED ASTRAL LUMIPLUS multicoloured pool projector
Starting from 314 eur Including VAT.
Please fill in this form carefully. Our commercial service will handle your request promptly.
---
UK freephone hotline
Monday Friday 9.00 19.00, Saturday 10.00 18.00

---