Pool covers - pool covering solutions

Pool shutters

Net protection for pool shutters

PROTECTVOLET protective pool shutter cover
PROTECTVOLET protective pool shutter cover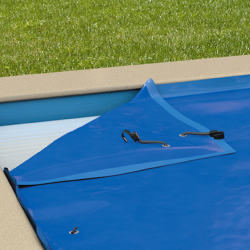 Recommended retail price 2023 starting from :
Our Price starting from :
Ref. Abatik 016960
Ref. Provider IVERNEA-BLEU
Protectvolet cover for pool shutter in blue
Protects your pool shutter from UV rays and dirt,
Limits the intrusion of leaves and debris in the pool,
Compatible with all rectangular shutters of any dimension,
Fast and easy installation on shutter slats
In stock
A 10% surcharge is applicable to orders under 20m².
Cut for straight or trapeze formed stairs lesser or equal to 5M - Protectvolet
199.00 €
Cut for straight or trapeze formed stairs greater than 5M - Protectvolet
249.00 €
Cut for roman stairs lesser or equal to 5M - Protectvolet
229.00 €
Cut for roman stairs greater than 5M - Protectvolet
289.00 €
Leg cut - Protectvolet
99.00 €
Characteristics of the pool cover
PROTECTVOLET transforms your pool shutter surface into a winter cover: protecting the slats of your shutter from UV rays and the intrusion of dirt.
Adapting to your shutter without adjustment work using bungee fixations and clips.

Use
PROTECTVOLET is adapted to :
- Rectangular formed pools of all dimensions
- Above ground or immersed pool shutters
The Protectvolet features a peripheric grill that retains leaves. The cover's fine weave facilitates rainwater evacuation, avoiding the formation of surface water pockets.
Conception and installation
The cover is made to fit the inner dimensions of the pool. Stair cuts are available as an option.

This cover (A) is installed quickly using bungee fixations (B) that are attached directly to the slats of the shutter (C). Anchoring points on the pool surround are not required.

The covers light weight (260g/m²) enables easy manipulation.


Finitions

When ordering your PROTECTVOLET protective cover you must indicate which type of pool shutter you wish to cover, as there are several available finishes, depending on the shutter type :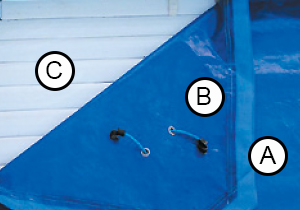 Above ground shutters without storage bench
- Eyelets on 4 sides
- Equally dimensioned, evacuation grill on 4 sides of the cover
Above ground shutters with storage bench or immersed shutter
- Eyelets on 2 lengths and 1 width
- Wider evacuation grill on 1 width
When ordering Protectvolet to cover an immersed shutter, the referent dimensions are the pool, excluding the shutter duct.
Technical characteristics
Canvas
260g/m² Opaque Polyethylene
Grill
PVC sewed on cover parameter
Fixation
Eyelets and bungee clip fixations supplied
Available colours
The Protectvolet is available in 4 colours : (
A
)Blue, (
B
)Green, (
C
)Light grey, or (
D
)Beige

Compatibility
PROTECTVOLET is only compatible with opaque PVC and solar polycarbonate slats.
PVC solar slats are not compatible for use
Warranty
2 years
Photos non-contractual
Price incl. VAT
Ask for a free quote protectvolet protective pool shutter cover
Other product : PROTECTVOLET protective pool shutter cover
Starting from 21.90 eur Including VAT.
Please fill in this form carefully. Our commercial service will handle your request promptly.
---
UK freephone hotline
Monday Friday 9.00 19.00, Saturday 10.00 18.00

---