Pool covers - pool covering solutions

Pool shutters

Net protection for pool shutters

WINTER ROLL net protection for pool shutters
WINTER ROLL net protection for pool shutters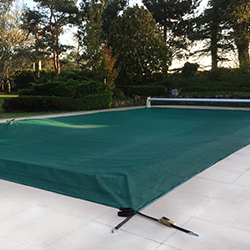 Recommended retail price 2023 starting from :
Our Price starting from :
Ref. Abatik 014298
Ref. Provider 424620
Winter Roll netted protection for pool shutter
Anti U-V, 280g/m² polypropylene weaved netting,
Possible cut for shutter legs,
Several colours available
In stock
WINTER ROLL price list
WINTER ROLL rectangular netted cover
Price per m²
9,00€ inc VAT
Leg cut for above ground pool shutters
+70€ inc VAT
Prices for following pool dimensions :
Inner dimensions (without overlap)*
Price for netting VAT inclusive**
* Anticipate an overlap of 100 cm on the length and width of the pool.
** Non-inclusive of transport costs.
Technical characteristics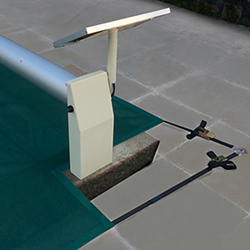 The WINTER ROLL net protection for pool shutters has been designed to efficiently protect your automatic pool shutter during the Autumn and Winter months against the intrusion of vegetal debris and leaves.
Easy installation, it adapts to your pool with only a few holes to drill.
The netted cover englobes the surface area of the pool plus a section of the peripheral pool surround by means of its overlap of 100cm in length and width.
The installation of the netting is effectuated by putting the lateral and longitudinal straps under tension. The ground anchorage is completed using retractable fixation pitons.
The protective netting retains dirt, insects, leaves etc.
To perfectly match the pool shape, the netted cover can be cut to follow the shape and position of the pool shutters posts.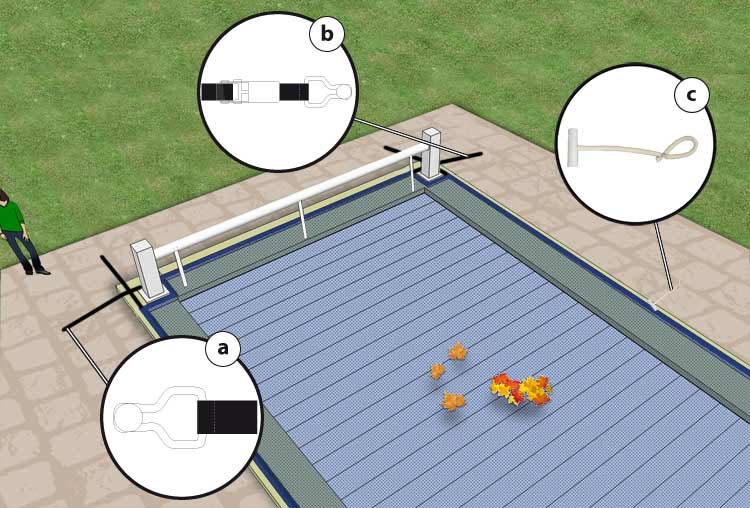 Strap with hem and hook (
a
)

Ratchet tensioner (
b
)

Cabiclic bungee tensioner (
c
) ensures the correct tension of the netted protective cover. The Cabiclic system is easy to use, flexible, it resists to tension, optimising lifespan. Complete with a plastic toggle that protects from rubbing on the pool surround.
Length of pool
Number of Cabiclic on each length of netted cover
Technical features
Netting
Anti U-V, 280g/m² polypropylene weaved
Maximum dimensions
All dimensions
Compatible with all pool types
Yes
Overlap requirements
100cm on the length and width of pool (being 50cm on either side)
Fixation
Hemmed strap anchored by retractable piton
Tension method
Ratchet tensioner and Cabiclic tensioner on the length of netting
Different available colours

Blue, green, grey
Warranty
2 years
Photos non-contractual
Price incl. VAT
Ask for a free quote winter roll net protection for pool shutters
Other product : WINTER ROLL net protection for pool shutters
Starting from 12.90 eur Including VAT.
Please fill in this form carefully. Our commercial service will handle your request promptly.
---
UK freephone hotline
Monday Friday 9.00 19.00, Saturday 10.00 18.00

---