Pool covers - pool covering solutions

Winter covers for pools

SAFETY BACHE ECO
SAFETY BACHE ECO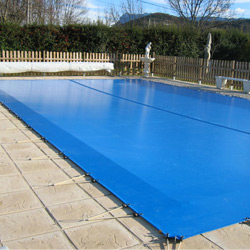 Recommended retail price 2023 starting from :
Our Price starting from :
Ref. Abatik 016949
Ref. Provider 400657
SAFETY BACHE ECO shape 1 opaque winter cover
For pools with maximum dimensions of 13 x 6m,
PVC canvas, density 580g/m2
Rainwater evacuation grid
Conforms to the norm NF P90-308
Delivery $
Complies with standard NF P 90-308
Important : for dimensions inferiour to 10m², surcharge + 25%.
description of available shapes (depending on your pool)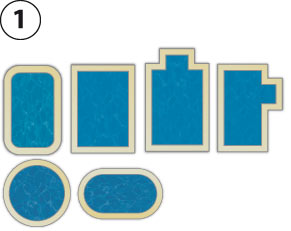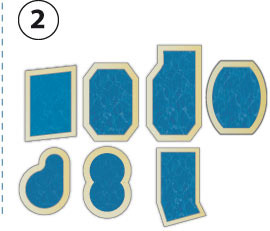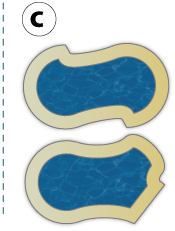 Available options
For dimensions lesser than 10m²
a surcharge of + 25%
Cut for above board filtering monobloc
+ 70€ TTC
Standard stair cut (lesser or equal to 3,70m in diameter)
+ 70€ TTC
Non standard stair cut
+ 90€ TTC
Description
The Safety Bache Eco protects your pool water out of season. This is the perfect solution to shelter and protects your pool water from weather conditions and pollution. Also avoiding the entry of dust, insects, leaves and limiting the proliferation of algae.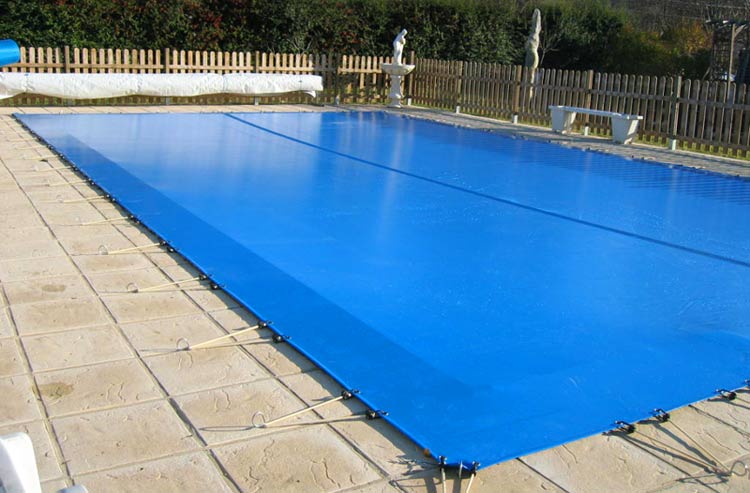 Security : Conforms to the norm NF P90-308. This cover has been tested and certified to ensure the security of a pool with maximum inner dimensions of 13 x 6.

Protection : Retains dirt, dust, leaves, insects etc. The opacity of the cover avoids the penetration of sun rays, therefore, the development of photosynthesis. The springtime startup of your pool will be eased.
Comfort : Light in weight, so its manipulations are facilitated. The central evacuation grid avoids water pockets forming on the pool cover.

Use

This cover adapts to all pools :
- Traditionally shaped or free form,
- With maximum inner dimensions of 13 x 6m.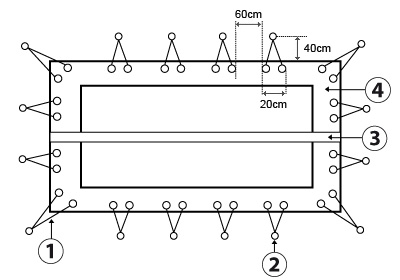 V bungee (
1
),

Crossed fixation (
2
),

Evacuation grid for rainwater (
3
),

Reinforced welded hem (
4
)
Available stair cuts
The cover can adapt to various forms of stairs : rectangular (1), trapeze (2), roman (3), semi-circulaire (4) or free form (5) (please consult us).

Stair cuts on option.
Features
Material
Polyester covered with PVC
Treatments
Anti UV, anti-cryptogamic
Maximum inner pool dimensions
13 x 6m
Overlap
70 cm on the length and width of the pool (being 35cm overlap on each side)
Fixations
Stainless steel crossed fixations
Bungee fixations
V loops in certified plastic
Guarantee
3 digressive seasons
Fixation systems

Peripheral fixation points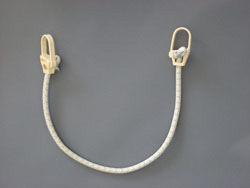 Certified plastic V bungee fixation.
Ground anchorage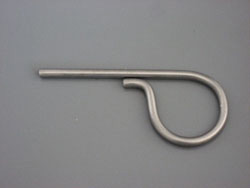 Stainless steel crossed fixation.
Available colours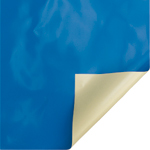 Blue with sand underside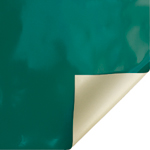 Green with sand underside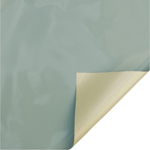 Almond green with sand underside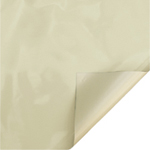 Sand with sand underside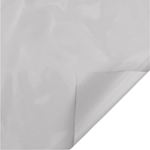 Grey with sand underside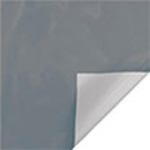 Carbone grey with sand underside
Precautions for use with your cover
The certificate of conformity NF P 90-308 is delivered with your cover.
It is imperative to rigorously follow all instructions for use to fully benefit from the guarantee.
Maintenance advice
Rainwater evacuation cavities must not be obstructed.
After removing your cover from the pool:
- Rinse in clear water and dry before storage.
General instructions
- The guarantee for a defective product is put into application after the product has been returned to the manufacturers workshop for analysis and verification.
- The transport costs for the return of a product are excluded from the guarantee.
- Damage caused to a product during transport is excluded from the guarantee. The client should establish written reservations with the transporter or refuse the merchandise on reception.
- The manufacturer reserves the right to decide if the product should be repaired or exchanged.
Excluded from the guarantee
- The non-respect of instructions for use of the cover, leading to abnormal degradation.
- All modifications to the cover without written accord from the manufacturer.
- Deterioration due to the use of a cleaning product other than the product recommended.
- Consecutive deterioration due to weather conditions : violent winds, snow > or = to 5cm, violent hail.
- Deterioration due to abrasive rubbing.
Deterioration due to abrasive rubbing, snagging, ripping, or inadequate water treatment and also colour fastness of the cover does not enter into the conditions of the guarantee.
Warranty
3 digressive winter seasons
Photos non-contractual
Price incl. VAT
Ask for a free quote safety bache eco
Other product : SAFETY BACHE ECO
Starting from 12.90 eur Including VAT.
Please fill in this form carefully. Our commercial service will handle your request promptly.
---
UK freephone hotline
Monday Friday 9.00 19.00, Saturday 10.00 18.00

---
Spare parts order
You are looking for a spare part for «SAFETY BACHE ECO» ?
Please click the button below. Our commercial service will handle your request promptly.