SAFETY WOOD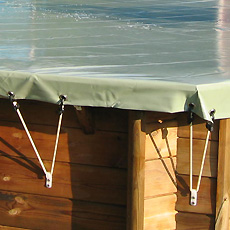 Recommended retail price 2023 starting from :
Our Price starting from :
Ref. Abatik 008067
Ref. Provider SEHS
SAFETY WOOD Shape A secure opaque pool cover
For above ground wooden pools with a surface area less than 60m²,
Opaque canvass avoiding photosynthesis,
Evacuation of rain water,
Secure fixation system.
Complies with standard NF P 90-308
In stock
| | | |
| --- | --- | --- |
| Compatible shapes of wooden pools | Shape A | Shape B |
| Price per m² VAT inclus | 11€ VAT inclus | 13€ VAT inclus |
For pool dimensions lesser than 10m², surcharge + 25%.
The
Safety Wood opaque secure pool cover
has been specifically designed for
above ground wooden pools
.
Conform to the norm NFP 90-308
offering ast and easy installation using a system of tensioners that are manipulated with ease. Adapted to a surface area
less than 60m²
.
Its opacity avoids photosynthesis and algae development, allowing limpid water and a reduction of the use of chemical treatment products. The springtime startup of your pool is, therefore, facilitated.
Available shapes of the above ground wooden pool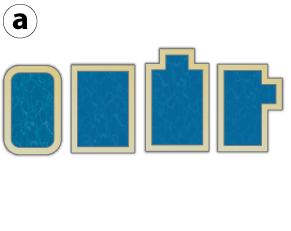 shape A : for rectangular above ground wooden pools...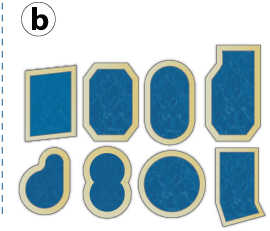 Shape B : for oval, round, eight-shaped, parallelogram...
Available colours for the pool cover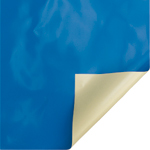 Blue with sand underside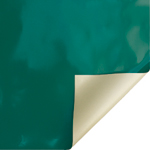 Green with sand underside

Almond green with sand underside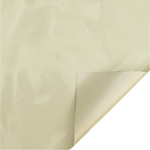 Sand with sand underside

Carbon grey with sand underside
Canvas :
- Canvas PVC 2 sided coated canvas with polyester frame, anti-UV treatment, anti-cryptogamic and anti-bacterial. Density 580g/m².

- Fabric chain resistance : 5700 kg/ml

- Fabric frame resistance : 4100 kg/ml

- Parameter finish : Hem

- Assembly : Welded

- Overlap : + 0,26 m from the outer dimensions of the pool (including pool border).

The fixations have been designed so one adult alone can remove the cover and avoid any risk? The tension of the cover takes into account simplified manipulation.
This system avoids the intrusion of leaves, dirt and lifting in the case of strong wind.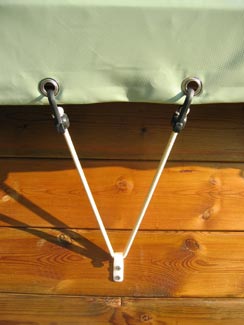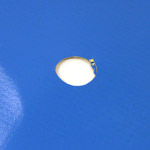 The
rainwater evacuation cavaties
indicate water pockets on the covers surface are avoided.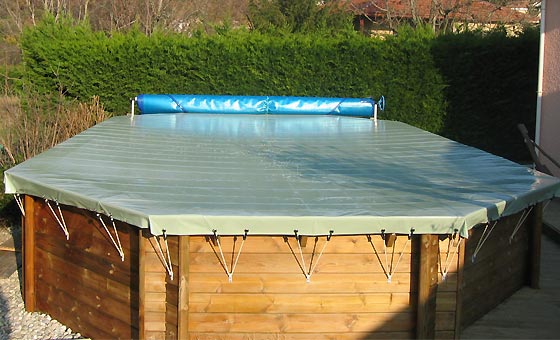 Safety Wood opaque secure cover
Precautions for use
It is imperative to rigorously follow all recommendations to benefit from the covers guarantee.
MAINTENANCE ADVICE
After removing your cover from the pool (we strongly recommend the use of a pool reel) :
- Rinse your cover in clear water and dry thoroughly before storage.
GENERAL ADVICE
- The guarantee for a defective product is put into application after the product has been returned to the manufacturers workshop for analysis and verification.
- The transport costs for the return of a product are excluded from the guarantee.
- Damage caused to a product during transport is excluded from the guarantee. The client should establish written reservations with the transporter or refuse the merchandise on reception.
- The manufacturer reserves the right to decide if the product should be repaired or exchanged.
EXCLUDED FROM GUARANTEE
- The non-respect of instructions for use of the cover, leading to abnormal degradation.
- All modifications to the cover without written accord from the manufacturer.
- Deterioration due to the use of a cleaning product other than the product recommended.
- Consecutive deterioration due to weather conditions : violent winds, snow > or = to 5cm, violent hail, lightening.
- Deterioration due to abrasive rubbing.
Deterioration due to abrasive rubbing, snagging, ripping, or inadequate water treatment and also colour fastness of the cover does not enter into the conditions of the guarantee.
Warranty
3 digressive winter seasons
Photos non-contractual
Price incl. VAT
Ask for a free quote safety wood
Other product : SAFETY WOOD
Starting from 13.69 eur Including VAT.
Please fill in this form carefully. Our commercial service will handle your request promptly.
---
UK freephone hotline
Monday Friday 9.00 19.00, Saturday 10.00 18.00

---