Material and equipment for your technical shelter

Electrical boxes for pools

Smart control multifunctional electrical box
Smart control multifunctional electrical box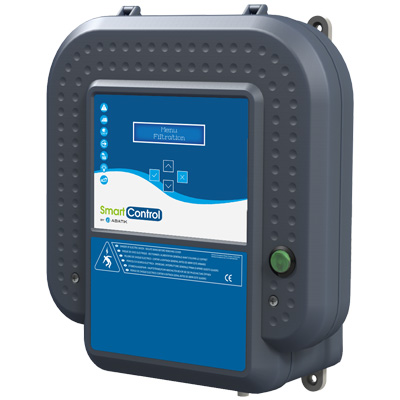 Recommended retail price 2023 starting from :
Our Price starting from :
Ref. Abatik 023364
Ref. Provider PF10Y560
Smart control 100W multifunctional electrical box
Centralises numerous functions linked to pool management,
Intelligent filtration management,
Programs pool lighting,
Multiple options

In stock
Smart control in detail

The electric box effectuates all required operation for optimised operation of your pool by centralising filtration, voltage supply and electrical distribution for various equipment.
Smart control
represents the new generation of electrical boxes. An innovating concentration of technology, regrouping and automating functions which before were managed by several systems. Smart Control saves time and energy.
Designed to simplify everyday maintenance for pool owners, using a quality product.
Smart Control is compatible with single and three-phase pumps.
As well as the functions offered by classic electrical boxes, this product offers the following solutions:
Fonctions
Automatic adjustment of trip switch
One fundamental setting in a swimming pool configuration is the compatibility between the thermal magnetic circuit breaker capacity and pump capacity.
When using Smart Control universal electrical box, the electronic trip switch adjusts automatically. The pool pump is protected and incorrect settings are avoided.
Intelligent pool filtration management
Pure, healthy pool water is capital for pool user comfort but can prove to be hard to balance. Varying temperatures all year round require filtration cycles to be permanently adjusted.
Smart control makes real energy savings by automating your filtration system.
Once you have selected your start time, the Smart Control sensor communicates with the electric box and automatically calculates the exact filtration time required.
There are four operational modes :
-
(ON)
: Continuous operation of filtration system without taking into account any other setting till you change from this mode.
-
(OFF)
:The electric box will not operate, regardless of information received till this setting is changed.
-
(PROG)
: Possibility to choose times of filtration cycles (3 programs are possible) using the programmable time clock.
-
(AUTO)
(thermoregulation) :
Smart control
optimises continuously the ideal filtration time depending on water temperature. You can program the start time and duration.
Basic recommendations advise 10h filtration per day. You are free to add or reduce the filtration cycle duration to adapt to your own pool configuration and requirements.
Examples of daily filtration cycles on automatic mode :

| | | | | | | |
| --- | --- | --- | --- | --- | --- | --- |
| Pool water temperature | 10° | 15° | 20° | 25° | 30° | 35° |
| Filtration time = 10h | 2h30 | 5h | 7h30 | 10h | 15h | 20h |
| Filtration time = 5h | 2h | 2h | 2h30 | 5h | 10h | 15h |
| Filtration time = 14h | 6h30 | 9h | 11h30 | 14h | 19h | 24h |
The system can detect the presence of a pool cover, automatically adapting filtration time if it is in use or not.
Daylight saving time is also factory set.
Frost protection
Smart control
integrates a frost protection system (which can be deactivated) active in automatic mode (AUTO) and program mode (PROG). It activates at an outdoor temperature of 1°C or 2°C. A temperature test is effectuated every 10mins, each hour.
- If the outdoor temperature is lower than 1°C or 2°C, filtration automatically starts to create water circulation and avoid freezing.
- When the temperature rises, frost protection automatically stops
- When the temperature is below 0°C, the pump is permanently in operation.
Supply voltage for lighting projectors and colour management

The following already existing projectors are compatible with Smart Control :
- If they are LED
- Classic projector bulbs up to 100VA. Over this reading, an additional box is available on option so these bulbs can continue to be used.

Smart control can manage most lighting systems, programming colours and sequences of LEDs installed in projectors using a 12V transformer. This equally applies to single colour or multicolour projectors.

A 4-way radio control is supplied with wall mount support.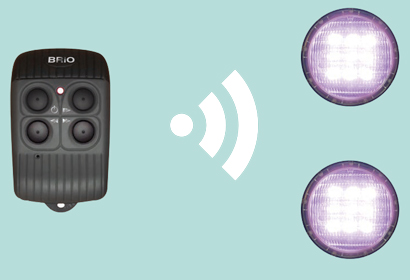 Four operational modes are available :
-
OFF
: Lighting is off
-
ON
: Lighting is on 24h/24
-
(PROG)
: You can pre-programme your lighting sequence using the timeclock.
-
(AUTO)
: Projectors are activated at nightfall for a duration of 4h.
Spare electrical socket with protection
Because it is always practical to have an available electrical socket available, the concept of the Smart Control features a spare, fully protected socket.
It is even possible for the equipment that is connected to the socket (for example, garden watering system) functions at the same time as the filtration cycle (ie "slave" operation, same start time, same cycle duration etc.).
Options
Option water level regulation
It is important that pool water is always at the correct level. In order to ensure this, 3 options are available:
a/ floater
: Smart Control detects lack of water but does not action pool water inlet
b/ 2 options that detect the lack of water and actions pool water inlet:

- for pools that use skimmers: 1 kit includes a floater, solenoid, connection and fuse kit
-for infinity pools: 1 kit including cable duct with 4 floaters, solenoid, connection and fuse kit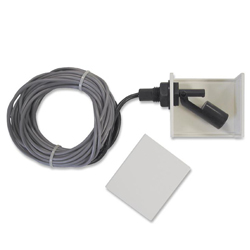 floater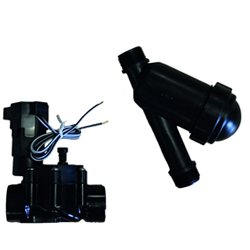 solenoid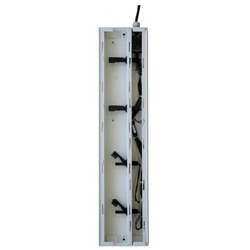 cable duct with 4 floaters
Available on option - distance management box

For optimal comfort of use, you can manage your box via the distance management system which can be installed, for example, inside your home.

Using this method, all programs and settings can be controlled from the comfort of your home. The distance management system can be used up to 1000m from the central Smart Control unit (wired connection).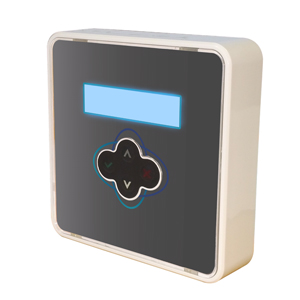 On option Smartphone app for distance management system
For even further mobility, the Smartphone application (available iOs and Android) is capable of using Bluetooth to manage up to 3 Smart control distance management boxes.
This option allows you to control the full range of settings available with Smart control: filtration, lighting, ...

Control panel
User-friendly and intuitive liquid crystal display panel, 4 touch buttons and 6 status indicators.

OK. Confirms program choice.

Return. Return during menu navigation, cancels without confirming modifications in progress.

Plus. Increases a value or selection a setting further up in the program menu.

Minus. Decreases a value or selection a setting further up in the program menu.
Technical reccomendations
Installation
Supply voltage
Single-phase 230V - AC 50/60 Hz
Electrical consumption
20W (electronic control + contacts)
Dimensions unit
350 X 290 X 150mm
Packed dimensions
395 X 300 X 162mm
Lighting projectors
12V 100VA
Radio control
4 frequencies 433.92 MHz
Maximum current for filtration pump
0.3A < In > 12.0A
Maximum current for socket
5,0A maximum
Maximum current for filtration + booster pump
1,3A < In > 16,0A
Maximum current for solenoid for pool water inlet
1,0A maximum
Maximum current for heating
Dry contact (25A maximum)
Total maximum current
16,0A maximum
Electrical protection

It is essential to install correct electrical protection for the Smart control.

Anticipate :

- An installation area sheltered from the rain, water and UV rays, further than 3.50 m from the pool edge

- Check that a short-circuit protection with a maximum amperage of 16A has been installed and is sufficient to power all of the equipment connected to the box.

- Check a 30mA differential protection has been installed and that it has a greater capacity than the short circuit protection.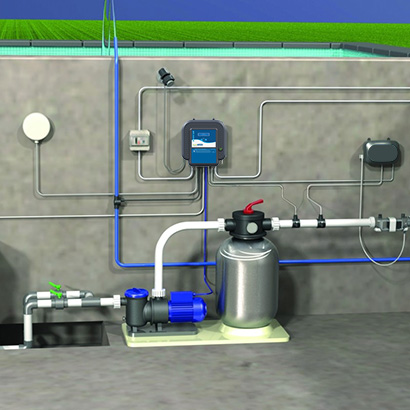 Smart control connection
Contents of package
- 1 Smart control multifunctional box
- The unit's temperature sensor is screwed into a 1/2'' paddle clamp. A 50 mm collar is also supplied.
- 1 "Brio" control to manage LED lighting with wall mounting kit and hardware for fixation (6 screws + 6 rawlplugs)
- 1 users manual
Warranty
2 years
Photos non-contractual
Price incl. VAT