Pool heating and dehumidification

Dehumidifiers for indoor pools

Dehumidifier Dantherm CD 400-18
Dehumidifier Dantherm CD 400-18
Your dehumidifier Dantherm CD 400-18 will lower the moisture content of air inside a room or other closed space. This monobloc unit will allow you to lower the humidity rate and keep it at the right level in your interior swimming pool for the bathers' comfort. Equipped with easy-roll casters, it can easily be moved according to your needs (technical room, hot tub spa, bathroom or utility room). It does not need any maintenance. It is economical and easy to use. Prevents mould, mildew and damp musty odours in your indoor swimming pool or living space.
Economical way of controlling indoor swimming pool humidity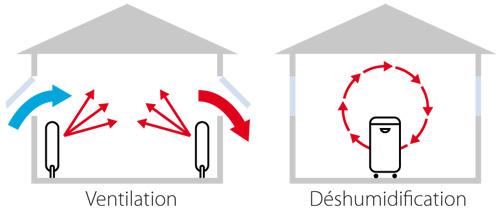 To obtain dry and healthy ambient air you have two solutions:
The most used method and also the most energy-consuming consists of heating the room first and opening the windows to let the humid air out.
Another solution consists of using air condensation dehumidifier which draws moist from air keeping the same ambient temperature. As they use the condensation principle to dehumidify and recirculate room air, the units use considerably less energy than conventional units based on heat and ventilation. It also protects your living space and your furniture from humidity. This solution is also more efficient and economical.
Functioning
Dantherm dehumidifier draws moist air in over a cold evaporator where the air is cooled to temperature below the dew point. The returned air is cooled and dry. It is to be installed in all covered swimming pools. Ideal for hot tub spas or any other humid space.
User friendly automatic full tank stop function.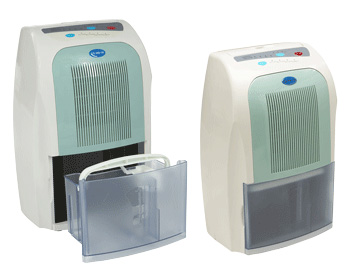 Dehumidifier DANTHERM CD 400-18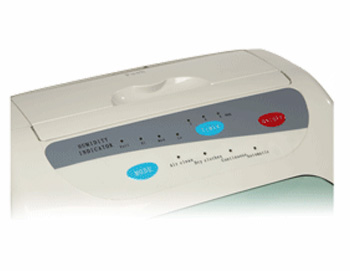 Control panel
Key features
Water level indication
Yes
Preset programme
2,4 or 8 hours
Protection indicator
IP 20
Noise level at 1 meter
48 dBa
Water tank capacity
4,5 liters
Dimensions (HxLxP)
575 x 380 x 225 mm
Main advantages
Efficient
Dehumidification capacity up to 18 liters/day *
Secure
Automatic overflow stop.
Aesthetic
Elegant and discreet
User-friendly
Transport handle and setting programme
* Dehumidification at 30°C - relative humidity at 80%.
Photos non-contractual
Price incl. VAT
Ask for a free quote dehumidifier dantherm cd 400-18
Other product : Dehumidifier Dantherm CD 400-18
At best price 399 eur Including VAT.
Please fill in this form carefully. Our commercial service will handle your request promptly.
---
UK freephone hotline
Monday Friday 9.00 19.00, Saturday 10.00 18.00

---
Spare parts order
You are looking for a spare part for «Dehumidifier Dantherm CD 400-18» ?
Please click the button below. Our commercial service will handle your request promptly.