Pool heating and dehumidification

Dehumidifiers for indoor pools

Teddington mechanical ventilation kit
Teddington mechanical ventilation kit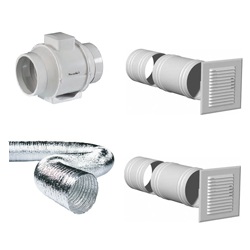 Recommended retail price 2023 starting from :
Our Price starting from :
Ref. Abatik 015023
Ref. Provider LS-V-KIT125
Mechanical ventilation kit for dehumidifier
Kit ensures air circulation in wet areas.
Specific hammam and other wet rooms
User-friendly,
Complete kit
Single phase 230V power supply
In stock
A mechanical ventilation kit ensures the circulation of air in indoor pools and hammams.
As they are very humid, these rooms require the installation if a dehumidifier to lower humidity by suctioning air and absorbing water vapour.
The ventilation system is complementary to the dehumidifier. Circulating air and ensuring its regular renewal.
Composed of an air suction grill
(1)
, a ventilator
(2)
, a flexible tube
(3)
and an air outlet grill
(4)
.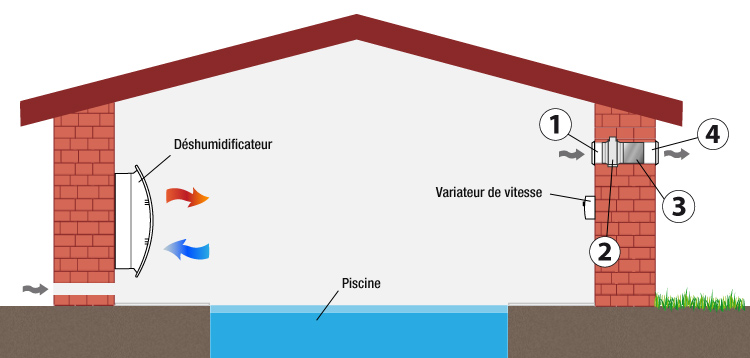 Why install a ventilation system in a hammam ?

For personal security : Renewing oxygen.
When the hammam is filled with vapour, the oxygen level is reduced. In the case that the hammam is not ventilated, the user can suffer from undesirable effects after 10 to 20 mins. Air renewal is therefore, mandatory.

Fog aspect in the hammam
When air is extracted from the hammam, cool air enters from the suction grill or the inlet under the door. This fresh air provokes a thermic change which whitens the vapour and creates a "fog" effect.

Drying the hammam : manage the development of mould.
After using the hammam, ventilation will allow the hammam to dry. This will avoid the development of mould and fungus due to humidity.
Why install ventilation in an indoor pool area ventilation ?

Preserving your equipment
Air circulation limits problems linked to the accumulation if humidity (staining, odours, mould, peeling paint…).

Hygine
Ventilation creates air renewal and avoids a low oxygen content, creating health issues such as sinusitis, articulation problems... This system equally eliminates chlorine vapours.
Contents of package
- 10 meters of sealed flexible tubing ø125mm resistant to high temperatures
- 1 aluminium air suction grill with 165 x 165mm rain screen
- 1 aluminium air outlet grill with 165 x 165mm rain screen
- 1 quick-fit polypropylene tube ventilator featuring an ABS heat and humidity resistant turbine
- 5 10 metre rolls of adhesive insulating tape to insulate the flexible tubing and limit condensation.

Speed variator
You equally have the possibility to link your ventilator to a speed variatior to adjust the ventilation extraction precisely, according to your needs.
This variator is composed of a sealed box (IP54) with progressive start and high-speed temporisation, returning to the set speed.
The start/stop button is separated from the flow adjustment as to keep the set speed.
User temperature
-10°C to +45°C
Flow control
Simple and continuous
Start
Progressive with high-speed temporisation, return to set point
Button
Start/stop seperated from flow adjustment
Dimensions
L155 xw98 x D72mm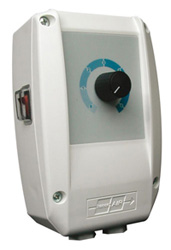 Warranty
2 years
Photos non-contractual
Price incl. VAT
Ask for a free quote teddington mechanical ventilation kit
Other product : Teddington mechanical ventilation kit
Starting from 589 eur Including VAT.
Please fill in this form carefully. Our commercial service will handle your request promptly.
---
UK freephone hotline
Monday Friday 9.00 19.00, Saturday 10.00 18.00

---
Spare parts order
You are looking for a spare part for «Teddington mechanical ventilation kit» ?
Please click the button below. Our commercial service will handle your request promptly.