Hammam equipment and material

Hammam lighting and accessories

Teddington distance control for hammam
Teddington distance control for hammam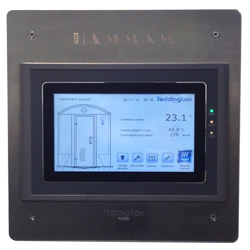 Recommended retail price 2023 :
Our Price :
Ref. Abatik 017411
Ref. Provider LS-TACTIL7
Teddington control panel tactile, 7-inch colour
Distance control panel with 7-inch tactile screen,
Multifunction display, to be built-in with stainless steel finishing plate,
Compatible with Teddington steam generators
In stock
Teddington, control panel for hammam, with distance management
The Teddington tactile control panel is user-friendly and intuitive enabling you to easily manage your hammam features. This control panel is compatible with the LS REG-7 multifunction display of Teddington steam generators.
Compact and designed to be built-in to an outer wall panel of your hammam or up to 100 meters from the hammam cabin, offering the following functions.
- program your hammam in advance,
- manage lighting and aromatherapy simultaneously,
- control ventilation enabling correct drying of the hammam interior.
The screen precisely indicates hammam temperature and steam production by means of easily understood pictograms.
Main functions

• Mode «hotel » avoiding the need to modify operational settings (only "hammam start" button remains visible).
• Timer, enabling the hammam to automatically go to reduced power at the end of the session.
• Eco button, to stop screen activity, lighting only when touched.
• Settings :
- Opening hours of an establishment for totally automated hammam operation (start, stop, lighting, aromatherapy and ventilation). At opening time, the hammam steam generator will commence operation at reduced power, enabling preheat.
- Eco mode (reduced power) when unoccupied.
- Ventilation and partial ventilation of hammam (during operation and non-operation) to force commencement of steam production.
- Secondary LED, Starlit ceiling lighting or service lighting to facilitate maintenance and cleaning of the hammam.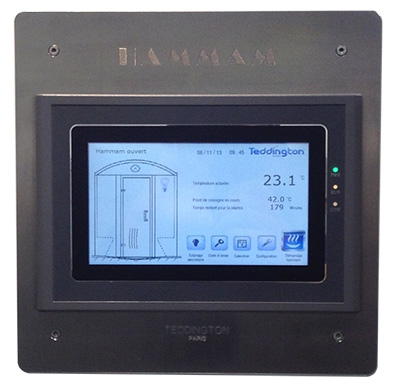 Features
Supply voltage
230V/24VCC via supplied power block
Multifunction display
Supplied
Compatibility
Teddington steam generators
Equipment supplied with tactile control
Finishing plate :
Stainless steel, engraved "HAMMAM"
Dimensions : 250 x H250mm
Patress system :
Stainless steel
Dimensions : 240 x H240 x P50mm
Multifunction display LS REG-7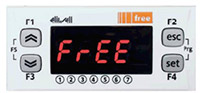 Warranty
2 years
Photos non-contractual
Price incl. VAT
Ask for a free quote teddington distance control for hammam
Other product : Teddington distance control for hammam
At best price 790 eur Including VAT.
Please fill in this form carefully. Our commercial service will handle your request promptly.
---
UK freephone hotline
Monday Friday 9.00 19.00, Saturday 10.00 18.00

---