Zodiac T3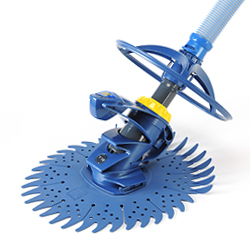 Recommended retail price 2023 :
Our Price :
Ref. Abatik 016810
Ref. Provider W70674
Zodiac T3 hydraulic pool cleaner
For above ground and in-ground pools measuring up to 9 x 5m,
Compatible with all pool shapes and finishes,
Cleans pool floor only,
Powerful suction capacity,
Operational with a minimum pump capacity of 1/2hp
In stock
The Zodiac T3 is designed so you can enjoy a high standard of pool cleanliness without labour intense maintenance.

Practical and easy to install, this pool cleaner is simply connected to the brush adaptor or pool skimmer.

This cleaner's diaphragm offers a powerful suction capacity, giving optimal cleaning to your pool.

How to use the Zodiac T3

The Zodiac T3 is adapted to :
- In-ground pools or above ground pools with rigid walls (steel or wood...), with a flat or slightly sloped bottom surface, measuring up to 9 x 5m,
- All pool shapes (rectangular, round, oval, free form),
- Compatible with all types of pool finish (liner, PVC, ceramic, fibreglass, concrete).


Installation and operation

This pool cleaner is ready to operate in just a few minutes. It simply connects to the skimmer or suction inlet using its Twist Lock (A) connection system. This patented system provides in easy connection ensuring maximum sealing.

The T3 requires a pump of a minimum 1/2hp in order to operate.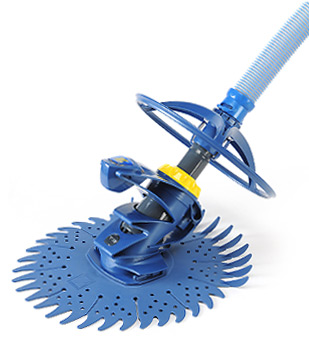 DiaCyclone suction
: ultra powerful suction power featuring the DiaCyclone diaphragm of the Zodiac T3, generating 40% more suction power than any other cleaner of the same type.
It's
finned disc
(
B
) and
anti-blocking wheel
(
C
) allows full, efficient cleaning of your pool.

Made from ABS, the Zodiac T3 is resistant to chemical water treatment products and temperature variations.
This unit is delivered with 10m of piping. Equipped with a pressure regulator ensuring a constant flow, and so, is compatible with all pump capacities.
Technical characteristics of the pool cleaner
Type of pool
Inground or above-ground, with rigid walls (steel or wood, for example...)
Compatible pool shapes
Rectangular, round, oval
Pool finishes
Liner, PVC, ceramic, fibreglass shell, painted concrete
Floor
Flat or slightly sloped
Maximum dimensions of pool
9m x 5m being 45m²
Trajectory
Random, pool floor
Possible to use pool when in use
Yes
Speed of trajectory
6,5m/min
Minimum capacity of filtration pump
1/2cv
Length of pipe
10 sections, 1m
Dimensions and weight of unit
L41 x W36 x H28cm / 1,18kg
Dimensions and weight of unit in its packaging
L102,8 x W41,5 x H22,4cm / 6,8kg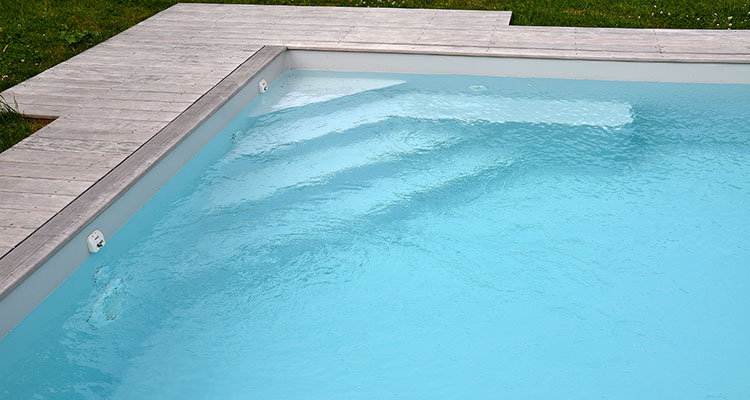 Cyclonic Leaf Catcher
The Cyclonic Leaf Catcher is an optional floating filter. It is placed between the T3 and the suction inlet. Using it's
Twist Lock
connection, installation is simplified.
This filter recuperates debris and leaves present in your pool water. The impurities are stocked in the leaf catcher container and so save your filtration pump from the risk of clogging. You therefore also save time with filter pump maintenance.
Operational system
Cyclonic suction
Installation
All types of piping (adaptors supplied : Twist Lock and standard pipes)
Dimensions
L23 x P19 x H28cm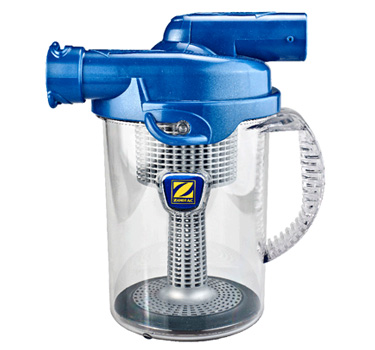 Warranty
2 years
Photos non-contractual
Price incl. VAT
Ask for a free quote zodiac t3
Other product : Zodiac T3
At best price 209 eur Including VAT.
Please fill in this form carefully. Our commercial service will handle your request promptly.
---
UK freephone hotline
Monday Friday 9.00 19.00, Saturday 10.00 18.00

---
Spare parts order
You are looking for a spare part for «Zodiac T3» ?
Please click the button below. Our commercial service will handle your request promptly.