Automatic pool cleaners

Hydraulic pool cleaners

Zodiac MX6
Zodiac MX6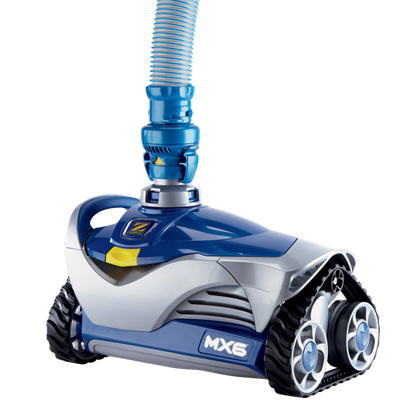 Recommended retail price 2023 :
Our Price :
Ref. Abatik 020367
Ref. Provider W79102
Zodiac mx6 hydraulic pool cleaner
Hydraulic pool cleaner for inground pools up to 10 X 5 m maximum in dimension,
For all types of pools and pool floors,
With flow regulator and suction zone expanded by rotor,
Cleans pool walls and floor, X-Drive navigation
Recommended pump : ¾cv
In stock
The MX6 hydraulic pool cleaner
It benefits from the
Zodiac
know how and technological expertise of the brand name. Using cyclonic suction provided by a powerful turbine to obtain optimal suction capacity. A rotor is situated under the unit, dislodging and sucking all dirt and dust found in its path. The
MX6 from Zodiac
is tractioned on indented tracks ensuring perfect adhesion and maximum stability. The
MX6
pool cleaner takes charge independently the cleaning of any type of pool, whatever its shape or finish may be.
Using random navigation, the Zodiac MX6 is
driven by X-Drive
, cleaning the pool as a whole.
Putting this cleaner into use is easy : It is is designed to be ready to operate. Just plug into the brush or skimmer adapter of your pool. The combination of the quality components used and the cleaners design ensure a long lifespan.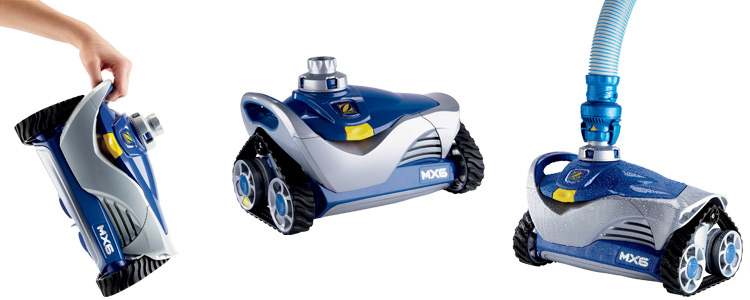 Why choose the MX6 ?
A total clean of your pool
The MX6 incorporates a pre-programmed navigation system called X-Drive, giving an automatic change of direction. Using this system, the totality of the pools surface is explored methodically without worrying about the shape of the pool floor.
Overcoming obstacles
Pool outlet valve, lighting projectors, pool border... Using indented traction tracks coupled with cyclonic suction power, the MX6 can overcome any type of obstacle.
Suction capacity
The MX6 also features a powerful suction turbine amplifying efficiency by means of the rotor situated on the undercarrige, ridding the unit of any clogging.
The surface treated by suction is enlarged as the MX6 guarantees a wide cleaning capacity with each passage.
Easy to use
The MX6 hydraulic cleaner is connected rapidly and easily onto a brush or skimmer adapter.
Delivered with Twist Lock patented piping. Twist lock piping ensures a perfect connection without losing suction power.
Flow regulator
To guarantee suction efficiency and lengthen the units lifespan, the MX6 is supplied with a flow regulator ensuring optimised flow for the good operation of the cleaner.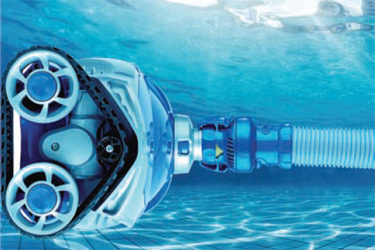 Total clean of the pool walls and floor using the X-Drive navigation system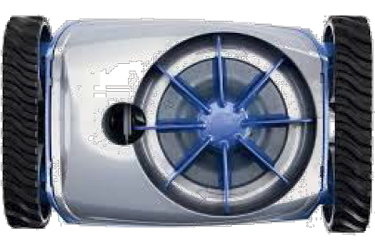 Powerful suction turbine with rotor action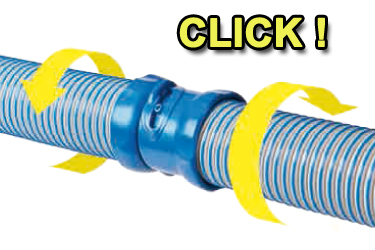 Easy connection, dependable, ensuring no suction power is lost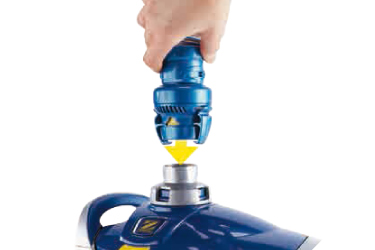 User friendly connection to unit
The Zodiac MX6 in detail
1)
Articulated blade turbine that provides an ultra powerful operation, even in the case of being used with a low flow pool pump.
2)
Ergonomic handle meaning you can easily place or remove the unit in or out of the pool water.
3)
Traction is provided by indented, robust, tracks. They produce fluid movements and ensure the MX6 can climb over obstacles. The tracks can be used on any type if pool finish. The MX6 boasts perfect stability and incomparable traction power.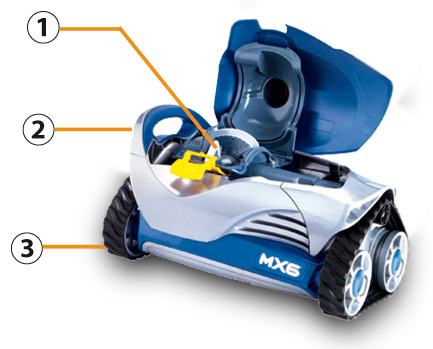 Technical features
Type of pool
Inground pools up to 10 X 5 m
Compatible shapes
rectangular, oval, round and free form.
Compatible pool floors
flat, gently sloping, composed gradients.
Compatible pool finish
titles, liner, fiber-glass, reinforced PVC, painted concrete
Connection
To be connected to the brush or skimmer adapter in the pool
Technology
Hydraulic by suction
Power supply
Powered by the filtration unit of the pool
Operational system
Suction turbine with rotor
Trajectory
X-Drive random navigation system
Possibility to use pool while in operation
Yes
Minimum pump power required
3/4cv
Technology and accessories
X-Drive, Twist Lock piping, automatic regulation of flow and flow measurement
Accessories on option
Winterizing bag, pre-filter for leaves
Warranty
2 years
Photos non-contractual
Price incl. VAT
Ask for a free quote zodiac mx6
Other product : Zodiac MX6
At best price 499 eur Including VAT.
Please fill in this form carefully. Our commercial service will handle your request promptly.
---
UK freephone hotline
Monday Friday 9.00 19.00, Saturday 10.00 18.00

---