Automatic pool cleaners

Hydraulic pool cleaners

Polaris 280
Polaris 280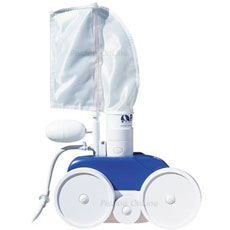 Recommended retail price 2023 starting from :
Our Price starting from :
Ref. Abatik 001606
Ref. Provider POL280
Polaris 280 hydraulic pool cleaner
Hydraulic pressure pool cleaner
Featuring 2 jets Venturi
Maximum pool dimensions 14 x 7 m
Requires a booster pump in technical shelter
In stock
The Polaris 280 ensures perfectly efficient pool cleanliness in three or four hours of daily cleaning cycles in your pool.
Adapting to all shapes and finishes of inground pools. Its large bag has a capacity of 20 microns and will save you 80% of backwashes of your pool filter.
Its unique collecting valve ensures an omnidirectional without blocking. simplified maintenance of the unit coupled with 2 Venturi jets guarantees a better suction of debris and dirt.
The Polaris requires it electrical distribution / Programmation box and
Booster pump for swimming pool cleaner
(supplied with the pool cleaner). Careful, this cleaner is not compatible with pools using flexible, underground plumbing network.
Technical features
Filtration pump capacity
1 hp
Installation
Brush adaptor (as discharge via booster pump)
Trajectory
Random, automatic reverse
Programmation
Electric distribution box
Collection method
Bag, independent filtration
Type of dirt collected
Dust, sand, gravel, leaves
Connection
Fast connection 1/4 turn
Maximum dimensions of pool
14 x 7m
Operational pressure
2,2 bars - 30psi
Capacity of filter bag
20 microns
Electrical box
Slave mode to the filtration system
The Polaris 280 in detail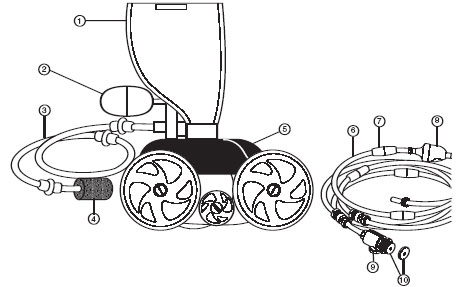 1. Multi-use bag
2. Floater head

3. Sweeping pipe
4. Cleaning brush for sweeping pipe

5. Body of cleaner
6. Inlet pipe

7. Pipe floaters
8. Emergency discharge valve

9. Fast connection with Universal Wall Fitting (UWF)
10. Flow reduction discs (one red, one blue)
Boost-Rite booster pump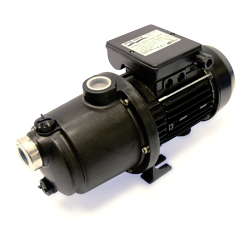 The
Booster pump for swimming pool cleaner
uses a 1hp single-phased 220V 50Hz self-priming motor specifically designed for pool cleaners.
This booster pump is compatible with salt water treatments . It is fitted on the brush adaptor circuit in the technical shelter following the below schema.
Piccolo distribution box

The Piccolo electrical distribution box for Polaris cleaners work on slave mode to the filtration circuit.
This electrical box includes a Programmation time clock, a 3 position contact switch and a magneto-thermal circuit breaker.
Index of protection : IP-67
Connection schema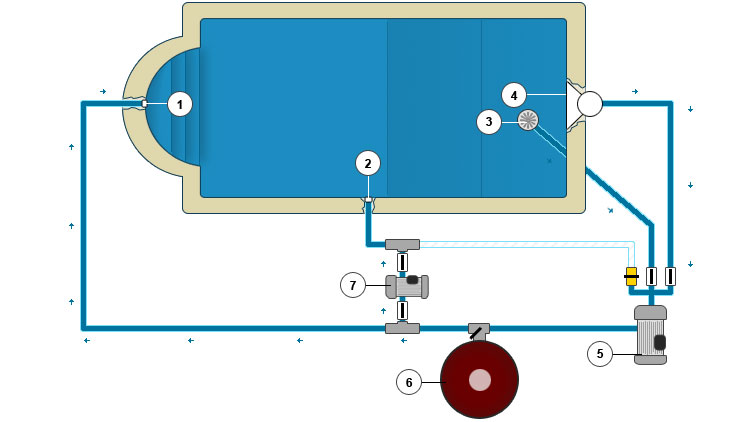 1
. Discharge nozzle
2
. Bursh adaptor (connection for pool cleaner),
3
. Main drain
4
. Skimmer,
5
. Pool Pump
6
. Filter
7
. Booster pump
The plumbing pack
The plumbing pack includes all needed parts to connect a pool cleaner with booster pump.
Only rigid PVC connections. Simple and easy to accomplish, without glue, installation time 1h maximum.
Fix support clamps to your existing plumbing network. Connect the booster pump using the « QUICK CONNECT » fast connections.
Immediate start of the booster pump after connection. Limited use of tools - one drill and one spanner (13)


Plumbing pack composed of :
1
. Specific connection for reinforced pipe x 4
2
. Threaded nipple x 2
3
. Conversion connector x 2
4
. Reinforced pipe 1,85m
5
. Roll of Teflon x 2
6
. Locking clip x 4
7
. Support clamps Diam. 50 x 2
8
. Valve Diam. 32 threaded x 2
Warranty
2 years
Photos non-contractual
Price incl. VAT
Ask for a free quote polaris 280
Other product : Polaris 280
Starting from 990 eur Including VAT.
Please fill in this form carefully. Our commercial service will handle your request promptly.
---
UK freephone hotline
Monday Friday 9.00 19.00, Saturday 10.00 18.00

---
Spare parts order
You are looking for a spare part for «Polaris 280» ?
Please click the button below. Our commercial service will handle your request promptly.