Automatic pool cleaners

Hydraulic pool cleaners

Zodiac T5 Duo
Zodiac T5 Duo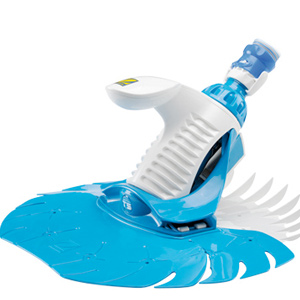 Recommended retail price 2023 :
Our Price :
Ref. Abatik 010579
Ref. Provider T5DUO
ZODIAC T5 Duo hydraulic pool cleaner
For pools up to 12 x 6m,
DiaCyclone ultra suction,
Duo Traction Control technology : adherence to angles and walls,
Obstacle detection,
Easy and secure connection for maximal sealing.
In stock
Light and compact, the Zodiac T5 Duo suction powered hydraulic pool cleaner integrates the most recent technologies in the field of pool cleaning.

DiaCyclone suction : Ultra powerful, the DiaCyclone diaphragm of the T5 Duo generates 40% more suction power than other cleaning units of the same type.

Duo Traction Control flexible discs: Duo Traction Control patented technology offers great adhesion to angles and pool walls for perfect cleaning.

Obstacle detection : A circular detector allows the T5 to identify obstacles in the pool.
Twist Lock pipe : Easy, secure connection of your cleaner for maximal sealing.


A multi-task cleaner

Multi-tasking, this pool cleaner adapts to inground, residential pools up to 12 x 6m of any shape. It can adapt to flat, slightly sloped or composed depth pool floors, and is compatible with all fool finishes (ceramic, liner, reinforced PVC or painted concrete).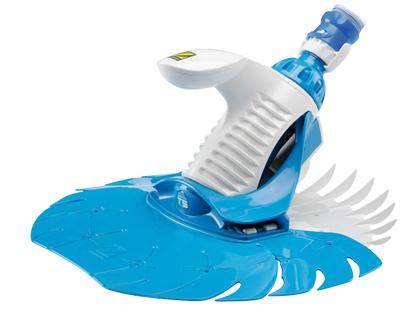 Cleaning cycle
Powered by hydraulic suction, the T5 Duo from Zodiac is simply connected to your brush adaptor or skimmer. Using the force of the filter circuit, a pool pump of 0,75hp is sufficient for regular cleaning.
The cleaning cycle is effectuated during 6 hours, in 3 cycles of 2hours using random trajectories on the pool floor and walls.
YouTube conditions the playback of its videos on the deposit of tracers in order to offer you targeted advertising based on your browsing.
By clicking on "I authorize" the plotters will be deposited and you will be able to view the video. You have the option of withdrawing your consent at any time.

For more information, visit the YouTube cookies policy
.
Technical features
Operational mode
Dia Cyclone Diaphragm (flexible membrane)
Cleaning cycle
Filtration cycle 6 h we recommend 3 x 2h
Trajectory
Random, covering floor and walls
Possible to use pool during cleaning
Yes
Length of pipe
12 sections of 1m
Minimum power required from filter pump
0,75cv
Speed of trajectory
6 m/minute
Accessoires included in pack
Flow tester, flow regulation valve, anti-blocking wheel
Optional accessoiries
Winter cover, leaf catcher, 6 pack of piping
Warranty
3 years
Photos non-contractual
Price incl. VAT
Ask for a free quote zodiac t5 duo
Other product : Zodiac T5 Duo
At best price 390 eur Including VAT.
Please fill in this form carefully. Our commercial service will handle your request promptly.
---
UK freephone hotline
Monday Friday 9.00 19.00, Saturday 10.00 18.00

---
Spare parts order
You are looking for a spare part for «Zodiac T5 Duo» ?
Please click the button below. Our commercial service will handle your request promptly.