Automatic water treatment and products

Pool maintenance products, chemical water treatment

Winterizing products for pools

ASTRAL winterizing product for pools 5 liter container
ASTRAL winterizing product for pools 5 liter container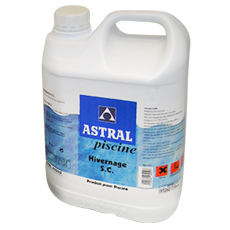 Recommended retail price 2023 :
Our Price :
Ref. Abatik 008077
Ref. Provider 59051
Winterizing product 5 Liter container
ASTRAL winterizing product for pools conditioned in a 5-liter container. Guaranteed phosphate free and compatible with other pool disinfectant treatments.
In stock
A winterizing treatment prevents the development of algae and parasites during the winter period and facilitates preparation when opening your pool in the Spring.


This winterizing liquid is compatible with:

- All filtration systems
- When diluted, all disinfectant and auxiliary treatments used in pool water
- Compatible with all water disinfectants (including P.H.M.B.)
- Guaranteed phosphate free (does not stain liners or polyester shells).

During the winter, fights against:

- Algae and bacterial proliferation,
- encrustation of limescale and mineral deposits.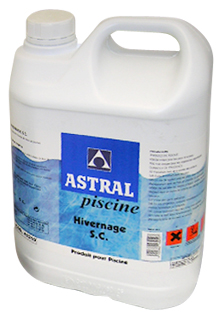 Instructions from use :
At the end of the swimming season, continue your regular water treatment, effectuate a shock chlorine treatment and add 5 litres of product for 60 m3 of water.
Water pH should be between 7.2 and 7.4.
Pour the required amount of product in your pool. Activate filtration till the product has been well distributed throughout the water.
It is recommended to repeat the treatment to ensure protection till the pool is opened again in the Springtime.
Photos non-contractual
Price incl. VAT
Ask for a free quote astral winterizing product for pools 5 liter container
Other product : ASTRAL winterizing product for pools 5 liter container
At best price 50 eur Including VAT.
Please fill in this form carefully. Our commercial service will handle your request promptly.
---
UK freephone hotline
Monday Friday 9.00 19.00, Saturday 10.00 18.00

---