Automatic water treatment and products

Pool maintenance products, chemical water treatment

Winterizing products for pools

OVY 40 winterizing product for pools
OVY 40 winterizing product for pools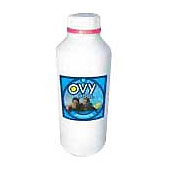 Recommended retail price 2023 :
Our Price :
Ref. Abatik 000641
Ref. Provider 652 040 010
OVY winterize 40 non foaming treatment 6x1l bottles
OVY 40 winterizing product conditioned in 6x 1 L bottles
Protection for winterized pools fights against algae, limescale and mineral deposits.
In stock
OVY winterize 40 protects pools during the winter:

Protects against :
- algae,
- damp,
- limescale deposits,
- mineral deposits.


Instructions for use

1-liter of OVY winterize 40 liquid for 40 m3 of water, directly into your pool with the filtration system activated to ensure the correct distribution of the product via the main drain with the skimmers in a closed position.

Photos non-contractual
Price incl. VAT
Ask for a free quote ovy 40 winterizing product for pools
Other product : OVY 40 winterizing product for pools
At best price 59 eur Including VAT.
Please fill in this form carefully. Our commercial service will handle your request promptly.
---
UK freephone hotline
Monday Friday 9.00 19.00, Saturday 10.00 18.00

---