Colorbar Plus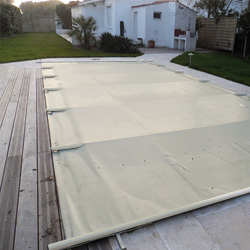 Recommended retail price 2023 starting from :
Our Price starting from :
Ref. Abatik 020346
Ref. Provider ESS.COLORB.3.3
Colorbar Plus barred cover conform to the norm NF P 90-308 in blue
4 season security cover, PVC canvas 580 g,
Conforms to the norm NF P 90-308,
Bars and PVC canvas in matching colour with a choice of 6 colours,
Fixation system using bolt pitons and ratchet tensioners,
1 or 2 supplied manual cranks depending on the cover's dimensions,
Rainwater evacuation cavities,
Aluminium bars, marine thermo-lacquered,
Composite protection pads,
Anti-abrasion strips
In stock
Colorbar Plus barred security cover
replies to the current security norms concerning swimming pools. Aluminium bars spread the width of the pool to ensure rigidity. High resistance PES straps ensure perfect fixation at the extremity of the pool.
Efficient and multifunctional,
Colorbar Plus
fully fulfils the role of pool security equipment, a winter cover and a bubble cover. Easy to use with the supplied manual crank or a motorised crank, available on option.
As well as guaranteeing the security of your pool, this cover offers unequalled esthetic. Its aluminium bars perfectly match the canvas colour and create a unique visual effect.


Colorbar Plus, guaranteed security
Conform to the norm norm NF P 90-308, relative to pool security. The PVC 580 g/m2 from which the cover is composed offers resistance and solidity.

This security cover is equally equipped with aluminium bars that reinforce resistance.

The Colorbar can support the combined weight of an adult and child (approx 110 kilos), to help prevent a drowning risk. If there is an accidental fall, an adult can intervene in total security.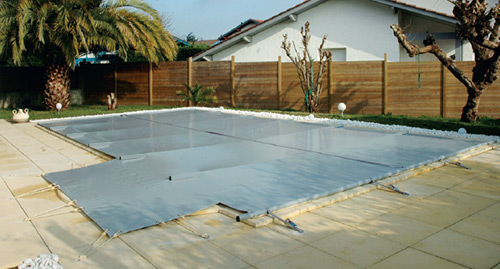 The cover fulfils its role from a security point of view, equal to an alarm, fencing or pool shelter, however, requires less manual manipulation when in use.
Made to mesure
, adapting to the vast majority of pools and can cover up to 12X5,50 m in surface area. This cover can equally protect your pool stairs.

Offer a harmonious visual aspect for your pool
Dresses your pool in an esthetic manner. Its aluminium bars are perfectly matched to your PVC cover as are the covers straps and stitching. Once unrolled, a harmonious visual result for your pool surface. Your cover blends perfectly into its environment without visual pollution from supporting bars. A
discreet security cover
that fits in perfectly with your pool surroundings.

Longitudinale tensioning strap

Fixation strap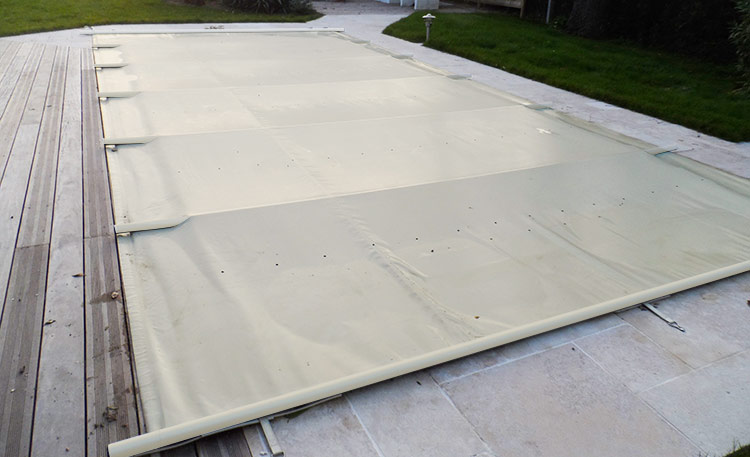 A marine thermo-lacquered coat ensures a uniform finish of your covers colour. There are 6 available colours to choose from :
| | | | | | |
| --- | --- | --- | --- | --- | --- |
| Blue | Dark Green | Grey | Slate Grey | Sand | Almond Green |
| | | | | | |
Resistant cover for your pool
Offers optimal resistance. Guaranteeing maximum solidity and a prolonged lifespan. The cover's bars are treated with a marine thermo-lacquered coat. This treatment guarantees protection against corrosion and limits premature use. Composite protection pads are placed at the extremity of each bar, limiting abrasion on the pool surround and protecting the aluminium.
Equally featuring
interchangeable anti-abrasion bands
, situated on the cover's underside. These resistant bands avoid friction on pool coping
ensuring a longer lifespan
.
Hemmed on each length, ensuring a quality finish and permitting the insertion of the covers supplementary tensioning strap.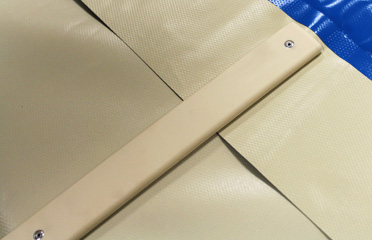 Anti-abrasion pad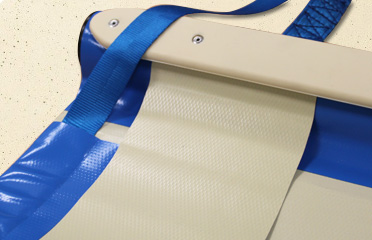 Anti-abrasion band (on option)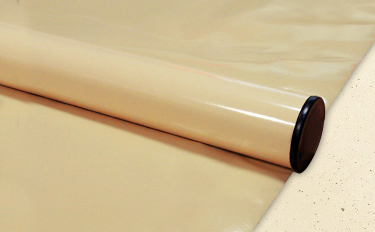 Hem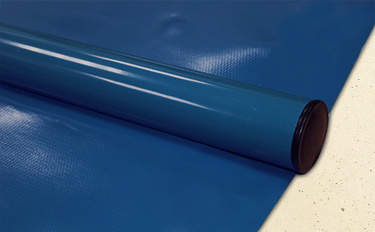 Blue finish
Easy, everyday use
Replaces a winterizing and summer cover. Protects your pool during the winterizing period and conserves calories during the swimming season. Easy to install and remove, requiring little manipulation.
When you want to use your pool, you simply use one, or two manual cranks (depending on the dimensions of your pool). A few moments is enough to completely roll
your security cover
. This type of cover does not require the use of a reel, that requires space around your pool. To cover your pool, just pull the directional strap that is positioned on the width of the cover and secure its position using the supplied bolt piton. Your covers surface tension is perfect, in length and width, ensuring optimal security.

Colorbar technical charateristics
Dimensions
Made to measure, for pools up to 12X5,50 m maximum
If the dimensions of the cover (including the overlap) are lesser than 20 m2
a surcharge of 20% will be applicable
Overlap on pool surround
25 cm on either side of the pool
Bars
Aluminium to match canvas, marine thermo-lacquered coating
PVC canvas
580 g / m2 (assembled by high-frequency welding)
Rainwater evacuation cavities
Yes
Fixation type
Ratchet tensioners with bolt piton
Manual crank
1 to 2 manual cranks supplied depending on the dimensions of your pool
Available colours
Blue, Dark Green, Grey, Slate Grey, Sand, Almond Green
Colour of straps
Harmonised with canvas
Schema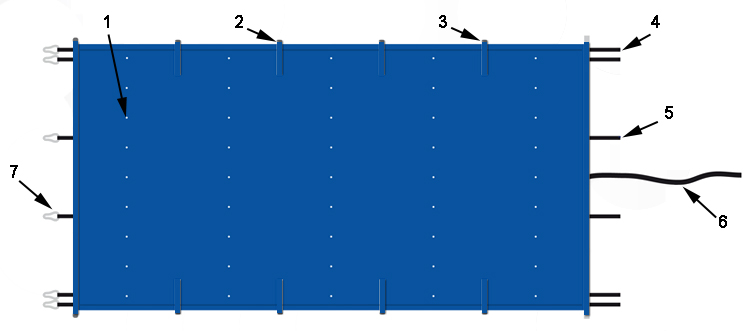 2
Aluminium bar in the same camaieu as the PVC cover, marine polyester powder coat
3
Anti-wear and tear pads placed at the extremity of each bar and anti-abrasion band
4
Supplementary tensioning strap positioned in the hem of the cover
5
Tensioning strap with stainless steel ratchet tensioner and bolt piton
7
Maintaining strap with stainless steel ratchet tensioner and bolt piton
Roll your cover without effort using a motorised crank
Walu Cool motorised crank
:
790.00 €
The
Walu Cool
rolls your cover easily, uncovering your pool water in a few minutes without effort.
Its powerful motor and longlife battery simplify rolling action. Just connect your Walu Cool and manage rolling action using the supplied wired control.
This type of motorised crank is perfectly adapted for use with Colorbar Plus. Simply hold the button in a "down" position for automated use.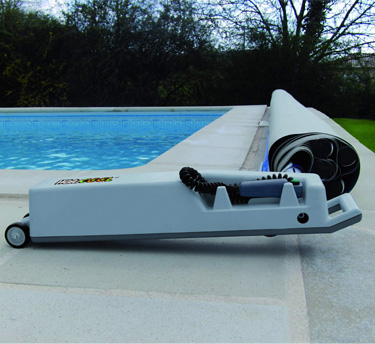 Warranty
3 years on the cover
2 years on the manual crank
Photos non-contractual
Price incl. VAT
Ask for a free quote colorbar plus
Other product : Colorbar Plus
Starting from 29 eur Including VAT.
Please fill in this form carefully. Our commercial service will handle your request promptly.
---
UK freephone hotline
Monday Friday 9.00 19.00, Saturday 10.00 18.00

---