COVER FIRST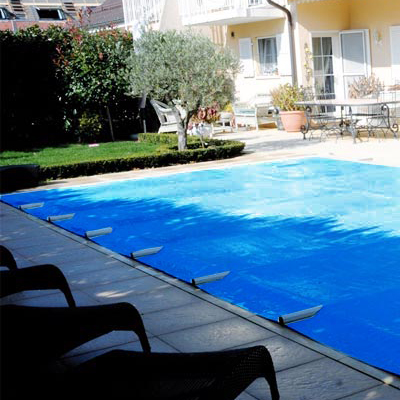 Recommended retail price 2023 starting from :
Our Price starting from :
Ref. Abatik 013264
Ref. Provider COVER FIRST
COVER FIRST 4 season barred security cover
4 season security cover with opaque canvas,
For pools up to 10m x 5m,
Aluminium bars,
Available colours : blue with ivory underside or green with ivory underside
Complies with standard NF P 90-308
In stock
Discover the COVER FIRST barred security cover for pools, offering excellent value for money.
Designed for use 365 days per year, ensuring cover and security for your pool.
Its aluminium bars ensure the structure's rigidity.
Ideal to ensure security and protection from dust, leaves and other debris and dirt.
The particularity of this cover is it's quality finish : A reinforcing band prevents tearing in proximity to the cover's bars - offering protection where tearing is most frequent.

This feature is a real added value to your security cover.

More resistant with a longer lifespan, lowering your maintenance and repair costs.

Cover conforms to the norm NF P 90-308.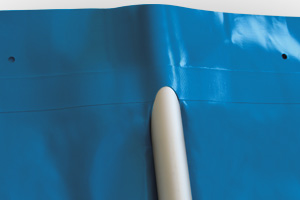 Cover for pools with maximum dimension of 10m x 5m :
23,00 €/m²
.
Cover conforms to the norm
NF P 90-308
Examples of prices :
| | | |
| --- | --- | --- |
| Inner dimensions of pools (without overlap)* | Price including VAT without stair cut | Price including VAT with stair cut** |
| 7m x 3,5m | 690€ | 940€ |
| 8m x 4m | 879€ | 1129€ |
| 9m x 4,5m | 1092€ | 1342€ |
| 10m x 5m | 1328€ | 1578€ |
* Overlap of + 50cm on the length and width of the pool to ensure good support of the cover.
Available colours

Blue with ivory underside

Green with ivory underside



** Maximum dimensions of the stairs 3 x 1,5m.
Features
Cover
Flexible PVC 580g/m² reinforced with polyester tram
Rupture resistance
2500N/5cm (fabric chain) and 1800N/5cm (frame)
Tearing resistance
250N (in the direction of the fabric chain and frame)
Treatment
Anti-UV, anti-cryptogamic and anti-bacterial
Weight of the barred cover
1kg
Overlap
25cm from the pool water
Easy to use :
- The
directional strap
allows you to unroll quickly the cover over the surface of the pool.
- Rolling is effectuated using a
manual crank with torque multiplier.
You simply insert the crank into the rolling block integrated into the cover.
For further comfort, you can opt for the
ROLLTROT motorised crank for barred covers
.
Rectangular in shape, this cover adapts to the majority of standard or free form shaped pools on the market.
Installation is fast and easy, only 6 drilled holes are needed for a cover 5,50 x 10,50m.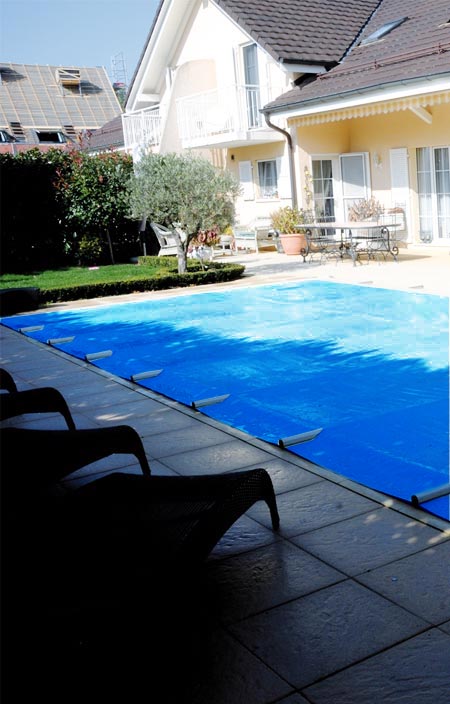 Fixation using nail bolts.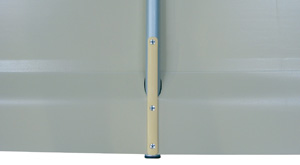 Anti-abrasion pads to avoid friction on the pool surround.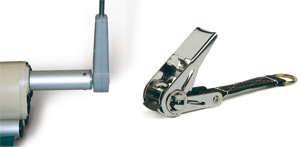 Each cover is delivered with a manual crank and stainless steel ratchet tensioners.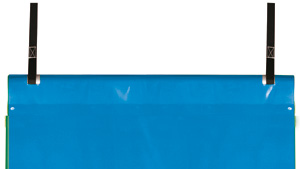 The straps on the storage side are sewn around the bar to heighten resistance.

On option: ROLL TROT motorised crank
ROLL TROT motorised crank :
699 € incl VAT
The
ROLLTROT motorised crank for barred covers
allows you to roll your
barred safety cover
without effort. The
Rolltrot
is compatible with your cover, allowing you to uncover your pool in only a few moments.
Its powerful motor and long life battery simplify rolling action : just insert the Rolltrot into your security cover, and guide operation using the supplied wired command.
The
Rolltrot
means you no longer have to manually roll, just follow progression the whole length of the pool.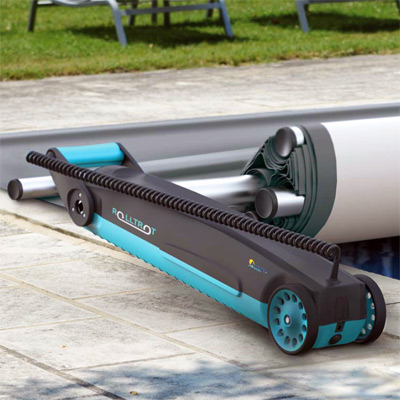 Warranty
3 digressive years on the cover
2 years on the manual crank
Photos non-contractual
Price incl. VAT
Ask for a free quote cover first
Other product : COVER FIRST
At best price 29.90 eur Including VAT.
Please fill in this form carefully. Our commercial service will handle your request promptly.
---
UK freephone hotline
Monday Friday 9.00 19.00, Saturday 10.00 18.00

---