Automatic water treatment and products

Electronic testers, pool water analysis

AquaChek TruTest digital water analysis unit
AquaChek TruTest digital water analysis unit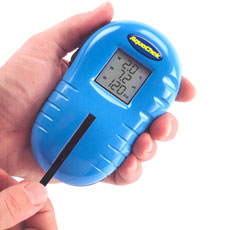 Recommended retail price 2023 starting from :
Our Price starting from :
Ref. Abatik 001761
Ref. Provider 46488
AquaChek TruTest digital analysis unit
Digital tester for pool water. Measures chlorine/bromine, pH and alkalinity levels present in your pool water. Digital unit reads analysing strips.
In stock
Features
Designed for use by pool and spa owners, the AquaChek TruTest digital water analysis unit
combines ease of use with measurement precision. Just dip an analysis strip into your pool or spa water
and insert into the analysis unit. A fast and precise reading is available a few seconds later.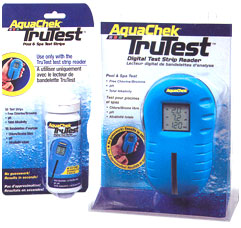 Easy to use
- Fast and precise results in 15 seconds. Does not require colour research.
- Large format LCD screen, digital test results are clearly visible.
Precise
- Uses specific technology to analyse pools and spas.
Technical information
- Digital test results for chlorine, bromine, pHand alkaline levels present in pool water, indicating low, normal or high levels for each individual test.
- Watertight
- Memory function (records 9 last test results for comparison).
- Power supply : 2 AA batteries (not included)
The kit includes
- AquaChek TruTest digital water analysis unit
- Users manual in 15 languages
- Maintenance information and water treatment advice
- 25 TruTest analysis strips
Warranty
2 years
Photos non-contractual
Price incl. VAT
Ask for a free quote aquachek trutest digital water analysis unit
Other product : AquaChek TruTest digital water analysis unit
Starting from 137 eur Including VAT.
Please fill in this form carefully. Our commercial service will handle your request promptly.
---
UK freephone hotline
Monday Friday 9.00 19.00, Saturday 10.00 18.00

---