Lovibond SCUBA II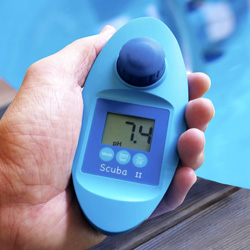 Recommended retail price 2023 starting from :
Our Price starting from :
Ref. Abatik 020848
Ref. Provider 46618NEW
Lovibond SCUBA II photometer for water analysis
Measures chlorine, pH, alkalinity and stabilising levels present in your pool water,
Photometric analysis using test tablets (supplied),
Easy to use, provides precise and dependable results,
Display read on LCD screen,
Made in Germany



In stock
Presentation of the Photomètre Lovibond SCUBA II
The quality of your pool water is dependent on precise dosage of treatment products.
Water analysis using strip or tablet methods provide less precise results which can lead to over or under dosing.
The Lovibond photometer offers precise control over your pool water quality management. The results can be clearly read on this digital pool tester's LCD screen.
Easy, intuitive manipulation using 3 digital buttons.

The Scuba II test results for pH, available chlorine, total chlorine, stabilising and alkaline levels are precise and dependable. Data is available in a few seconds, allowing you to efficiently dose your treatment products.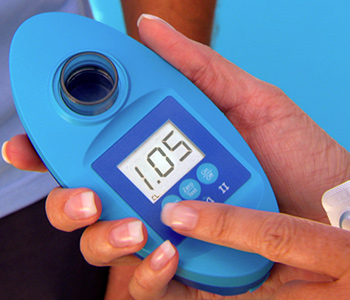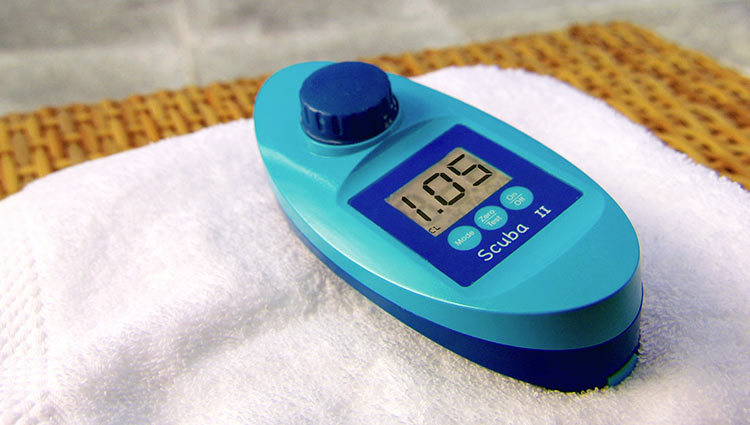 YouTube conditions the playback of its videos on the deposit of tracers in order to offer you targeted advertising based on your browsing.
By clicking on "I authorize" the plotters will be deposited and you will be able to view the video. You have the option of withdrawing your consent at any time.

For more information, visit the YouTube cookies policy
.
Photometric water analysis : how does it work ?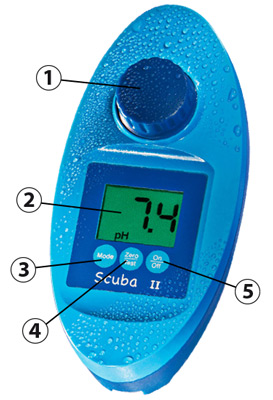 Details
1) Testing chamber cap
2) LCD screen
3) Choice of analysis: Available chlorine, total chlorine, pH, alkalinity, cyanuric acid
4) Zero / Test : Reset / begin test
5) On/Off button
A pool water sample is placed in the Scuba II which analyses pool water quality. The supplied test tablets are placed in the water sample and characterise the water sample by colour. The Scuba II then emits a photometric beam which analyses the concentration of colouration. The result is automatically shown on the LCD screen in a few seconds.
Tests for
Test tablet to be used
ClF (Active chlorine)
DPD n°1
ClT (Total chlorine)
DPD n°1 + DPD n°3
pH (pH level)
PHENOL RED PHOTOMETER
CyA (cyanuric acid/stabiliser)
CYA-TEST
Ta (Alkalinity-M)
ALKA-M-PHOTOMETER
Technical charateristics
Lens sensor
luminous LED's (wavelength = 530 nm), compensation of temperature, lens sensor amplifier
Automatic stop
Yes, 5 minutes after the last manipulation of the unit
Weight
165 g (with batteries)
Ideal ambient temperature for use
Between 5 and 40° C
Ideal humidity level for use
Between 30 and 90%
Protection index
IP 68, boyant
Contents of Scuba II pack


- Tester Scuba II, in protective, resistant cover

- 20 Phenol Red tablets

- 20 DPD N°1 tablets

- 10 DPD N°3 tablets

- 10 cyanuric acid test tablets

- 10 Alkaline-M tests for photometer

- 2 batteries

- 1 agitator

- 1 instruction manual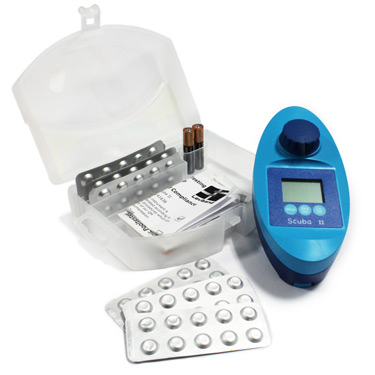 Important :
When you change the dose of your treatment products, we strongly recommend a test to be carried out 24 hours after application to allow the total diffusion of products throughout the volume of the pool.
Warranty
2 years
Photos non-contractual
Price incl. VAT
Ask for a free quote lovibond scuba ii
Other product : Lovibond SCUBA II
Starting from 149 eur Including VAT.
Please fill in this form carefully. Our commercial service will handle your request promptly.
---
UK freephone hotline
Monday Friday 9.00 19.00, Saturday 10.00 18.00

---
Spare parts order
You are looking for a spare part for «Lovibond SCUBA II» ?
Please click the button below. Our commercial service will handle your request promptly.