Automatic water treatment and products

Electronic testers, pool water analysis

Sun Pro Line salinity tester
Sun Pro Line salinity tester
The
Sun Pro Line salinity tester
offers the possibility of simply and precisely measuring the salt content in your pool. Water analysing and strip tests, which can be undependable, are no longer required.
This tester is particularly useful for those who use a salt water treatment system.
The salt content dissolved in water should be adjusted as precisely as possible to optimise the efficiency of the electrolyser.
Using digital display, the Sun Pro Line tester indicates clearly the salt content of your pool water, so that you can adjust to correspond with the recommendations of your electrolyser.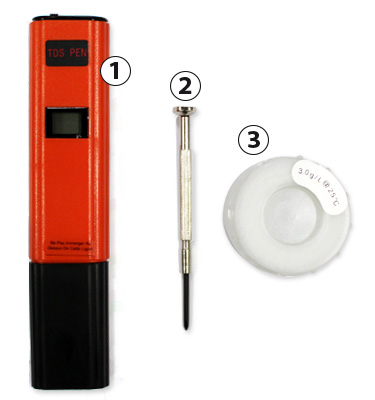 CONTENTS OF PACKAGE
1) Tester with cap and digital display
2) Precision screwdriver to calibrate
3) Buffering solution


Measure salt content with the Sun Pro Line tester


1) Remove cap and switch ON (On/Off button at the top end of the tester)

2) Dip the lower section of the tester in the buffering solution. The tester should never be immersed above the black ring.

3) Keep the tester immersed in the solution and calibrate to 3.0g/l using the provided screwdriver (potentiometer used to calibrate situated on the back of the tester).

4) The tester is ready to use. Immerse the lower section of the tester into your pool water and wait for a few seconds.

5) The digital display shows the result.

Recommandation : To ensure a precise measurement and better calibration, rinse the tester in clear water after each use.

Black ring: Immersion limit
LCD display screen shows result
On-Off button
Calibrating screw and precision screwdriver
Technical features:
Measuring range
from 0 to 5.0 g/L
Calibration
Potentiometer screw adjusted using supplied precision screwdriver
Automatic temperature compensation
from 5°C to 55°C
Batteries
4 X 1.5V (Type LR44)
Dimensions
158 mm X 34 mm X 17 mm
Photos non-contractual
Price incl. VAT
Ask for a free quote sun pro line salinity tester
Other product : Sun Pro Line salinity tester
At best price 135 eur Including VAT.
Please fill in this form carefully. Our commercial service will handle your request promptly.
---
UK freephone hotline
Monday Friday 9.00 19.00, Saturday 10.00 18.00

---