Material and equipment for your technical shelter

Electrical boxes for pools

Facil'o electrical box
Facil'o electrical box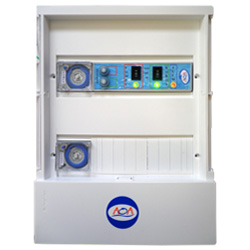 Recommended retail price 2023 starting from :
Our Price starting from :
Ref. Abatik 014960
Ref. Provider 401-02
Facil'o electrical box 1 1/3HP pump
For single-phase filtration pump,
Program timeclock,
Slave terminals for automatic treatment systems,
Pre-cabled, ready to install,
Easy to use,
Upgradable and modular
In stock
The Facil'o electrical boxes enable the control and protection of your pool electrical equipment.

Using last generation technology, the design of these boxes maximise simplification of connections, reducing the risk of installation errors.
Easy to use, these boxes are entirely cabled and ready to install.

The Facil'o range

The range of Facil'o electrical boxes includes several models with various options available to suit the needs of your pool equipment.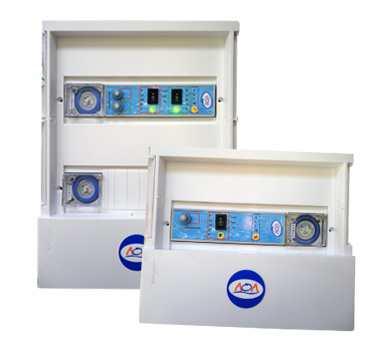 | | | | | |
| --- | --- | --- | --- | --- |
| Model | Filtration | Booster power supply | Primary entry | Slave departs |
| Facil'o 1 | Program timeclock | - | 1 | 2 |
| Facil'o 2 | Program timeclock | yes | 1 | 2 |
| Facil'o 3 | - | Program timeclock | - | - |
| Facil'o 4 | - | Dry contact for CC | - | - |
Installation
The Facil'o electrical boxes are totally pre-cabled and ready to install. Their installation is simple using individual markings identifying each terminal connection. Light indicators show correct installation.

Practical and secure

Once installed, you will appreciate the transparent access shield that offers total visibility of the system status (timeclock and trip switch).

Cable passages are integrated into the boxes outer casing, ensuring personal and material security.

Upgradable and modular

If you make the choice of the Facil'o, you can add equipment as you need to without the addition of a supplementary electrical box*. Just add a module extension to your Facil'o to power and protect your new appliances.

*On the condition you have available space in your Facil'o electrical box.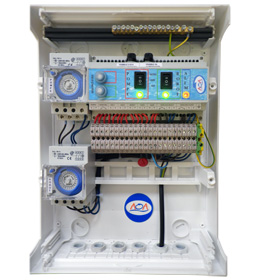 Table indicating the amperage required to calibrate trip switches
230V single phase installations
A motor circuit breaker is installed in series to the defined caliber (depending on pump capacity - see table below). The rearming button is situated on the front panel and features a waterproof cap. This trip switch is interchangeable.
| | | |
| --- | --- | --- |
| Capacity | Filtration pump capacity | Booster pump capacity 1HP (on option) |
| 1/3HP | 2 Amperes | 5 Amperes |
| 1/2HP | 3 Amperes | 5 Amperes |
| 3/4HP | 4 Amperes | 5 Amperes |
| 1HP | 5 Amperes | 5 Amperes |
| 1,5HP | 7 Amperes | 5 Amperes |
| 2HP | 10 Amperes | 5 Amperes |
Installation to electrical box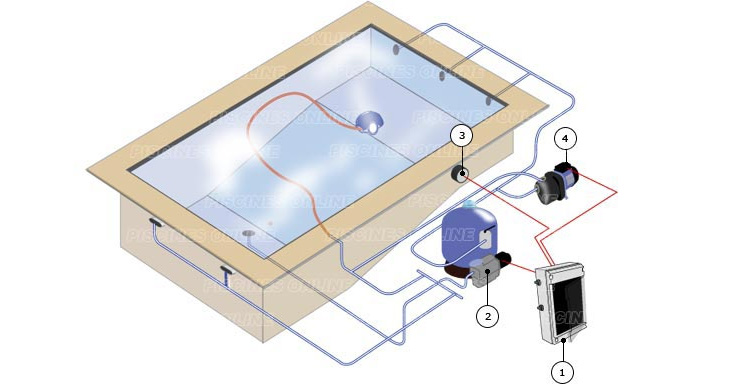 Electrical box (
1
), Filtration pump (
2
), Booster, dosing pump, etc (
3
).
Technical characteristics
Frost protection
Compatible (module on option)
Timeclock
Electromechanical - 150h power reserve
Internal terminal
With markers
Transparent access shield
Yes
Optional equipment
Frost protection module
Ideal in the case of active winterization, the frost protection module secures equipment in your technical shelter (pump and filter), pipework and pool.
The mechanical module lets you define the start temperature for the filtration system.
When the desired start temperature is reached, your pool pump automatically starts. Water circulation avoids frost in pipework and in some cases, the pool surface.
This module is ready to install, one minute is enough to connect your electrical box.
Facil'o lighting box
The Facil'o lighting box is independent and entirely equipped, ready to install.
There are several available models, to choose depending on the capacity and required power supply of your lighting projector.
For more information concerning the Facil'o pool lighting box click here
Remote control
For further user comfort, we recommend the use of the Facil'o lighting box remote control so you can control your lighting envionment at a distance.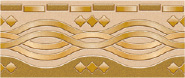 Warranty
2 years
Photos non-contractual
Price incl. VAT
Ask for a free quote facil'o electrical box
Other product : Facil'o electrical box
Starting from 239 eur Including VAT.
Please fill in this form carefully. Our commercial service will handle your request promptly.
---
UK freephone hotline
Monday Friday 9.00 19.00, Saturday 10.00 18.00

---