Hammam equipment and material

Steam generators for professional or residential hammams

TEDDINGTON LEH30 steam generator for hammam
TEDDINGTON LEH30 steam generator for hammam
TEDDINGTON LEH30 steam generator in detail
Characteristics
Maximum steam production
30 kg/h
Supply voltage
400V / 3 ph +N / 50 Hz
Serial emptying pump
integrated
Connection to perfume pump
supplied
Warning
: Before ordering your steam generator, check the available supply voltage and amperage.
Steam nozzles to add
1 x Ø 55 mm
Water and purge connections
Water inlet
3/4", threaded
Purge
Ø 35 mm stainless steel tube
Water quality
Water type
mains water supply (without the use of water softening treatment )
Water inlet pressure
1,5 to 8 bars
Operational limits
The ambient temperature of the technical shelter that houses the steam generator should be between 5 °C and 35 °C
The LEH30 steam generator is supplied with :
- 1 stainless steel steam diffusion nozzle, 35mm in diameter
- 3 metres of steam tubing, 35mm in diameter
- 2 tube clamps, 35mm in diameter for steam tubing
- 1 flexible water inlet tube (0,3m)
- 1 ELIWELL temperature regulator and sensor situated on front panel
General information
The range of TEDDINGTON steam generators have been designed to operate without water filtration or softening, and require little maintenance.
Managed by a regulator with integrated digital display, each generator automatically adjusts steam production depending on heat requirement, precisely. When the hammam heat level is lower than the desired temperature, a solenoid valve opens and water enters into the steam production cylinder, immediately transforming into steam. The steam is sent, under pressure, to the hammam, ensuring a stable temperature.
Intelligent limescale management offers peace of mind. The generator features an integrated flood pump, situated under the unit, suctioning and evacuating limescale, avoiding heavy maintenance.
The steam generator is automatically purged if the unit is not used for a long period of time to avoid water stagnation. A water level and overflow sensor, as well as integrated electrical protection, ensure maximum security.
These generators must be connected to the mains water supply.
To enhance your feeling of well-being and cleanliness, use the essential oil injection kit, available on option.
Optimal steam flow

Steam production is adapted to the volume of your hammam.

User-friendly settings

You can identify at a glance, the control settings, red, orange or green, clearly indicating the generator status. An easily interpreted lexical pictogram is printed on the unit to ensure clear interpretation.

Temperature regulation

The steam generators are totally automated and managed by the control panel/regulator.

Factory settings regulate a temperature of 40°C that can be modified using the control panel.

The steam generator is equally designed for distance management by means of a distance management switch or timer.

Dry contacts ensure standard remote management or unit operation.
Anti-foam system

VapaNet control system detects the formation of foam and automatically starts a short purge. This also allows steam production with few interruptions.

Frontal hinged door and stainless steel lower casing

Frontal access reduces required installation space and simplifies installation of electrical and components.

Stainless steel lower casing allows easy cleaning and a long lifespan of the unit.

This access point ensures easy maintenance and replacement of steam production cylinders.


Power cable connections

All lower casing of the VAPAC units are equipped with a mobile cable gland plate at the base of the electrical compartment.
Front panel commands:

The steam generator features luminous signals showing the status of the generator and digital display of temperature.

By means of this display you can, in a glance, visualise if the generator has stopped, in operation, paused, requires purge, electrical overload, check water supply, requires maintenance, maintenance in progress or finished.

The user or technican will immediately know the current status of the steam generator.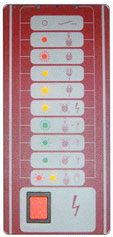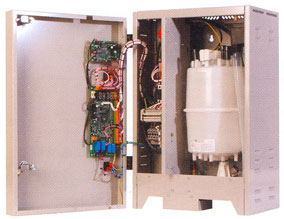 Installation schema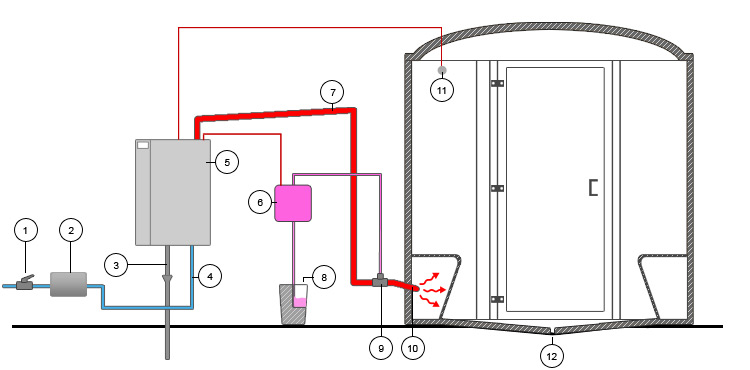 1. Stop valve
2. Filter
3. Condensation evacuation
4. Cold water
5. TEDDINGTON Steam generator
6. Perfume pump
7. Steam distribution tube (inclined to 10%)
8. Perfume pump resevoir
9. T-junction with stainless steel anti-backflow valve
10. Steam diffusion nozzle (positioned under a bench or in an alcove)
11. Temperature sensor
12. 40mm purge, requires a 1/100 floor surface gradient
Warranty
2 years
Photos non-contractual
Price incl. VAT
Ask for a free quote teddington leh30 steam generator for hammam
Other product : TEDDINGTON LEH30 steam generator for hammam
At best price 2623 eur Including VAT.
Please fill in this form carefully. Our commercial service will handle your request promptly.
---
UK freephone hotline
Monday Friday 9.00 19.00, Saturday 10.00 18.00

---