Pool equipment

Pool lighting, projectors and bulbs...

SeaMAID AIO LED multifunctional projector
SeaMAID AIO LED multifunctional projector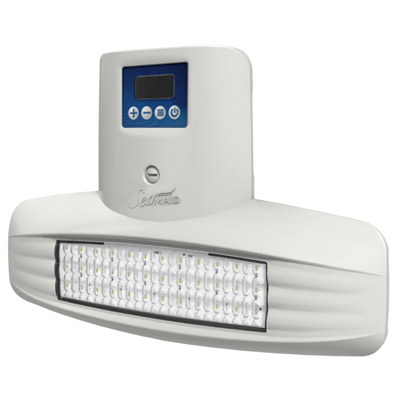 Recommended retail price 2023 starting from :
Our Price starting from :
Ref. Abatik 023737
Ref. Provider 501726
White AIO multifunctional LED projector
Ideal for pool lighting renovation
Easily installed under pool coping,
Tactile command panel accessible from pool,
Produces harmonious, non-blinding light,
Low energy consumption economises energy
In stock
SeaMAID AIO LED multifunctional projector in detail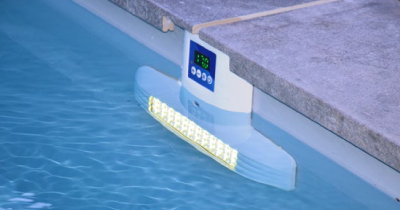 The SeaMAID AIO LED multifunctional projector provides pool lighting at a low cost using an intense LED system.
Ideal when renovating a pool lighting system.
This model's easy fixation method does not require the use of a wall crossing.

There are two available models: White LED and coloured LED.

Settings can be controlled from the pool as the tactile control panel is within reach or you can use the remote control for optimal comfort.

An integrated sensor equally enables water temperature to be displayed on the LED control panel.
This innovating product is compatible with the vast majority of pool shutters and cleaners.
A projector can harmoniously provide lighting for a pool with dimensions up to 12X6m.
It is possible to control up to 2 projectors per pool with one radio remote control.
All of the AIO projectors are equipped with a twilight switch that can be activated or deactivated from the command unit.
When active, pool lighting is automated from dusk till dawn.
Easy installation

The SeaMAID AIO LED multifunctional projector is built-in to a non-corrosive steel plate and screwed-in under the pool coping in contact with the concrete belt which supports the pool structure.

The projector's power supply cable passes through a duct which passes over the steel fixation plate, leading to the junction box.

The junction box is linked to the electrical box that must be installed in a sheltered area.

When installing the AIO you are not required to lower the water level of your pool.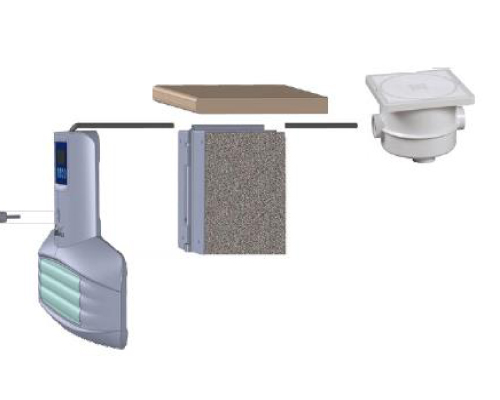 YouTube conditions the playback of its videos on the deposit of tracers in order to offer you targeted advertising based on your browsing.
By clicking on "I authorize" the plotters will be deposited and you will be able to view the video. You have the option of withdrawing your consent at any time.

For more information, visit the YouTube cookies policy
High-performance lighting
The AIO uses a new generation lens that guarantees 100% of produced light stays in the pool. 36 LEDs in white or colour provides a harmonious source of light.
A wide range of colours


12 colours and an automatic program are available.

- true red
- orange
- yellow
- pale green
- true green
- lagoon green
- lagoon blue
- pale blue
- true blue
- violet
- parma
- fuschia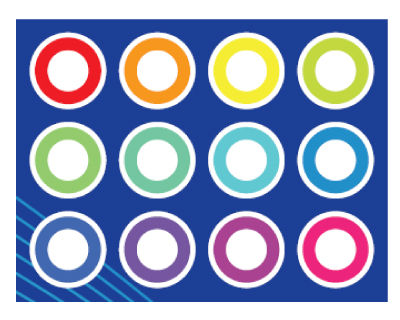 Lighting intensity and the speed of cycles are adjustable
Proved efficiency by research and development
SeaMAID uses a renowned, active Research & Development department that is equipped with a unique testing lab: A subaquatic measurement device designed in collaboration CSTB, Nantes, France and the National Testing Laboratory (Laboratoire National d'Essais -LNE). Using this device, SeaMAID can precisely measure the true lumen of its lighting systems in their operational environment as requested in the European regulation 1194.
The test results are incontestable and correspond to the reality of operational lighting in an aquatic environment.
Technical characteristics
| | | |
| --- | --- | --- |
| _ | White projector | Coloured projector |
| Type | 36 POWER LED | 36 POWER LED |
| Capacity (in W) | 40 | 40 |
| Diffusion angle | 120° | 120° |
| Maximum luminous flux | 4300 | 2200 |
| LED lifespan (in h) | >10 000 | >10 000 |
| N° of intensity levels | 8 | 8 |
| Used materials | polycarbonate lens, ASA rim, ABS support | polycarbonate lens, ASA rim, ABS support |
| Connection | 3X1mm2 cable section with IP68 M/F connection, length : 2m | 3X1mm2 cable section with IP68 M/F connection, length : 2m |

Remote control and command unit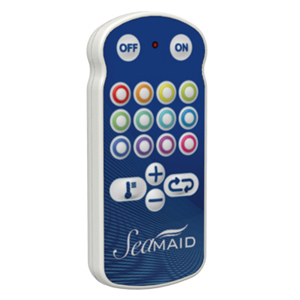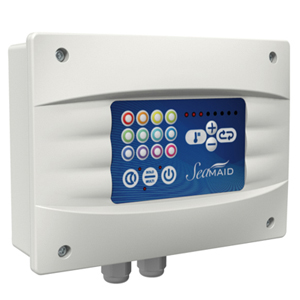 Ergonomic, the remote control features a touch panel allowing:
- Activation of one or several lighting projectors
- Adjustment of 12 available colours
- Adjustment of automatic program
- Adjustment of LED intensity - 8 levels available
- Water temperature display
- Start/stop lighting projector
The command unit equally features a touch panel. With a 100W capacity, you can command up to 2 projectors and access user settings.
Dimensions

1.
Projector : front
2.
Projector : profile
3.
Command unit : front
4.
Command unit : profile
5.
Remote : face
6.
Remote : profile
Supplied material
- 1 LED projector with 3 X 1 mm2 power cable
- 1 radio remote 433 MHz supplied with 2 LR03 batteries
- 1 command unit with screw on radio antenna
- 1 316L anti-corrosive plate + screws
- Users manual
Warranty
2 years
Photos non-contractual
Price incl. VAT
Ask for a free quote seamaid aio led multifunctional projector
Other product : SeaMAID AIO LED multifunctional projector
Starting from 629 eur Including VAT.
Please fill in this form carefully. Our commercial service will handle your request promptly.
---
UK freephone hotline
Monday Friday 9.00 19.00, Saturday 10.00 18.00

---