Pool covers - pool covering solutions

Security covers and barred covers for pools

Walu Pool WOODSTAR
Walu Pool WOODSTAR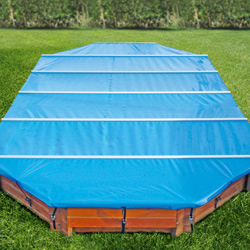 Recommended retail price 2023 starting from :
Our Price starting from :
Ref. Abatik 007028
WaluPool WOODSTAR barred cover for rectangular wooden pools
Specific for wooden pools up to 10x5 m,
Reduced storage,
Suitable for summer and winter use
In stock
Walu Pool WOODSTAR : The only barred security cover for wooden above ground pools with interchangeable panels.
- Eased manipulation with manual crank
- One cover for both summer and winter : Economises energy in summer and assures cleanliness in winter.
Conform to the norm NF P 90-308 (tested by the National Testing Laboratory )
Prices for rectangular shaped pools
| | | | |
| --- | --- | --- | --- |
| Pool dimensions | Cover dimensions | surface area in m² | Price incl VAT |
| 7x3m | 7.40x3.40m | 25.20 | 1462 € |
| 9x4.5m | 9.40x4.90m | 46.10 | 2674 € |
| 10x5m | 10.40x5.40m | 56.20 | 3260 € |
Prices for
free form or cut angled pools
:
+20%
Prices for covers
Lesser than 20m²
:
+10%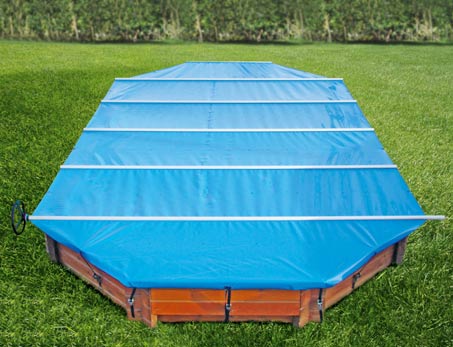 Security

Security cover for above ground wooden pools has been designed to ensure optimal security for all wooden* above ground pools up to 10 x 5 m with :
- Half-rounded anodised aluminium maintenance bars,
- Reinforced flexible composite modular panels with a density of 550g/m2 featuring an anti-abrasion treatment,
- Fixation system secured by ratchet tensioners.


Interchangeable panels and bars

The patented WALTER system allows you to replace damaged elements of your cover. The panels and tubes made from anodised aluminium that composes the cover can be replaced individually.
This advantage does not diminish the security properties of the cover, allowing you to keep your cover in perfect order for longer.
Protection and cleanliness of your pool
Be means of its unique concept and peripheral sealing properties, your pool remains clean.
Its opaque canvas stops the penetration of light and slows the development of algae and pathogens. The use of chemical treatment agents is considerably reduced.
Barred cover for your above ground wooden pool creates an insulating layer of air that protects from calorie loss during the night. Your swimming season is, therefore, lengthened.
Reduced space required when rolled

Weighing 1,150 kg per m2, this cover can be rolled in 2 to 3 minutes by one person, using the clever rolling crank. Unrolled very quickly, using the guiding strap to reach the secure, closed position in equally, 3 mins.
Once rolled to the storage side of the pool, the Walu Pool requires only a reduced storage area.
Available colours
4 available colours for your cover allow you to harmonise your choice with your wooden pool shade. Woodstar offers an esthetic and secure choice.


Blue


Sand


Grey


Switzerland green

Fixation and anchoring to pool

For the security of your above ground pool, Woodstar is equipped with
frontal and widthway ratchet tensioners
. Behind the pool (storage side) stainless steel anchoring ensures a firm hold of the cover.
Precautions for use
- Not compatible if the above ground height of your pool is lesser than 50 cm.
- The use of this protection system does not replace individual responsibility or common sense.
- The cover should be systematically shut even in the case of a short absence.
Warranty
3 yars on cover
2 years on manual crank
Photos non-contractual
Price incl. VAT
Ask for a free quote walu pool woodstar
Other product : Walu Pool WOODSTAR
Starting from 43 eur Including VAT.
Please fill in this form carefully. Our commercial service will handle your request promptly.
---
UK freephone hotline
Monday Friday 9.00 19.00, Saturday 10.00 18.00

---