Pool security material

Swimming pool security barriers and fences

IASO Flash-N pool security barrier
IASO Flash-N pool security barrier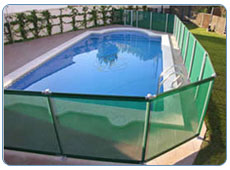 Recommended retail price 2023 starting from :
Our Price starting from :
Ref. Abatik 001783
IASO Flash N pool protection barrier, black 2.5 m module
Secure and esthetic,
Aluminium structure + netted protection,
Conforms to norm NF P90-306
In stock
| | | |
| --- | --- | --- |
| Dimensions of pool (rectangular) | Example of fencing length with gate (1m in distance from pool edge) | Price |
| 7 x 3 m | 28 ml | 2095 eur incl VAT |
| 9 x 4 m | 34 ml | 2395 eur incl VAT |
| 10 x 5 m | 38 ml | 2695 eur incl VAT |
| 12 x 6 m | 45 ml | 2995 eur incl VAT |

The barrier is available with standard modules measuring between 2,50 or 5,00 metres. The 2,50 module is delivered with two stakes, the 5,00-metre module is delivered with four stakes, the netting is inserted into the stakes and distanced at 1.25 metres. Pool barrier height : 1,22 m
Each module finishes with a netted panel featuring a soldered ring-hinge, allowing the installation of the following module.
Available colours
Structure and netting available in green or black.
Adaptability
It is easy to re-cut netting or re-position a stake to adapt to your pool configuration requirements.
Installation
Very simple, installation requires only a drill to ensure anchoring to the stakes every 1.25m.
Quality
The structure is either laquered or made from andonised aluminium.The floor plates are made from lacquered metal. This pool barrier system does not require maintenance.
Security
"Flash-N" protective barriers for public and residential pools. "Flash-N".
"Flash-N" protective barriers for public and residential pools conform to the norm NF P90 306 concerning the limitation of pool access to children under 5.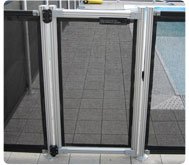 Esthetic and discreet
The esthetic design of this barrier system blends perfectly into your pool environment.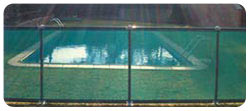 Structure
Stakes featuring bases
Lacquered structure or made from anodised aluminium implated using coach bolts and feature a mechanism which adjusts profiles vertically.
Adjustment permits the obtention of perfectly tensioned netting and stakes which are straight and aligned. Installation is perfect, whatever the ground surface finish and quality.

Upper and lower structure crossings
These lacquered aluminium profiles (delivered the same colour as the barrier netting) connect the stakes and ensure correct tension.
Creating robustness and rigidity to the barrier, with a perfect finish.

Articulation and tensioning
The junction of the structure's crossing and stake is implanted using an articulated part which allows directional change at each stake. Each stake is inserted to a groove which can be moved to better netting tension.
Netting
Anti-uv reinforced PVC with polyester tram, available in Black or Green.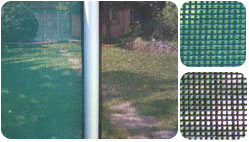 Access gate

Structure :
Using anodised aluminium profiles, a union connection at each angle of the structure can be adjusted to result in an esthetic, perfectly positioned gate.

Closing system :
The gate uses a child-proof opening system, easily operated by adults. Equipped with a key lock to totally prevent gate access

Automatic closing :
The gate closes automatically. Even if the gate is only slightly open, it will close automatically. This is an added security feature, obliged by the norm NF P90 306 concerning public pools.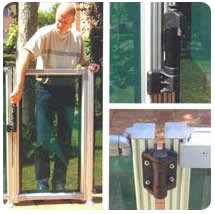 Flash-N IASO installation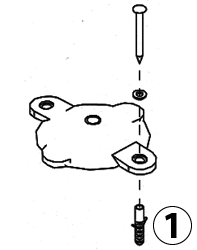 Installation must be effectuated at least 1m from the pool in a clear with no surrounding obstacles within 10m (walls...) on a concrete floor, 7 mm in depth. You should trace the position of holes to be drilled on the ground surface.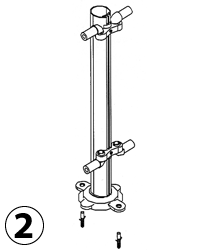 After tracing, the stake holes are drilled on the ground surface using an 8mm drill bit. Rawlplugs should be positioned at an approximate depth of 55 mm. The stake should then be secured at its base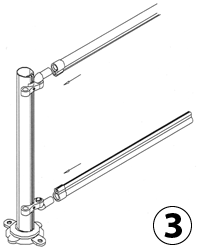 The stake is fixed into position. You can now insert the panel via the superior and inferior ring-hinges which are then fitted into the stake floor plates.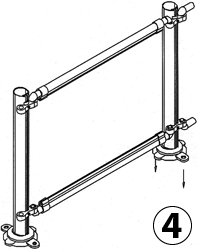 At the free panel ending, insert the next stake and anchor to the ground surface. Repeat the operation.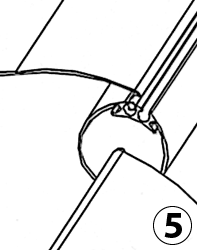 To assemble two modules, introduce the hinged ring at the panel edge into the available groove on the following panel.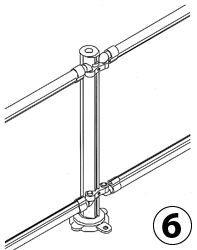 The supports must be adjusted and tightened using a set screw.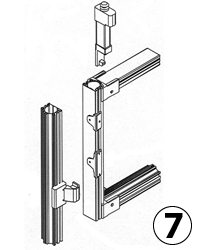 The last section is the gate module. Delivered partially mounted, you just need to assemble the profiles and adjust the gate during the installation process.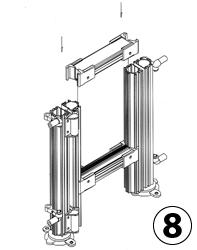 Once adjusted, connect the end ring-hinges. Then connect the lower horizontal profiles, followed by the upper profiles. Finish with the gate closing system.
Warranty
2 years
Photos non-contractual
Price incl. VAT
Ask for a free quote iaso flash-n pool security barrier
Other product : IASO Flash-N pool security barrier
Starting from 201 eur Including VAT.
Please fill in this form carefully. Our commercial service will handle your request promptly.
---
UK freephone hotline
Monday Friday 9.00 19.00, Saturday 10.00 18.00

---
Spare parts order
You are looking for a spare part for «IASO Flash-N pool security barrier» ?
Please click the button below. Our commercial service will handle your request promptly.