Automatic water treatment and products

Salt water treatment, Salt electrolysis

ASTRAL SEL electrolyser
ASTRAL SEL electrolyser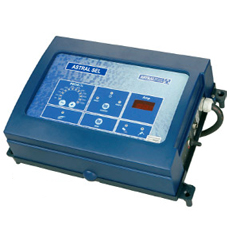 Recommended retail price 2023 starting from :
Our Price starting from :
Ref. Abatik 001989
Ref. Provider 60222
ASTRAL SEL electrolyser 40 m3 (self-cleaning)
Self-cleaning electrolyser using polarity inversion,
Operates with a salt content of 4 g/l of pool water.
In stock
| | | |
| --- | --- | --- |
| Models | Volume | Chlorine production |
| ASTRAL SEL 40 | up to 40 m3 | 11,3 g/h |
| ASTRAL SEL 60 | up to 60 m3 | 16 g/h |
| ASTRAL SEL 100 | up to 100 m3 | 24 g/h |
| ASTRAL SEL 160 | up to 160 m3 | 30 g/h |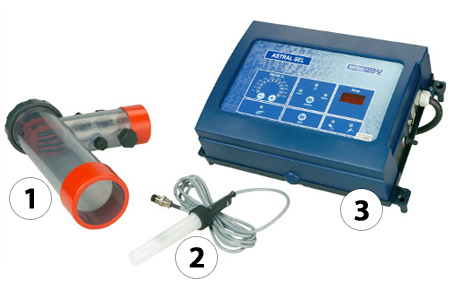 1. Electrodes, 2. Sensors, 3. Command module of electrolyser
Total automation of your pool water treatment

The disinfection of your pool water is automatically managed. You can enjoy your pool in serenity.
Your pool water is agreeable, without the smell or taste of chlorine, no aggression for the mucosa, eyes or skin.

Just dissolve 4 g/l of salt into your pool water.
The ASTRAL SEL electrolyser converts salt into an active disinfectant that destroys algae, bacteria, fungus and oxidises organic residue.
When the pool is in use in combination with UV rays, the main disinfectant transforms back to salt. This cycle is constantly renewed.
The cell of this electrolyser ensures continuous chlorine production.
Self-cleaning
Using
polarity inversion
, the cell of the ASTRAL SEL no longer has limescale deposits.
Self-cleaning is automatically managed by the control module.
Performance and installation
The ASTRAL SEL electrolyser
adapts to all filtration systems
. It is compatible with
all pool finishes
.
Featuring a
transparent support
that lets you see the cleanliness of the electrodes .
The titanium electrodes are coated with metallic oxides that give extra protection.
The unit also features an
integrated earth connection
to protect the metallic fittings in your pool.
The pack includes :
- 1 on/off system by water flow,
- 1 earth connection,
- Salt analysis strips,
- 1 pre-equipment to allow the installation of a pH regulator.
Warranty
2 years
Photos non-contractual
Price incl. VAT
Ask for a free quote astral sel electrolyser
Other product : ASTRAL SEL electrolyser
Starting from 1030 eur Including VAT.
Please fill in this form carefully. Our commercial service will handle your request promptly.
---
UK freephone hotline
Monday Friday 9.00 19.00, Saturday 10.00 18.00

---