Automatic water treatment and products

Salt water treatment, Salt electrolysis

ZODIAC EI salt electrolyser for pools
ZODIAC EI salt electrolyser for pools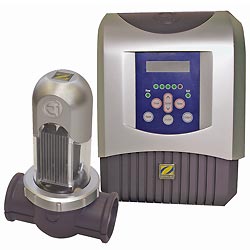 Recommended retail price 2023 starting from :
Our Price starting from :
Ref. Abatik 008428
Ref. Provider W383510
ZODIAC EI 17 electrolyser for pools up to 70 m³
ZODIAC salt electrolyser for pool
For pools from 40 to 100m³
Operational from 3g of salt/litre of water
Inverted polarity

In stock
Advantages of the ZODIAC EI
Even easier to install
EI is installed in less than 10 minutes using the Quick Fix system...(see below)
Even easier to adapt
Vertical or horizontal installation without deformation of the mounting system.
Even easier to use
Timeclock to manage filtration and chlorine production time in an independent manner.
Even easier to maintain
Self-cleaning electrodes using polarity inversion. Clearwater technology titanium plates guarantee optimal lifespan.
YouTube conditions the playback of its videos on the deposit of tracers in order to offer you targeted advertising based on your browsing.
By clicking on "I authorize" the plotters will be deposited and you will be able to view the video. You have the option of withdrawing your consent at any time.

For more information, visit the YouTube cookies policy
Principe de Fonctionnement
Operational system
Salt electrolysis is based on a basic principal.
• A low salt content is added to pool water : 4 g/l, approximately 9 times less than salt water.
• The salt electrolyser is installed on the pool filtration circuit. Salt is transformed into chlorine using electrolysis through the unit's cell.
• The produced chlorine fights against bacteria, algae and microorganisms.
• The chlorine eliminated by the effect of UV rays is constantly renewed by the cell without your intervention.
• The ZODIAC Ei® is adapted to all types of pools and finishes.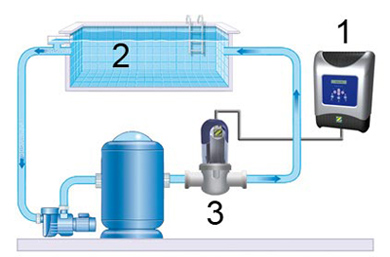 1
- Command module : regulates the level of chlorine production
2
- Water with low salt content (4 g/l)
3
- Cell : active chlorine production from salt water
Technical charateristics
| | | | |
| --- | --- | --- | --- |
| Model | EI 10 | EI 17 | EI 25 |
| Chlorine production | 10g/h | 17g/h | 25g/h |
| Volume of water (volume calculated for 8h of filtration) | 40 m³ | 70 m³ | 100 m³ |
Maximum flow
over 18 m3/h, the cell should be installed using a by-pass
Supply voltage
220-240 VAC (50 Hz)
Authorised pressure in cell
275 kPa = 2,75 bars
Maximum water temperature
40°C
Minimum salt content in water
3 g/l (recommended salt content 4 g/l)
Optimisation of performance
Adjustable polarity inversion (every 2h30 or 5h) in the case of very hard water
Position of cell
Cell body vertical or horizontal (with flow switch)
Dimensions of cell (L x H)
162 x 270 mm
Length of cable for cell housing
1,8 m
Paddle clamp 50mm
supplied
QUICK FIX installation

1- Drill 2 20 mm holes on your pipework
2- Clip the paddle clamp onto your pipework
3- Position electrodes and fix the transparent cell body into place using the supplied tool
Warranty
2 years
Photos non-contractual
Price incl. VAT
Ask for a free quote zodiac ei salt electrolyser for pools
Other product : ZODIAC EI salt electrolyser for pools
Starting from 1070 eur Including VAT.
Please fill in this form carefully. Our commercial service will handle your request promptly.
---
UK freephone hotline
Monday Friday 9.00 19.00, Saturday 10.00 18.00

---
Spare parts order
You are looking for a spare part for «ZODIAC EI salt electrolyser for pools» ?
Please click the button below. Our commercial service will handle your request promptly.