BluOne mobile chair lift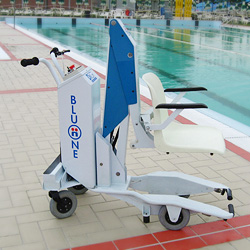 Recommended retail price 2023 starting from :
Our Price starting from :
Ref. Abatik 017020
Ref. Provider BO01BPZT
BluOne mobile chair lift for disabled pool access
Facilitates pool access,
Mobile structure on wheels,
Manoeuvres carried out by an auxiliary person,
Powered by rechargeable battery,
Maximal operational weight 110kg
In stock
BluOne mobile chair lift in detail
A pool entry solution is indispensable to ensure water access to the disabled or those with reduced mobility.

The BluOne mobile chair lift transports the disabled pool user to the poolside and effectuates water entry effortlessly.
Using its seat which is attached to the structure's mechanical arm, water entry is effectuated easily and comfortably.

Manoeuvre and movement of the chair lift must be carried out by an auxiliary person.
The BluOne is adapted for use in public and residential pool configurations.

This chair lift is powered by a 24-volt rechargeable battery with a 50 cycle capacity.
Just plug in the battery to a 220v power source to recharge.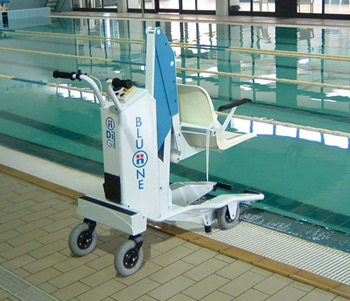 YouTube conditions the playback of its videos on the deposit of tracers in order to offer you targeted advertising based on your browsing.
By clicking on "I authorize" the plotters will be deposited and you will be able to view the video. You have the option of withdrawing your consent at any time.

For more information, visit the YouTube cookies policy
.
Use
To guarantee smooth movement of the BluOne the area around the pool must be smooth, stable and flat.

Perfect mobility
The BluOne does not require ground anchorage. Just push to the poolside and apply the unit's brakes.
By means of the four featured wheels, the unit is easily moved around the pool, various pool water entry and exit points can be envisaged around the pool.
For establishments with several pools, the BluOne can be used (on the condition there is available access to each pool). Once pool entry is completed, the chair lift can be stored in an area that does not interfere with circulation around the pool.
Comfort and security
BluOne is suitable for all users weighing up to 110kg and has a carrying distance of 115cm. This guarantees a transfer in full security.
During water entry or exit of the user, two automatic retractable feet stabilise the BluOne, avoiding all risk of tipping.
Using a motorised actuator, water entry and exit is completed quickly and effortlessly by an auxiliary person. Water entry is complete in 23 seconds, exit, 17 seconds.

The control panel
The BluOne control panel features intuitive commands as well as all security features that ensure the user to quickly adapt to use of the unit.

The control panel features:

- 1 on/off switch

- 1 raise/lower switch

- 1 emergency stop

- 1 battery charge indicator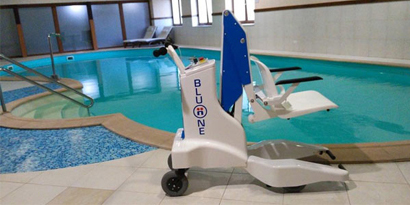 Technical features
Power supply
Rechargeable 24-volt battery
Manual security system in case of battery failure
Yes
Structure
Electro-galvanised steel with Epoxy paint
Number of wheels
4, two of which are directional with brakes
Brakes
Integrated to wheels, controls situated to steering wheel
Lifting system
Motorised actuator with parallelogram
Lifting capacity
Up to 110kg
Maximum carrying distance
115cm
Submersion depth of chair
60cm
Autonomy of the battery
50 cycles
Dimensions (in mm)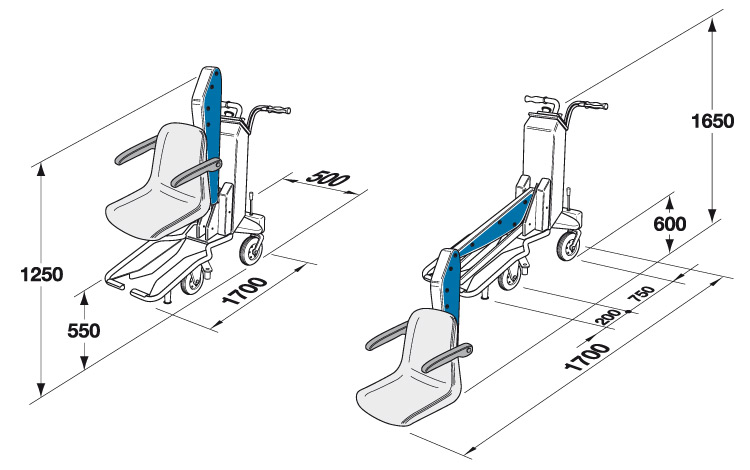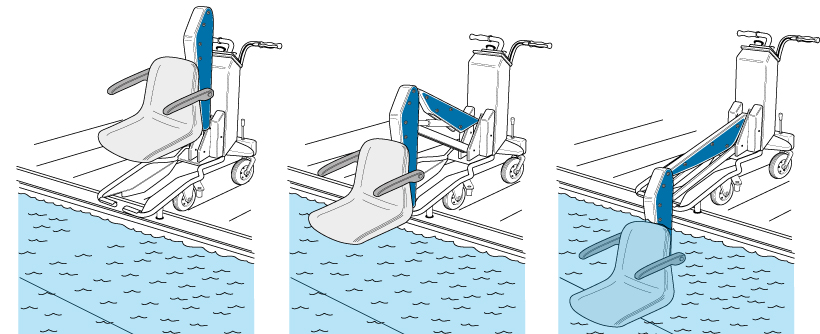 The BluOne chair lift is delivered with:
- a 24V-volt battery
- a charger
- A two-point safety belt
Optional accessories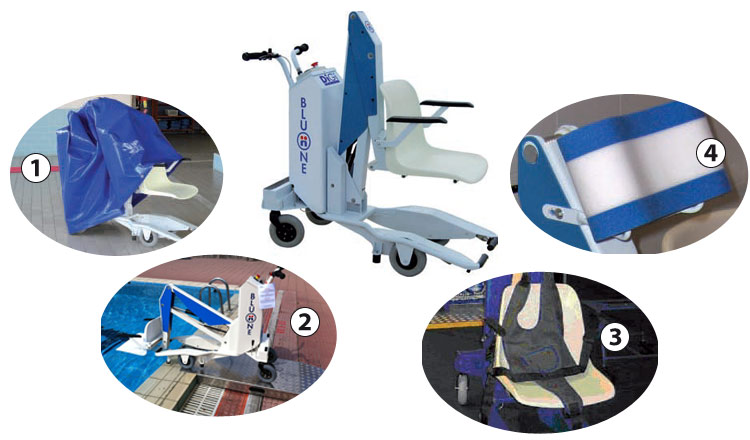 1
. Protective cover,
2
. Access ramp L120 x w80 x H20cm,
3
. 5 point safety belt,
4
. Head rest
Warranty
2 years
Photos non-contractual
Price incl. VAT
Ask for a free quote bluone mobile chair lift
Other product : BluOne mobile chair lift
Starting from 8640 eur Including VAT.
Please fill in this form carefully. Our commercial service will handle your request promptly.
---
UK freephone hotline
Monday Friday 9.00 19.00, Saturday 10.00 18.00

---