Pool equipment

Pool access solutions : Ladders, stairs, chairs...

Disabled pool access solutions, pool lifts...

PAL LIFT, seated pool lift
PAL LIFT, seated pool lift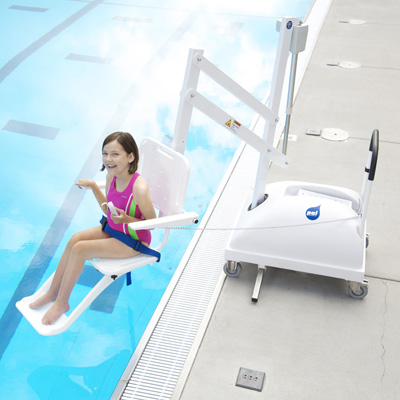 Recommended retail price 2023 starting from :
Our Price starting from :
Ref. Abatik 010027
Ref. Provider 275-0000EU
PAL SPA seated pool lift
Facilitates pool and spa access for the disabled,
Controlled by remote control,
Maximum carrying weight : 135 Kg, rotation: 240 °
In stock
PAL LIFT seated pool lift in detail
Presentation video
YouTube conditions the playback of its videos on the deposit of tracers in order to offer you targeted advertising based on your browsing.
By clicking on "I authorize" the plotters will be deposited and you will be able to view the video. You have the option of withdrawing your consent at any time.

For more information, visit the YouTube cookies policy
The PAL LIFT seated lift for pool and spa use is a high-quality water entry/exit system using a sitting position which is entirely mobile for those with reduced mobility or the disabled. All pools become accessible in just a few minutes. Norms now require all aquatic facilities in the public domain to be accessible to the disabled (public and hotel pools, campsites...). This equipment is equally adapted to a residential context.
Depending on use, 3 versions are available: standard, Hi/Lo and Spa.
• PAL Hi/Lo : for inground pools and above ground spas
• PAL Spa : for above ground pools and spas up to 122 cm in height.


Advantages

Easy wheelchair transfer.
By means of adapted motorisation and waterproof remote control command, maximum user independence and control is available.
Raising and lowering of the unit can be effectuated independently without help from an auxiliary person.

Totally mobile, the PAL2 does not feature a ground anchoring system. Simply position on the pool coping, apply the brakes, lower the stabilisers - the PAL LIFT is ready to be used.
By means of the wheels situated on the lower section of the unit, this aquatic lifting apparatus can easily be moved and positioned around the pool area.
This pool lift can be used for several pools in the same establishment and can easily be moved from the poolside.

Easy to use, this portable pool lift is equipped with a 24-volt rechargeable battery that can provide up to 30 cycles on one charge. No hydraulic or electrical supply is required for operation.

PAL has a 240 degree radius of movement to ensure a totally secure transfer.

This unit is adapted for use by all persons up to 136 kg in weight.

- Delivered complete with belt, foot rest, battery, battery charger, waterproof remote control.
- Is not compatible with pools featuring coping which are higher than the pool surround.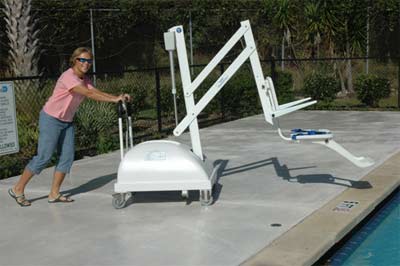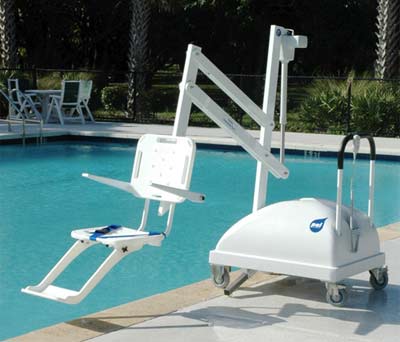 Technical charateristics
Supply voltage
24 V rechargeable battery (Holds approx 30 cycles)
Lifting capacity
Up to 136 kg.
Structure
Stainless steel and aluminium
Certification
Conforms to EU security norms
Norm
US disabled norms - Access Act (ADA / ABA 2004)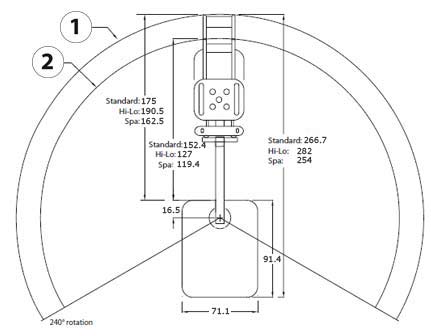 Above view of PAL seated pool lift
1. Rotation of lift when the chair is in the lowest position
2. Rotation of lift when the chair is in the highest position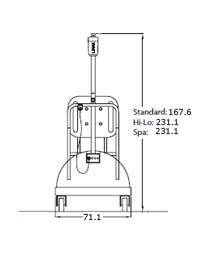 Rear view of the PAL seated pool lift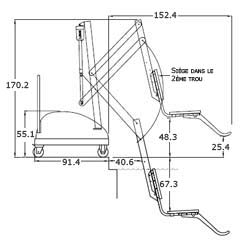 Side view of standard PAL lift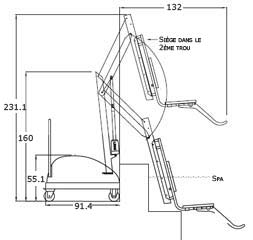 Side view of PAL HI-LO lift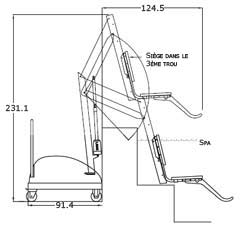 Side view of PAL SPA lift

Warranty
3 years
Photos non-contractual
Price incl. VAT
Ask for a free quote pal lift, seated pool lift
Other product : PAL LIFT, seated pool lift
Starting from 9999 eur Including VAT.
Please fill in this form carefully. Our commercial service will handle your request promptly.
---
UK freephone hotline
Monday Friday 9.00 19.00, Saturday 10.00 18.00

---
Spare parts order
You are looking for a spare part for «PAL LIFT, seated pool lift» ?
Please click the button below. Our commercial service will handle your request promptly.