Pool equipment

Pool access solutions : Ladders, stairs, chairs...

Disabled pool access solutions, pool lifts...

SPLASH LIFT seat lift pool access
SPLASH LIFT seat lift pool access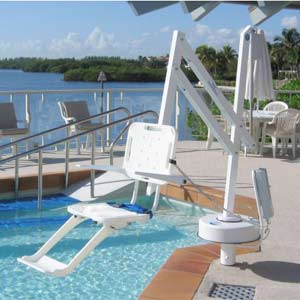 Recommended retail price 2023 starting from :
Our Price starting from :
Ref. Abatik 010028
Ref. Provider 300-0000EU
SPLASH LIFT pool seat lift
Discover the SPLASH LIFT seat lift to facilitate pool access for the disabled,
Battery powered,
359° rotation
In stock
SPLASH LIFT pool seat lift in detail
The semi-mobile SPLASH lift has been designed to enable pool and spa access for the disabled.
Using the portable, watertight command unit, this lifting apparatus can be operated by the user themselves or by an assistant.
This pool lift is powered by a 24-volt rechargeable battery that can power up to 30 cycles.
Installation is fast and simple, one anchoring point is required on the pool surround.
Once installed, SPLASH is ready to use.
The unit can be used with a transportable chariot (available on option), which ensures quick positioning of the lifting arm when required.
The chariot is easily detached from its securing point for easy storage.
The SPLASH offers 359° pool access. A pivoting arm guarantees a risk-free transfer away from the pool edge, leaving circulation paths free for other pool users.
The range of SPLASH pool lifts is constructed using corrosive-resistant materials.
Further to the standard model, SPLASH range of pool lifts is available in:
• Splash! Spa
: SPLASH spa model - to be used for above-ground pools and spas.
This portable lift has been designed for use with spas up to 122 cm above the anchoring point.
• Splash! Hi/Lo
: This model has been designed for establishments with inground pools and above ground spas.
• Splash! Extended Reach:
Extended Reach models have been designed for pools with a non-standard draining configuration requiring further reach.
- Delivered with : Battery, charger, waterproof control unit, foot rest and safety belt.
Characteristics
Power supply
24 V rechargeable battery
Maximal load
136 kg for Extended Reach models and 181kg for standard models, Hi-Lo and Spa.
Structure
Stainless steel and aluminium
Norm
Americian norms ADA and ABA 2004.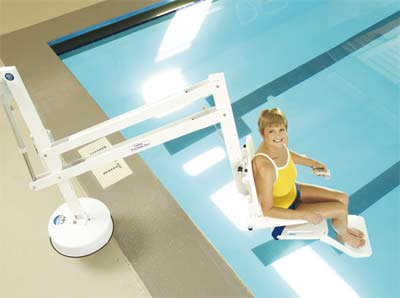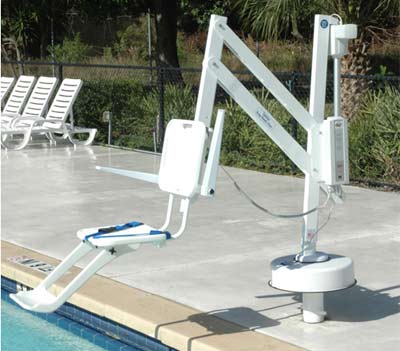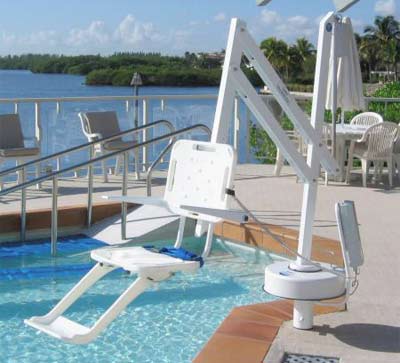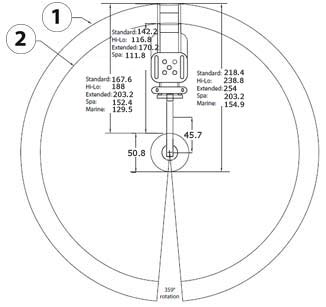 SPLASH pool lift, above view
1. Rotation of lift when the seat is at lowest position
2. Rotation of lift when the seat is at highest position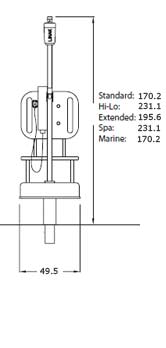 SPLASH rear view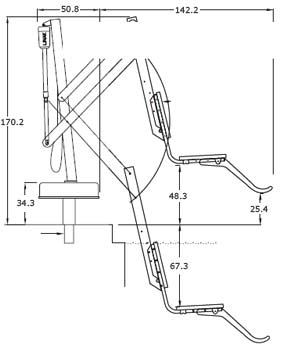 SPLASH Standard side view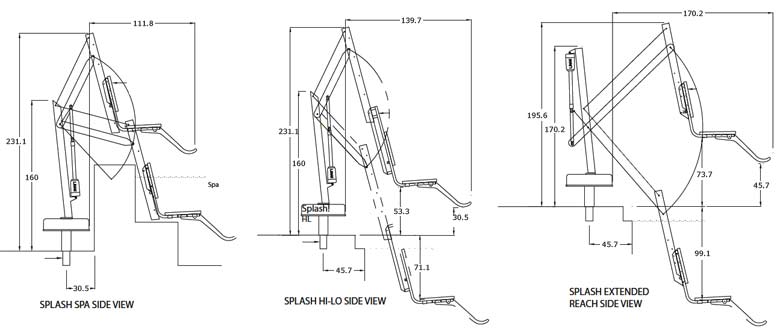 Side view SPLASH pool lifts
Warranty
3 years
Photos non-contractual
Price incl. VAT
Ask for a free quote splash lift seat lift pool access
Other product : SPLASH LIFT seat lift pool access
Starting from 10250 eur Including VAT.
Please fill in this form carefully. Our commercial service will handle your request promptly.
---
UK freephone hotline
Monday Friday 9.00 19.00, Saturday 10.00 18.00

---