Material and equipment for your technical shelter

Electrical boxes for pools

Thermoregul frost protection
Thermoregul frost protection
This box is compatible with all existing installations.
It can be installed :
-
Outside
: Measures the temperature of ambient air. Ensure the probe is insulated from the outer wall which could create a source of heat.
-
Inside
: Measures the temperature of the technical shelter
-
On pipework
: Measures the temperature of the pool water
Easy electrical installation on 220 v and a liaison cable section (2 wires) to connect the box on manual start mode or in parallel to the timeclock contact to program your filtration.
Advantages
:
This box is perfect for use with active winterizing and facilitates pool start up in springtime. Totally automated, without the need of supervision, the box will automatically start your filtration pump at the first sign of frost by water circulation, protecting your pump. The thermostat is digital, its commands will allow you to define the temperature of the automatic start temperature.
Features
Ideal in the case of active winterization, the thermostat secures the pipework of your pool and the water surface during a hard frost as well as periods of very high temperatures. Using its regulating probe, you can :
When frost approaches (0°C) the regulator starts the filtrations pump and circulates water throughout the system, avoiding iced pipework and water surface (1).
Using a high alarm system the Thermoregul can equally be used in high season to action the filtration system avoiding the development of algae in the pool.
Length of probe cable
1,40m
Liason cable to be fitted (not supplied)
2X1,5 mm²
Thermoregul box


1. Temperature regulation button
2. Descending key
3. Increment key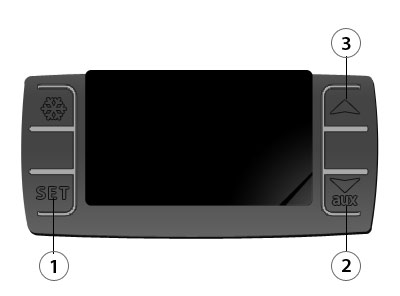 Connection


1. Connection to probe
2. Connection to electrical box of the pump
3. Connection to 220V power supply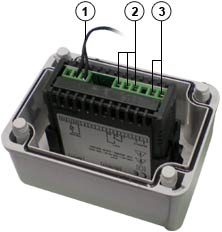 *The start temperature must be adapted to the position of the probe.
Start temperature greater than 0°C (+1 or +2°C) if the probe is sheltered in comparison to the pool.
Start temperature lesser than 0°C (- 1 or -2°C) if the probe is very exposed and the pool is sheltered
(1)Warning : The Thermoregul frost protection kit does not stop the formation of ice on water surface and skimmers - anticipate protection in the case of hard frost.
Installation schema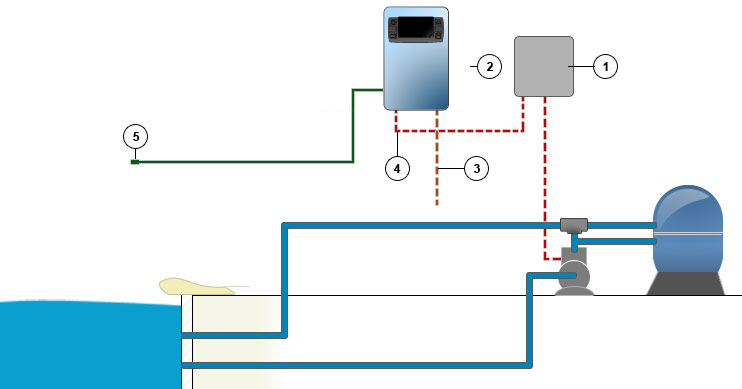 1. Electrical schema
2. Thermoregul kit
3. 220V / 50Hz power supply
4. Slave option of box commanding filtration pump
5. Temperature probe
Warranty
2 years
Photos non-contractual
Price incl. VAT
Ask for a free quote thermoregul frost protection
Other product : Thermoregul frost protection
At best price 185 eur Including VAT.
Please fill in this form carefully. Our commercial service will handle your request promptly.
---
UK freephone hotline
Monday Friday 9.00 19.00, Saturday 10.00 18.00

---