Material and equipment for your technical shelter

Electrical boxes for pools

Frost protection box
Frost protection box
Installation
This electrical box adapts to all existing installations. The box must be positioned to allow the thermostat bulb to be positioned either outside or inside the technical shelter. Simplified electrical connection using 1 liaison cable (2 sections) to enable forced start or filtration timeclock contact.
To be used when winterizing your pool by keeping the filtration system running, avoiding freezing. Operational during your absence, without intervention, the box will start your pump automatically as soon as frost is detected by circulating water. This will protect your filtration system. When the outdoor temperature is below freezing, the pump will automatically create water flow and your system will be protected. The thermostat is mechanical. You can set the temperature which will start the filtration system.
Technical features
Temperature range
-30°C and +30°C
Thermostat bulb
with 2m capillary
Liaison cable (not included)
2X1,5 mm²
Installation of the electrical box not including mechanical gel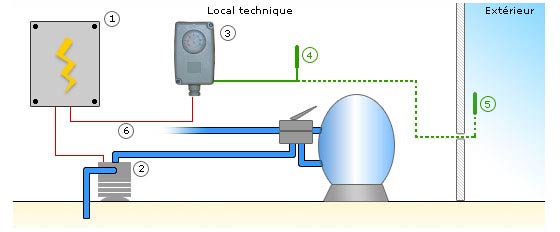 1. Electrical boxElectrical box
2. Filtration pump
3. Frosting protection
4. Thermostat (installation inside technical box)
5. Thermostat (installation outside)
6. Liaison cable
Photos non-contractual
Price incl. VAT
Ask for a free quote frost protection box
Other product : Frost protection box
At best price 29 eur Including VAT.
Please fill in this form carefully. Our commercial service will handle your request promptly.
---
UK freephone hotline
Monday Friday 9.00 19.00, Saturday 10.00 18.00

---