Saunas and accessories

Traditional steam saunas

Harvia Rondium steam sauna
Harvia Rondium steam sauna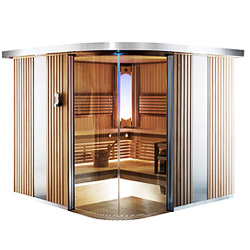 Recommended retail price 2023 starting from :
Our Price starting from :
Ref. Abatik 008221
Ref. Provider S2015KL
HARVIA Rondium S2015KL sauna
Non corrosive steel finish,
Steam stove,
Made in Finland
In stock
The new Rondium spa from Harvia is perfect for those who wish to enhance their well being.
A rounded glass opening featuring double doors and outer ceiling (made from non-corrosive steel) equipped with LED lamps complete this sauna's elegant design.
The sauna base and decorative elements (stainless steel) positioned on the outer panels, offer a modern design and protection against humidity on the floor area.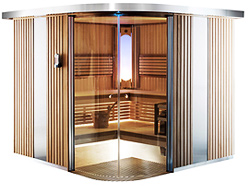 Rondium discriptive
| | | | | |
| --- | --- | --- | --- | --- |
| Model | Volume | Stove model | Electrical supply | Cable section |
| HARVIA Rondium S2015KL | 6m³ | Topclass Combi KV60SE | 400 V | _ |
| HARVIA Rondium S2020KL | 8m³ | Topclass Combi KV80SE | 400 V | _ |
| HARVIA Rondium S2222KL | 11m³ | Topclass Combi KV90SE | 400 V | _ |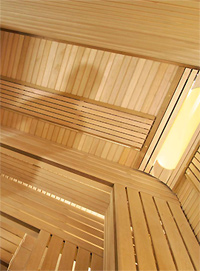 "Exclusive" Poplar finish.
"Exclusive" Poplar finish provides elegant, luminous, gentle design.
Benches, back rests and inter bench panels are made from Abachi.
In the Exclusive range, the benches, backrests and angled modules are removable to facilitate maintenance and cleaning.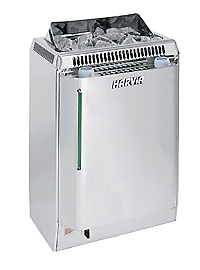 Harvia Topclass Combi stove.
This stove combines heat generated by both electricity and evaporation, offering different types of saunas. You have the choice between a traditional Finnish, steam or aromatherapy based sauna. This stove is particularly convenient for those who appreciate a gentler, humid heat.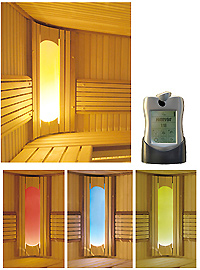 HARVIA Color Light system.
The Harvia Color Light system creates the desired atmosphere at any given time inside your sauna. Colour has a considerable influence on our well being. Colour Light from Harvia is a lighting system managed by a control unit and is adapted for use with the to medium and large range. Featuring four halogen lamps of varied colours (yellow, red, blue and green). The sequencing of colours can be managed manually or automatically.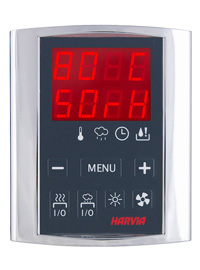 Griffin Combi distance control
Esthetic and discreet, the Griffin Combi integrates easily into all environments. Small and flat, it can be fitted inside or outside of the sauna.
Easy to use, you can fully manage sauna options : length of sauna, temperature, lighting.
Supplied with power block, temperature and humidity sensor with 4m cable and command management unit with 5m cable.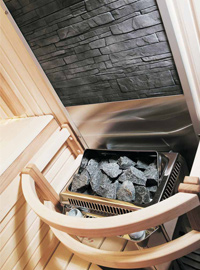 Decorative stone wall panel.
The Harvia decorative stone wall panel can be installed behind the stove or be used to cover a whole wall panel or corner of the sauna.
Made of high-quality ceramic stone. Aluminium rails accentuate the verticality of your sauna. The decorative stone wall panel completes the interior design of the Rondium and association with the stove, brings its final touch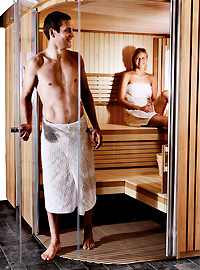 Traditional sauna
The choice of a HARVIA offers Finnish sauna tradition and experience.
A high-quality product combining esthetic and easy installation.
Harvia allows you to create a unique and elegant interior to your sauna.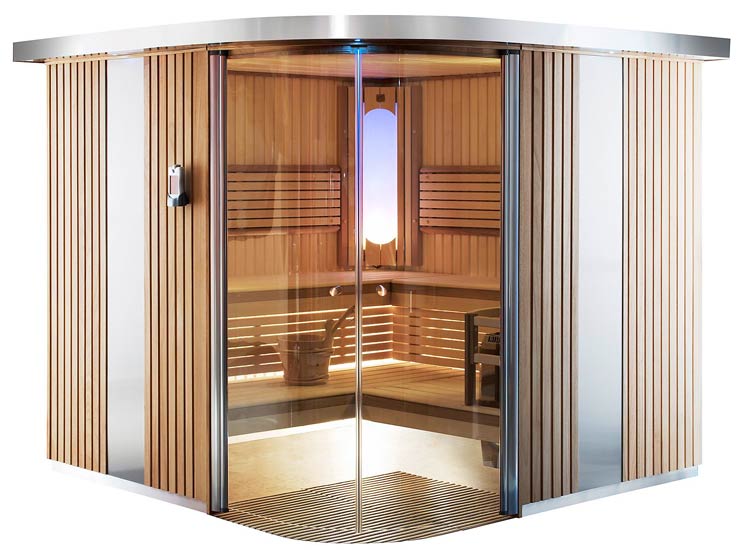 HARVIA Rondium sauna dimensions and models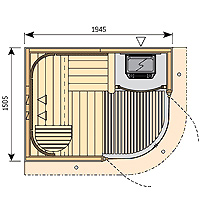 Dimensions of HARVIA Rondium S2015KL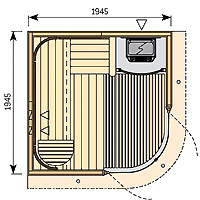 Dimensions of HARVIA Rondium S2020KL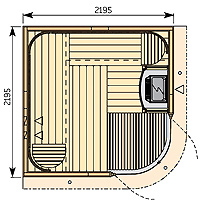 Dimensions of HARVIA Rondium S2222KL
Height of HARVIA Rondium : 2,05m.
Warranty
2 years
Photos non-contractual
Price incl. VAT
Ask for a free quote harvia rondium steam sauna
Other product : Harvia Rondium steam sauna
Starting from 18352 eur Including VAT.
Please fill in this form carefully. Our commercial service will handle your request promptly.
---
UK freephone hotline
Monday Friday 9.00 19.00, Saturday 10.00 18.00

---
Spare parts order
You are looking for a spare part for «Harvia Rondium steam sauna» ?
Please click the button below. Our commercial service will handle your request promptly.