Spas

Ipanema iPlus spa, 23 jets, offering relaxation and comfort
Ipanema iPlus spa, 23 jets, offering relaxation and comfort
100% recyclable, this spa can comfortably hold up to 3 persons, 2 sitting, 1 lounging.
LED backlighting
The translucid tub allows the light diffused from the inside of the tub to completely pass through the structure. This brings a touch of originality and modernity to you spa installation.
You will be surprised by the many lighting choices offered by the
Ipanema iPlus spa
: Colour sequences, stroboscope mode, white light or crossfade sequences.
Using the remote control, you can easily manage lighting at a distance and access a wide palette of colours.
LED technology guarantees the longest lifespan of bulbs available and the lowest electrical consumption rate.

23 hydromassage jets
YouTube conditions the playback of its videos on the deposit of tracers in order to offer you targeted advertising based on your browsing.
By clicking on "I authorize" the plotters will be deposited and you will be able to view the video. You have the option of withdrawing your consent at any time.

For more information, visit the YouTube cookies policy
.
Rotomolded spa
The rotomolding technique creates a spa tub manufactured in one, sole piece. Raw material is placed into a rotating mould. The result is a monobloc unit.
This technique presents numerous advantages: no risk of leaks, perfect water tightness, high resistance to shocks over time.
You are sure to be able to benefit from the very best of the spa universe. All that's left to do is relax, tone or detox!
Perfect for indoor or outdoor installation, day or night, the lighting of your spa will offer a high-quality moment of true relaxation and pleasure.
Technology meets well being
Featuring 23 hydro massage jets and 3 massage positions allow you to benefit from their therapeutic virtues for your health or to share a relaxing moment between friends or family.
2 Kw heater warms your water harmoniously.
The isothermal cover limits spa access, keeping heat in the water and limiting evaporation.
The Ozonator strongly contributes to cleanliness and lowers chemical treatment product consumption. This procedure is entirely natural and indispensable, limiting the risk of skin irritations.

The control panel and remote control
Control panel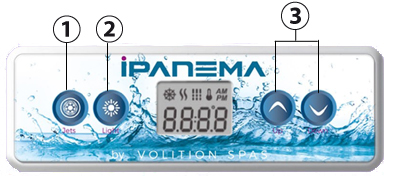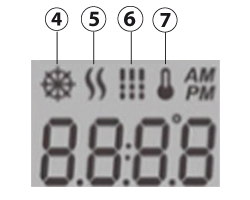 The control panel allows you to manage the following settings :
1
:
PUMP
: to start and stop the pump
2
:
PROGRAMMING
: this key does not manage lighting (it is controlled via the remote control) but does offer access to the other functions of the setting menu
3
:
TEMPERATURE
. Displayed upscreen : shows real water temperature, adjustable using high and low buttons. The programme reference temperature is shown down screen.
4
:
SMART WINTER MODE
: Protects your system from the cold by activating the spas pumps when required, stopping water from freezing.
5
:
WATER HEAT
: This stops when water reaches its reference temperature. Every 15 to 90 min the pump activates to allow precise water temperature measures and avoid activating the water heater if the spa is empty.
6
:
FILTER
: This lights when filtration is activated and flashes when filtration is suspended.
7
:
REFERENCE
. This is the temperature that you wish to reach.
Using this control panel you can equally manage the following settings :
Pause mode
: Hold the
PUMP
button for 5 seconds and you stop all settings for 30 mins. During cleaning, for example.
Program mode
: Press
PROGRAMMATION
, and you can adjust the time clock, filtration cycles, purge, economical mode... you can also program time of cycle depart, duration, the frequency of cycles...
Ipanema iPlus spa
is equipped with security settings.
Remote control
This allows you to manage LED lighting for the spa from a distance.

Warning, the handset is not waterproof

1 : to heighten luminosity or accelerate sequences
2 : to lower luminosity or slow sequences
3 : 7 colour sequence
4 : stroboscope mode with white light
5 : crossfade sequences with 16 colours
6 : direct sequencing using red, green and blue
7 : static colour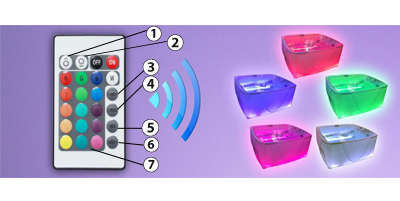 Technical characteristics
Hydromassage jets
23 : 11 jets 3.5" + 9 jets 2'' + 3 jets 5"
Capacity
3 : 2 sitting and one lounging
Water heating
1 x 2 Kw water heater
Pump
1 x 2-speed pump, 2.5HP
Filtration
Skimmer and short filter
Evacuation system
1 suction drain at the bottom of the spa tub
Air regulation
2 venturi valves
Setting managment
Control panel
Colour management
Remote control
Protection system
1 isothermal cover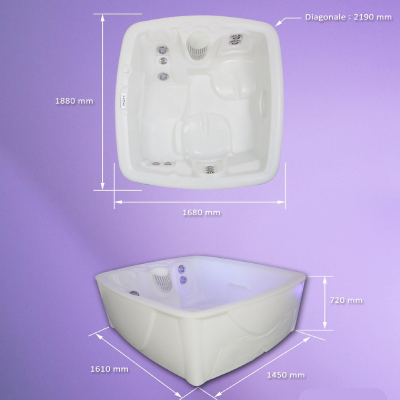 Upper and lower dimensions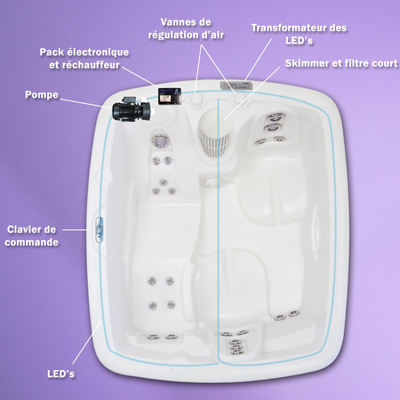 Schema of featured elements
Warranty
2 years
Cover 1 year
Photos non-contractual
Price incl. VAT
Ask for a free quote ipanema iplus spa, 23 jets, offering relaxation and comfort
Other product : Ipanema iPlus spa, 23 jets, offering relaxation and comfort
At best price 4990 eur Including VAT.
Please fill in this form carefully. Our commercial service will handle your request promptly.
---
UK freephone hotline
Monday Friday 9.00 19.00, Saturday 10.00 18.00

---
Spare parts order
You are looking for a spare part for «Ipanema iPlus spa, 23 jets, offering relaxation and comfort» ?
Please click the button below. Our commercial service will handle your request promptly.