Lovibond MD 200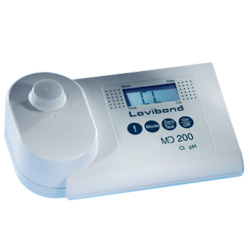 Recommended retail price 2023 starting from :
Our Price starting from :
Ref. Abatik 016794
Ref. Provider 46610PLUS
LOVIBOND MD200 5 in 1 photometric analysing unit
Measures chlorine, pH, water hardness, alkalinity and stabilising levels present in your pool water.
Tests carried out using test tablets,
Easy to use, precise and dependable results,
Robust and waterproof
In stock
The MD 200 is a user-friendly measuring unit that is capable of quickly producing a global analysis of your pool water. The results determine precisely water hardness, alkalinity, pH and stabilising levels present in your pool water.


Operation principle

A test tablet is added to a pool water sample. The sample is placed in the analysing chamber which is integrated into the unit. A beam of light is emitted by the photometer, measures light transmission and determines the concentration of the setting being tested displaying the result.



Advantages of the Lovibond MD 200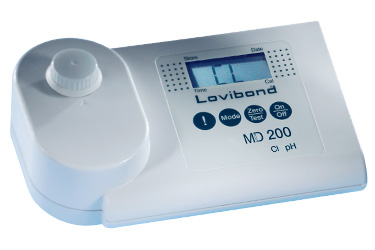 The Lovibond MD 200 features an interference filter lens coupled with two LEDs which guarantee a precise, dependable test result.
User-friendly with 4 setting buttons (menu, display result, test and on/off).
Test results are quickly available and are visualised on the units digital screen. Universal symbols are used to ensure easy reading.
Powered by battery, this unit is totally portative and is easily transported in its supplied case.
How to take a sample
- Fill a sample tube with pool water.
- Add the test tablet that corresponds to the sample in question to the water sample.
- Insert the sample tube into the unit and commence the test.
- Once the test is complete, the results are immediately displayed on the digital screen.
Functions
Scroll Memory (SM)
Pre-defined sequencing of the available measuring settings. When switched on the unit immediately displays the last setting used, facilitating menu access.
Calibrated at zero (OTZ)
The MD 200 does not need to be reset after each test. Zero remains memorised till the Lovibond is switched off at the power supply and can be reset to zero at any time.
Data transmission
By means of an optional module, the test results gathered by the photometer can be transferred to a computer * or printer. For a quick data print, it is possible to connect this module directly to your printer.

*Compatible with Windows XP, Windows Vista and Windows 7.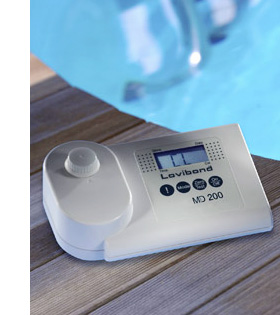 Available measures
Chlorine levels
0,01 to 6mg/l
Cyanuric acid
0 to 160mg/l
Water hardness
0 to 500mg/l
Maintenance
To guarantee the precision of the test results it is imperative to keep sample tubes clean and dry. We strongly recommend drying with a clean cloth after each use.
Clean also the analysing chamber and lenses using the supplied swab to avoid the accumulation of dirt which could interrupt beam transmission and affect test results.
Store the photometer in a dry area when not being used.
Technical features
Lenses
Lens system with luminous diodes
Filters
Narrowband wavelength and photodetector
Wavelength
Automatic selection 430 and 660nm
Precision of wavelength
1nm
Time clock
Time and date in real time
Calibration
Factory or personalised settings
Ambient operating conditions
5 to 40°C, air humidity ranging from 30 to 90%
Dimensions
L190 x P110 x H55mm
Weight
455g with batteries
The kit includes

- Lovibond MD 200
- 3 round, glass test tubes with lids
- 1 swab
- 1 stirrers
- 1 syringe
- 4 AA batteries
- 1 users manual
- Test tablets: 5 boxes (100 test tablets per box )
Available Chlorine/Bromine libre (DPD n°1)
pH (DPD n°7) (phenol red)
Cyanuric acid (stabiliser)
Alkalinity
Water hardness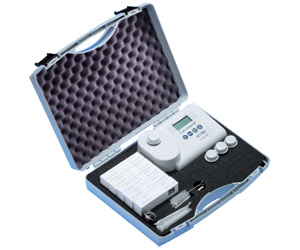 Warranty
2 years
Photos non-contractual
Price incl. VAT
Ask for a free quote lovibond md 200
Other product : Lovibond MD 200
Starting from 794 eur Including VAT.
Please fill in this form carefully. Our commercial service will handle your request promptly.
---
UK freephone hotline
Monday Friday 9.00 19.00, Saturday 10.00 18.00

---
Spare parts order
You are looking for a spare part for «Lovibond MD 200» ?
Please click the button below. Our commercial service will handle your request promptly.