Pool Test 6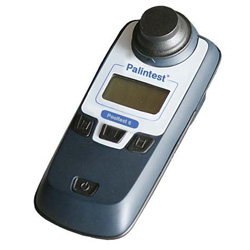 Recommended retail price 2023 starting from :
Our Price starting from :
Ref. Abatik 001787
Ref. Provider A589946H1
POOL TEST 6 water analysis photometer
Precise measuring unit reads chlorine, bromine, water hardness, pH and stabilising levels present in your pool water,
Test tablet analysis,
Easy to use,
Robust and waterproof,
Conform to norm IP67
In stock
Water contained in a swimming pool is a living environment. Its evolution is dependant on certain factors: temperature, exposition to sunlight, environmental pollution (pollen, insects, vegetal debris...). Regular analysis of your pool water is, therefore, essential to efficiently disinfect and manage pH.
More precise than strip tests or visual comparisons, Pool Test 3 is an easy to use measuring unit offering fast, complete analysis of your pool water. This unit determines with precision chlorine, bromine, alkalinity, water hardness, pH and stabilising levels present in your pool water.
How does Pool Test 6 operate?

A test tablet is added to the pool water sample. The sample is placed in the analysing chamber, situated on the unit. The photometer emits a beam of light, measures the transmission of the beam, determines the concentration of the setting being tested present in pool water and displays the result.


Advantages of Pool Test

Pool Test 6 features inferential filtered lens and two LEDs, guaranteeing precise and reliable analysis.

4 buttons (menu, read results, test and on-off) facilitate use. Universal symbols ensure easy to read results.

Fast, visible results are read on the units digital screen.
Battery powered, this unit can be used anywhere. Its case facilitates transport.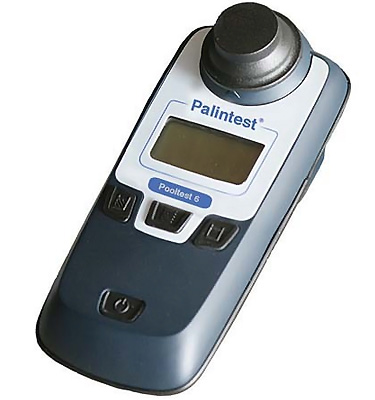 How to take a sample
- Fill a sample tube with pool water.
- Add the reactive tablet (that corresponds to the test in question) to the water sample.
- Insert the sample tube into the unit and commence the test.
- Once the test is complete, the results are immediately shown on the units screen.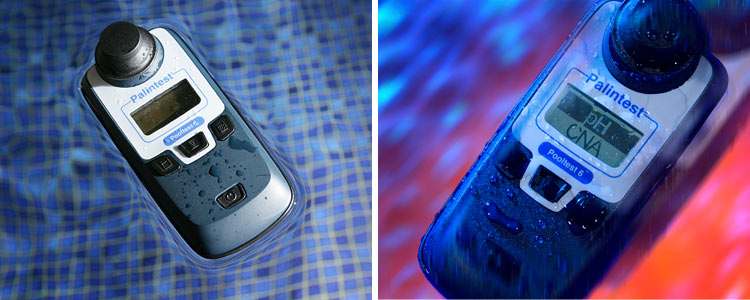 Pool Test 6 measures
Chlorine or bromine levels
0,01 to 5mg/l
Cyanuric acid
2 to 200mg/l
Water hardness
5 to 500mg/l
Technical features
Type of unit
Double wavelength colorimeter, providing immediate results
Lenses
Lens system with double LED
Filtres
With narrow band wavelengths and photodetectors
Wavelength
Automatic selection ranging between 530 and 575nm
Tolerance of wavelength
Approx 2nm
Screen
Backlit, LCD 128 x 64 pixels
Operational temperature
0 to 50°C
Cells
25mm diameter test tubes
Number of saved test results
10
Dimensions
150 x 65 x 40mm
Weight
200g with batteries
Maintenance of the unit
To guarantee the precision of the test results it is imperative to keep sample tubes clean and dry. We strongly recommend drying with a clean cloth after each use.
Clean also the analysing chamber and lenses using the supplied swab to avoid the accumulation of dirt which could interrupt beam transmission and affect test results.
Store the Pool Test in a dry area when not being used.
The kit includes

- Pool Test 6
- 6 test tubes
- 1 swab
- 1 stirrers
- 1 cleaning cloth
- 1 pH control system for chlorine and pH
- 1 users manual
- 1 pack 50 DPD1 test tablets (available chlorine) / 50 test tablets DPD3 (total chlorine)
- 1 pack 50 pH / 50 stabaliser test tablets
- 1 pack 40 alkaline test tablets / 30 Calcicol 1 test tablets / 30 Calcicol 2 test tablets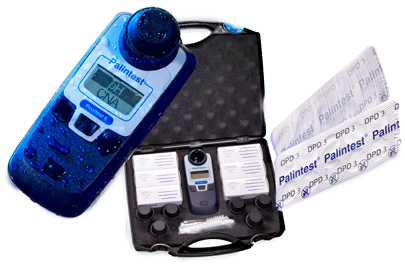 Warranty
2 years
Photos non-contractual
Price incl. VAT
Ask for a free quote pool test 6
Other product : Pool Test 6
Starting from 799 eur Including VAT.
Please fill in this form carefully. Our commercial service will handle your request promptly.
---
UK freephone hotline
Monday Friday 9.00 19.00, Saturday 10.00 18.00

---
Spare parts order
You are looking for a spare part for «Pool Test 6» ?
Please click the button below. Our commercial service will handle your request promptly.