Pool equipment

Pool access solutions : Ladders, stairs, chairs...

Disabled pool access solutions, pool lifts...

PandaPool mobile seated pool lift
PandaPool mobile seated pool lift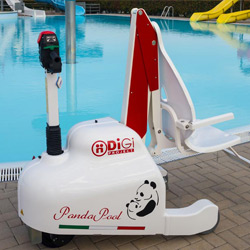 Recommended retail price 2023 starting from :
Our Price starting from :
Ref. Abatik 017021
Ref. Provider PANDA POOL
PandaPool mobile seated pool lift for disabled pool access
Facilitates access to inground pools,
Motorised structure featuring wheels,
Remote control for independent use available on option,
Power supply by rechargeable battery,
Maximum carrying weight 145kg
In stock
PandaPool mobile seated pool lift in detail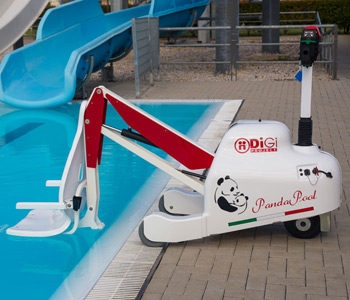 A pool access solution is essential for the disabled when benefiting from aqua therapy. All aqua facilities which are open to the public are now required to provide such a solution to their facilities, for those with reduced mobility.
.

The PandaPool mobile seated chair lift allows effortless water entry. Totally self-contained and mobile, the PandaPool automatic seated pool lift ensures poolside transport for the disabled. The transport of the mobile pool lift must be effectuated by an auxiliary person. The PandaPool features a motorised directional wheel to ensure fast, effortless trajectory.

By means of its seat which is fixed to the unit's mechanical arm, water entry is comfortable and easy. Chair manipulation can either be effectuated by an auxiliary person or by the user with the waterproof remote control available on option.

PandaPool can be used in a public or residential situation. It operates using a rechargeable 24-volt battery that can complete 100 water entry/exit cycles per charge. The battery is easily recharged using a domestic 220V socket.
YouTube conditions the playback of its videos on the deposit of tracers in order to offer you targeted advertising based on your browsing.
By clicking on "I authorize" the plotters will be deposited and you will be able to view the video. You have the option of withdrawing your consent at any time.

For more information, visit the YouTube cookies policy
.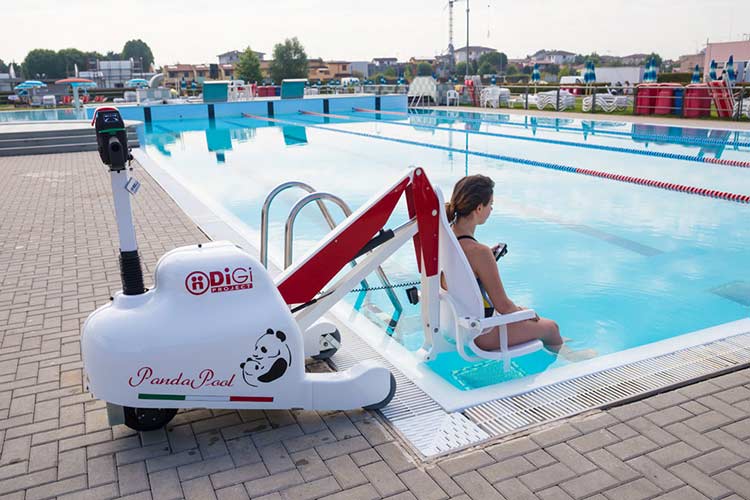 Utilisation

PandaPool must be used on a stable, flat, smooth surface to ensure totally secure trajectory and manipulation.

Mobility

PandaPool seated pool lift does not require floor anchoring. Just position the unit at the side of the pool and action the brakes.

Featuring three stable wheels (one is motorised and directional), the PandaPool can be easily moved around the pool, indicating water entry and exit can be effectuated in different areas.

PandaPool can be used in establishments with several pools requiring disabled access (on the condition the trajectory between pools is accessible). Once water entry is complete, the seated pool lift can be stored in an area which does not bother circulation around the pool.

Security and comfort

PandaPool is adapted for use by all persons up to 145kg. It's extending arm can reach up to 150cm, offering a totally secure transfer of the user.

PandaPool features an infrared sensor which automatically stops the unit when pool water is detected to avoid all risk of tipping.
Using a motorised actuator, water entry and exit is effortlessly and quickly effectuated by an auxiliary person or the user independently, if using the waterproof remote control (available on option). Water entry is completed in 25 seconds, exit 18 seconds.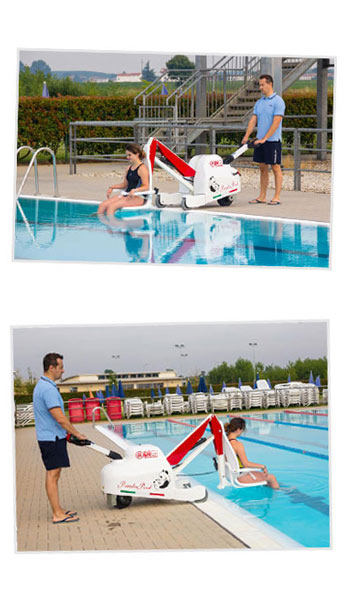 The command panel features:
- 1 start/stop switch
- 1 one up/down button
- 1 emergency stop button
- 1 battery charge status button
Technical features
Power supply
24V rechargeable battery (100 cycles)
Manual security system in case of battery failure
Yes
Structure
Electro-galvanized coated with epoxy paint
Number of wheels
3, 1 motorised directional wheel with brake
Rotational radius of directional wheel
200°
Lifting system
Motorised actuator featuring parallelogram
Lifting capacity
Up to 145kg
Chair
Ergonomic with head rest
Maximum depth of chair immersion
90cm
Certification
EU, conform to security norms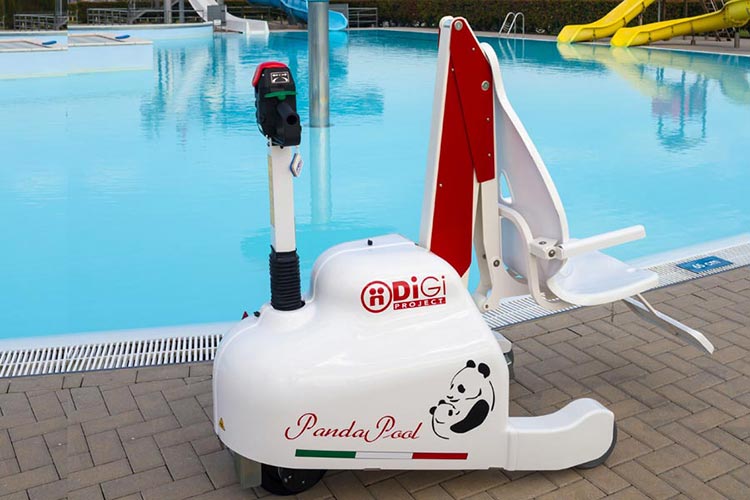 Dimensions (in mm)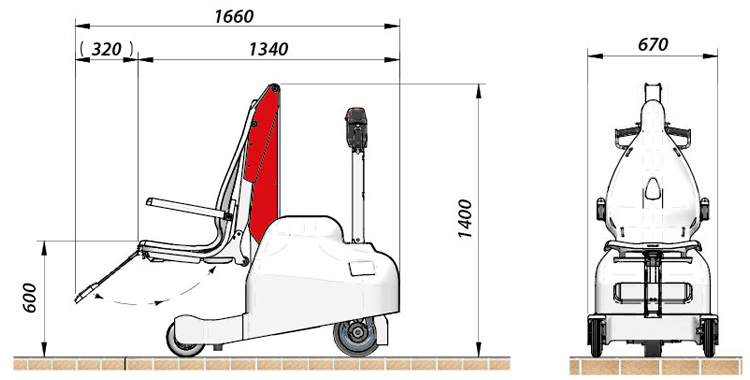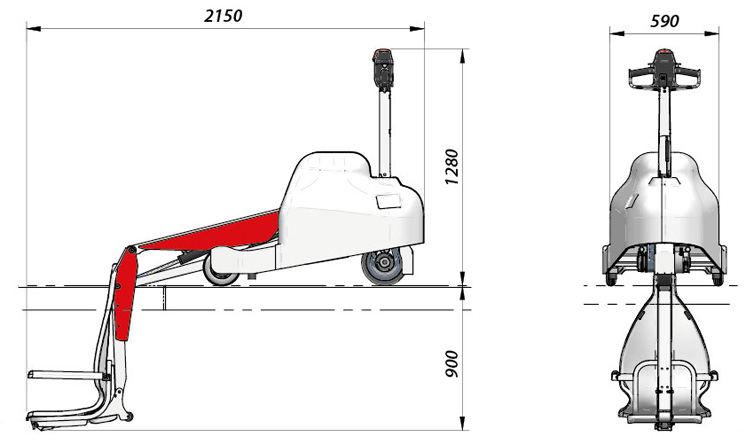 PandaPool mobile seated pool lift is supplied with :
- 24V battery
- a charger
- 2 point safety belt
Optional accessories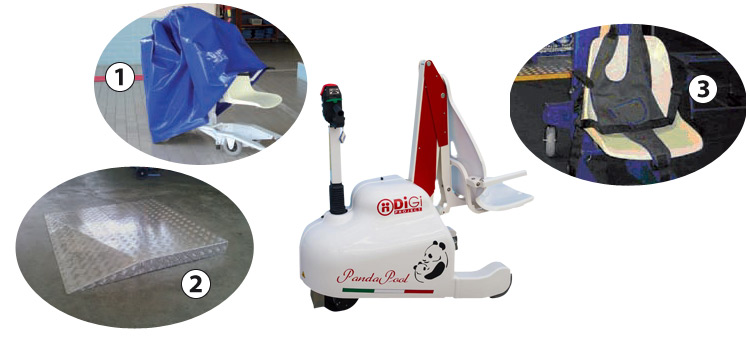 1
. Protective cover
2
. Access ramp L120 x w80 x H20cm,
3
. 5 point safety belt
Warranty
2 years
Photos non-contractual
Price incl. VAT
Ask for a free quote pandapool mobile seated pool lift
Other product : PandaPool mobile seated pool lift
Starting from 12990 eur Including VAT.
Please fill in this form carefully. Our commercial service will handle your request promptly.
---
UK freephone hotline
Monday Friday 9.00 19.00, Saturday 10.00 18.00

---