Pool covers - pool covering solutions

Summer and thermal pool covers

Sol+Guard summer cover standard dimesions 8x4m and 10x5m
Sol+Guard summer cover standard dimesions 8x4m and 10x5m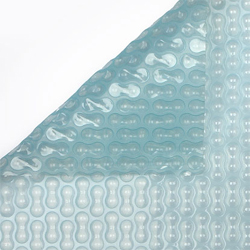 Recommended retail price 2023 starting from :
Our Price starting from :
Ref. Abatik 017600
Ref. Provider 8x4-REF GEOBU
Sol+Guard GeoBubble 500 micron non hemmed pool cover dimensions 8 x 4m delivered with eyelets
Excellent life span,
500-micron polyethylene,
Geobubble technology,
Clear surface with translucid underside tint
2 available dimensions
In stock
Bubble cover for pools with an inner dimension of 8 x 4 m or 10 x 5 m, unhemmed, delivered with eyelets for fixation on the pool reel.
Features of the cover
To optimise your swimming season, you need to equip it with a thermal cover, otherwise know as a bubble cover. This avoids heat loss during the night and water evaporation. The bubble cover is the indispensable partner to any heating system.
The Sol+Guard bubble cover has all the qualities of a summer cover but in addition, heats your pool water during sunny days, improving your swimming season.
In combination with a heating system the Sol+Guard reaches and retains the pool water temperature you desire, saving money and energy thanks to free solar energy!
Pool covers and finishes work in a harsh environment : UV rays, chemical products, heat damage. When combined, all these factors reduce the lifespan of your material.
Due to their shape, classic bubble covers
(1)
are subject to chemical attack
(a)
. Pointed angles form a fragile zone
(b)
reducing lifespan. Their small size limits air dilation
(c)
.
With harmonised shape and equal depth
(A)
, the GeoBubble
(2)
is more resistant to chemical attack
(B)
and ultraviolet rays
(C)
often responsible for early deterioration.
The deep volume of bubbles
(D)
reinforced with a double finish
(E)
gives GeoBubble a superior resistance to air dilation.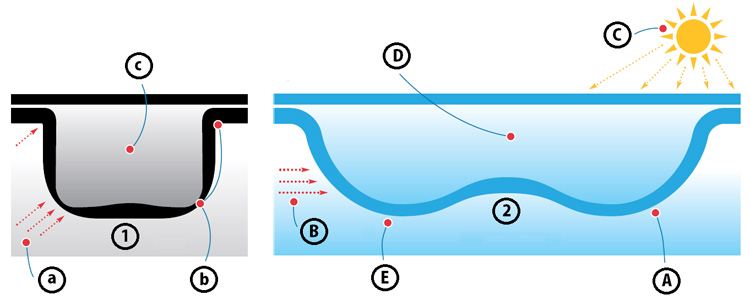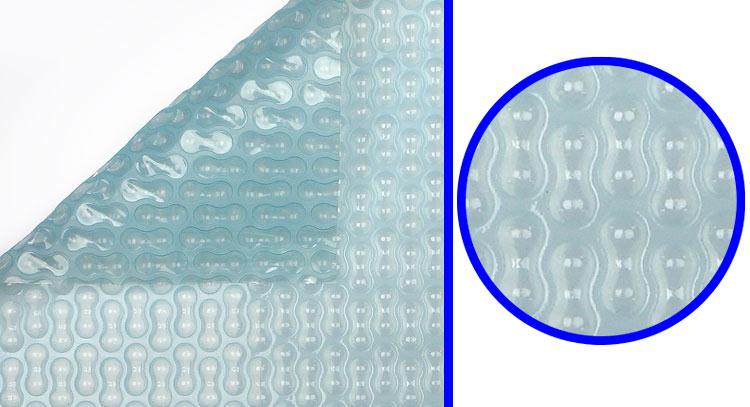 What is Sol+Guard?
Designed using GeoBubble technology combined with high-performance materials from the Guard range, the bubble cover Sol+Guard benefits from an excellent lifespan, saving you money, water and energy.

Constituted using a double layer technique. The outer surface is transparent, the inner surface is a of a translucid tint, giving a better penetration for solar energy to enter your pool water.

The materials used for the manufacture of the Sol+Guard cover resist to even the most variable climatic conditions.

Additives used during manufacture contain pigments which are chemical and weather resistant, creating high-performance stability in sunlight.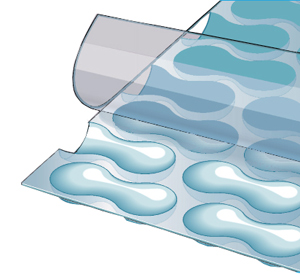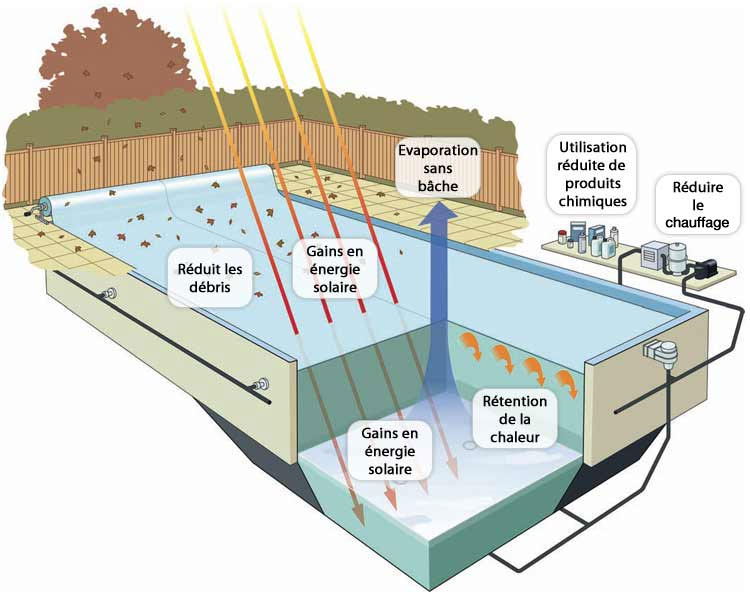 The advantages of Sol+Guard bubble cover
Heightens water temperature using solar energy

Manufacturer's tests show that the greater the translucid surface of a cover, the greater the capacity of solar penetration in the pool water.

Using a very clear colour and a unique, two layered combination, the Sol+Guard pool cover stores a maximum of solar energy when passing through the cover.

This system raises your water temperature (up to 8°C).


Reduces the use of chemical products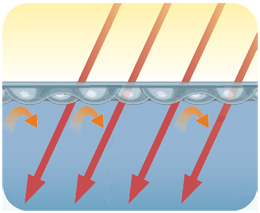 Gains heat using solar energy
Using a Sol+Guard cover reduces chemical use up to 40%. We do, however, recommend you continue to follow the manufacturer's instructions.
Evaporation of water in the pool

The Sol+Guard pool cover means you eliminate more than 98% of water evaporation from your pool water, therefore, reducing your water consumption and your bills.

Research carried out in Great Britan has proved that pool water evaporation in an average sized pool (approx 4m x 8m) is equal to 32 000 litres a year, the equivalent to 400 pools !

These indicative figures can rise in regions with higher than average temperatures, also during high winds.


Less debris contaminating your pool water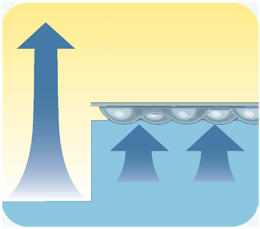 Eliminates more than 98% of water evaporation
Debris such as leaves, dust and insects are not only disagreeable to look at but also represent a breeding ground for algae and bacteria. When your pool is covered, these elements which contribute to pool contamination stay out of your pool water and greatly improve its quality and appearance.
Reduces energy consumption by 70%

The Sol+Guard cover reduces water evaporation and the cost of heating your pool by means of sun rays.

Heat gain tests effectuated by the manufacturer have proved that the use of the Sol+Guard cover makes close to 70% of economies in energy consumption. This applies to heat pumps and electrical heaters.

Another important point is that the use of this cover reduces by half the number of solar panels needed to heat a pool when not using a cover.


Environmental economy and advantages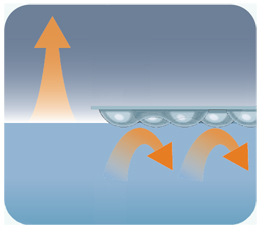 Gaining and holding heat
The Sol+Guard cover allows you to economise money by reducing your expenditure on water, heat and maintenance products. Your investment in a Sol+Guard cover can be amortised in only one year.
By reducing the volume of energy needed to heat and filter your pool water, the Sol+Guard cover equally allows you to lower your carbon footprint. This preserves water and at the term of its lifespan is completely recyclable.
Finish
ECO model, unhemmed : the most economic solution
Unhemmed model, made from honeycomb polyethylene with anti-UV treatment.
Eyelets evenly positioned on the width (8 maxi).
Assembly by soldering.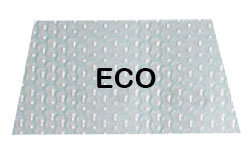 Why use a bubble cover ?
During the day, your pool water gains temperature by collecting the sun's energy.
Unrolled on the pool water (smooth side upwards) after pool use, the bubble cover
limits heat loss and evaporation
from your pool and protects against leaves debris and dust.
Precautions to follow when using your bubble pool cover
It is imperative to rigorously follow all the below recommendations to benefit from the guarantee.
Installation instructions
The bubble side of the pool cover must be in contact with pool water, the smooth side must be visible.
Maintainance advice
To preserve the lifespan of your bubble pool cover, it is imperative to remove it when:
- The ambient temperature reaches 30°C.
- During a chlorine shock water treatment for your pool and during the following 48h. (The chlorine content of your pool water must not exceed 1PPM).
When you remove your cover from your pool (the use of a reel is strongly recommended) :
- You MUST protect your pool cover from sun rays with a protective cover.
- If you do not have a pool cover storage reel it is recommended to fold the pool cover several times or roll to store under a protective cover.
Expansion and contraction :
- Because of variable ambient temperatures, the dimensions of the pool cover can vary. This is the reason why a safety margin of 1% to 2% is calculated during conception.
So, you may find the dimensions of your pool cover may be slightly different from those of your pool.
GENERAL CONDITIONS
- The guarantee of a defective product is applied after analyse and verification by the manufacturer following the return of the product.
- Transportation costs to return the product to the manufacturer are not covered by the guarantee.
- Products which are damaged during transport are not covered by the guarantee. It is the client's responsibility to check the material on reception and formally note any abnormalities with the transporter or refuse the merchandise.
- The manufacturer reserves the right to decide if a product should be repaired or replaced.
EXCLUDED FROM THE GUARANTEE
- The non-respect of the installation and user instructions of the pool cover resulting in abnormal degradation of the material.
- All modification of the pool cover other than those given by the written consent of the manufacturer.
- Deterioration due to the use of cleaning products other than those recommended.
- Consecutive deterioration due to meteorological conditions: violent winds, snowfall, heavy hail, lightening strikes.
- Deterioration due to abnormal rubbing, abrasive pool borders or concaved pool borders that present an uneven water surface.
Deterioration due to rubbing, snagging, tearing, unadapted water treatment and the covers colour stability is equally excluded from the guarantee.
On option : IPIKA telescopic reel
To simplify rolling and unrolling your cover, you can choose the
IPIKA telepscopic reel
.
Supplied with 8 belts to attach your thermal cover, manoeuvring wheel and handle, enabling easy movement and storage of the reel.
There are three existing models, depending on your pool dimensions:
- pool measuring 10 x 5.50 m maximum
- pool measuring 12 x 6,40 m maximum
- pool measuring 16 x 8 m maximum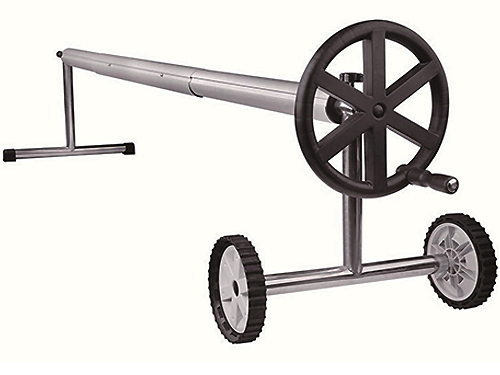 Warranty
1 season of use
Photos non-contractual
Price incl. VAT
Ask for a free quote sol+guard summer cover standard dimesions 8x4m and 10x5m
Other product : Sol+Guard summer cover standard dimesions 8x4m and 10x5m
Starting from 249 eur Including VAT.
Please fill in this form carefully. Our commercial service will handle your request promptly.
---
UK freephone hotline
Monday Friday 9.00 19.00, Saturday 10.00 18.00

---
Spare parts order
You are looking for a spare part for «Sol+Guard summer cover standard dimesions 8x4m and 10x5m» ?
Please click the button below. Our commercial service will handle your request promptly.