Pool covers - pool covering solutions

Summer and thermal pool covers

Standard dimensioned bubble cover 8x4m and 10x5m
Standard dimensioned bubble cover 8x4m and 10x5m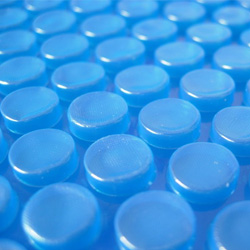 Recommended retail price 2023 starting from :
Our Price starting from :
Ref. Abatik 012411
Ref. Provider 012411
Blue 400 microns bubble cover unhemmed dimensions 8 x 4m delivered with eyelets
400-micron polyethylene covers,
Blue in colour
In stock
Bubble cover for pools with inner dimensions of 8 x 4 m and 10 x 5 m
2 finishes possible.
Available colours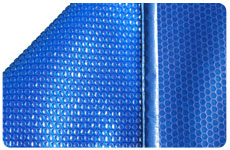 A. 400-micron blue cover

A classic solution, this thermal covers principal role is thermal insulation, reducing heat loss by evaporation.
This cover is made from 400-micron polyethylene, assembled by soldering, equipped with eyelets positioned in each angle.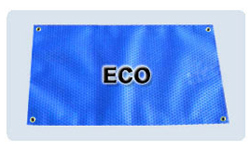 ECO model, unhemmed
The most economic
Unhemmed model, made from "honeycomb" polyethylene with anti-UV treatment.
Eyelets positioned on the width (8 maxi).
Assembly by soldering.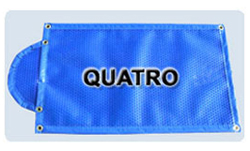 QUATRO model, 4 hemmed sides
Totally reinforced
Made from "honeycomb" polyethylene with anti-UV treatment.
Reinforced polyethylene hems on the totality of the parameter
with eyelets at each angle + eyelets on the reel side spaced between 70 and 80cm depending on the width of the pool.
Each cover is delivered with a protective cover and bungee fixations.
Supplied accessories
The
QUATRO
model of thermal covers are delivered with
an anti-UV protective cover
and two
bungee fixations
to protect you cover once positioned on its
Pool cover reel
Why use a bubble cover?
During the day, the sun causes gain in water temperature.
When you have finished using your pool, cover the pool water (smooth side upwards) with your cover. The bubble cover
limits heat loss
and evaporation from your pool water, creating a protection against leaves, dirt and debris.
Precautions when using a bubble cover
It is imperative to strictly follow all of the given recommendations to fully benefit from guarantees.
Installation advice
Place the bubble side directly in contact with the water surface, so the smooth side is completely visible.
Maintenance
To preserve the lifespan of your blister pool cover, it is imperative to remove it when:
- The ambient temperature reaches 30°C.
- During a chlorine shock water treatment for your pool and during the following 48h. (The chlorine content of your pool water must not exceed 1PPM).
When you remove your cover from your pool (the use of a reel is strongly recommended) :
- You MUST protect your pool cover from sun rays with a protective cover.
- If you do not have a pool cover storage reel it is recommended to fold the pool cover several times or roll to store under a protective cover.
Expansion and contraction :
- Because of variable ambient temperatures, the dimensions of the pool cover can vary. This is the reason why a safety margin of 1% to 2% is calculated during conception.
So, you may find the dimensions of your pool cover may be slightly different from those of your pool.
GENERAL CONDITIONS
- The guarantee of a defective product is applied after analyse and verification by the manufacturer following the return of the product.
- Transportation costs to return the product to the manufacturer are not covered by the guarantee.
- Products which are damaged during transport are not covered by the guarantee. It is the clients responsibility to check the material on reception and formally note any abnormalities with the transporter or refuse the merchandise.
- The manufacturer reserves the right to decide if a product should be repaired or replaced.
EXCLUDED FROM THE GUARANTEE
- The non-respect of the installation and user instructions of the pool cover resulting in abnormal degradation of the material.
- All modification of the pool cover other than those given by the written consent of the manufacturer.
- Deterioration due to the use of cleaning products other than those recommended.
- Consecutive deterioration due to meteorological conditions: violent winds, snowfall, heavy hail, lightening strikes.
- Deterioration due to abnormal rubbing, abrasive pool borders or concaved pool borders that present an uneven water surface.
Deterioration due to rubbing, snagging, tearing, unadapted water treatment and the covers colour stability is equally excluded from the guarantee. ]
On option : IPIKA telescopic reel
To simplify rolling and unrolling your cover, you can choose the
IPIKA telepscopic reel
.
Supplied with 8 belts to attach your thermal cover, manoeuvring wheel and handle, enabling easy movement and storage of the reel.
There are three existing models, depending on your pool dimensions:
- pool measuring 10 x 5.50 m maximum
- pool measuring 12 x 6,40 m maximum
- pool measuring 16 x 8 m maximum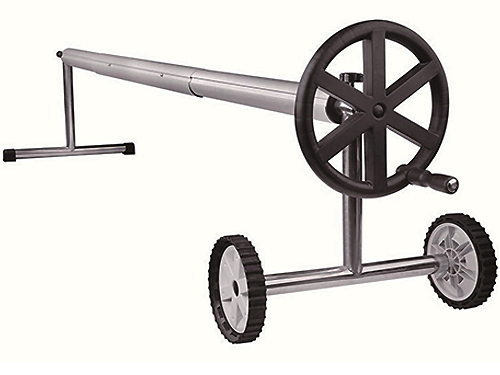 Warranty
2 digressive summer seasons for 400 micron thermal covers against all manufacturing defaults (soldering, material...) Applicable if protective cover used and instructions for use totally respected.
Photos non-contractual
Price incl. VAT
Ask for a free quote standard dimensioned bubble cover 8x4m and 10x5m
Other product : Standard dimensioned bubble cover 8x4m and 10x5m
Starting from 149 eur Including VAT.
Please fill in this form carefully. Our commercial service will handle your request promptly.
---
UK freephone hotline
Monday Friday 9.00 19.00, Saturday 10.00 18.00

---
Spare parts order
You are looking for a spare part for «Standard dimensioned bubble cover 8x4m and 10x5m» ?
Please click the button below. Our commercial service will handle your request promptly.