Pool heating and dehumidification

Dehumidifiers for indoor pools

Zodiac Sirocco 110 Ambience dehumidifier
Zodiac Sirocco 110 Ambience dehumidifier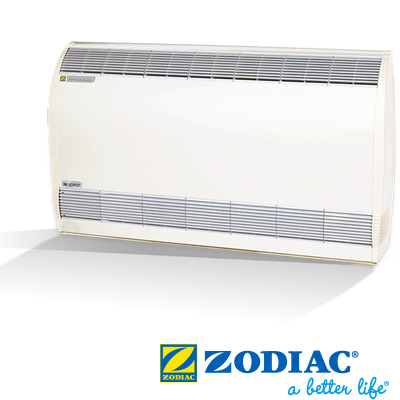 Recommended retail price 2023 starting from :
Our Price starting from :
Ref. Abatik 000959
Ref. Provider W28SI110A
Zodiac Sirocco 110 Ambience, single-phase without option
Ideal for indoor pools with a surface area up to 40m²
Integrated hygrostat, 4.6 l/hour capacity, electrical heating option or hot water battery.
Maximum pool volume 40 m3
Single-phase
In stock
Operation
The Sirocco 110 Ambience dehumidifier has been designed to dehumidify a maximum water surface of 40 m² using a monobloc unit, maintaining a humidity level of 60 to 70 %. This level of humidity ensures users comfort and avoids structural damage to your building due to humidity. This dehumidifier uses a thermodynamic circuit (air/air heat pump) that can transform hot, humid air into warmer, dry air. This method of operation uses "recycled" air rather than "renewed air" indicating lower running costs.
Providing humidity control for indoor pools by means of a dehumidifier running on a closed circuit. In an indoor pool area, a dehumidifier maintains air dry with a comfortable atmospheric temperature, limiting condensation and damage caused by damp.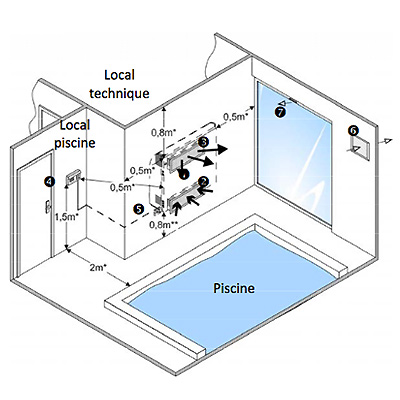 * - minimum distance
** - maximal distance
1 - Sirocco dehumidifier
2 - Air supply grill
3 - Air return grill
4 - Hygro control
5 - Condensation evacuation
6 - Air renewal system (a)
7 - Fresh air entry
(a) Highly recommended in the case of residential pools.
Hydro Control technology
The unit's control panel can regulate the desired humidity level. You can, therefore, maintain the standard humidity level of 65%. The control panel equally allows you to regulate the thermostat for the models featuring the air heating option.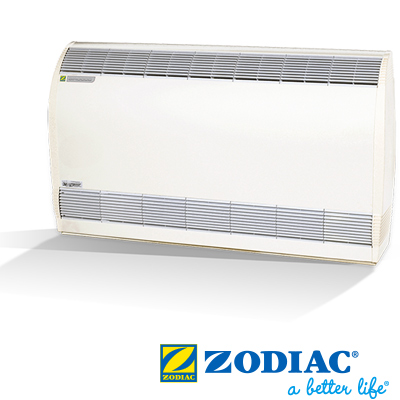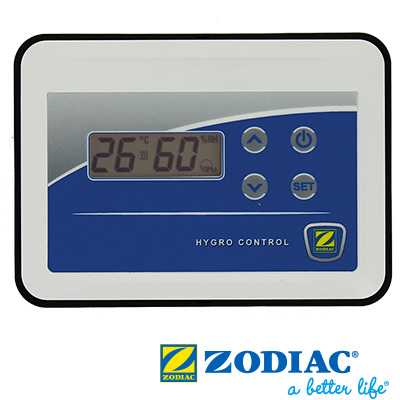 Hygro Control command unit
Technical characteristics
- Monobloc dehumidifier
- Control panel featuring "Hygro Control"
- Thermodynamic system with direct expansion
- Copper tubed, crimped aluminium finned evaporator and compressor
- Vane compressor
- ABS and plastic coated steel bodywork
- ABS injected grill
- Cooling liquid: R 407 C.
Dimension condensation evacuation
16 mm
Capacity of available options
PSA Sirocco 110 Ambience hot water battery
12kW
PSA Sirocco 110 Ambience electrical option
4.5kW
**Figures based on the following nominal conditions: water 28°, air 28 °C, humidity 65%
* Figures measured and certified to norms EN ISO 3741 and EN ISO 354 by CTTM ( Centre de transfert de Technologie du Mans research center).
Dimensions (in mm)

Dimensions of SIROCCO 110 Ambience dehumidifier
Installation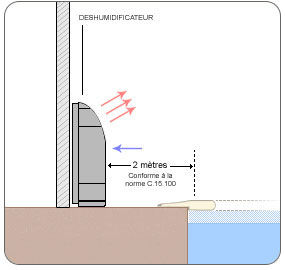 The Sirocco 110 Ambience dehumidifier should be installed in the pool area more than 2 meters from the pool edge in conformity to the norm C.15.100.

Ambient heating can be included on option either by hot water battery or electrical resistances.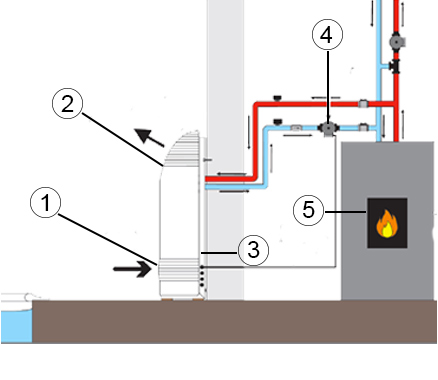 Zodiac Sirocco 110 ambience operational schema featuring hot water battery
1. Air supply grill for humid air
4. Circulator
2. Hot, dry air supply grill
3. Sirocco 110 dehumidifier
5. Boiler
Warranty
2 years
Photos non-contractual
Price incl. VAT
Ask for a free quote zodiac sirocco 110 ambience dehumidifier
Other product : Zodiac Sirocco 110 Ambience dehumidifier
Starting from 5478 eur Including VAT.
Please fill in this form carefully. Our commercial service will handle your request promptly.
---
UK freephone hotline
Monday Friday 9.00 19.00, Saturday 10.00 18.00

---
Spare parts order
You are looking for a spare part for «Zodiac Sirocco 110 Ambience dehumidifier» ?
Please click the button below. Our commercial service will handle your request promptly.