Spas

Typhoon spa
Typhoon spa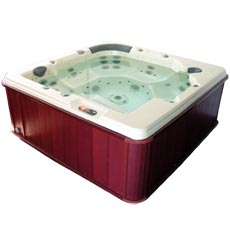 Recommended retail price 2023 starting from :
Our Price starting from :
Ref. Abatik 000823
Typhoon spa
Spa for 6 persons, 68 jets,
Ozone generator, blower, automatic filtration, aromatherapy, LED peripheric and contour lighting
Lucite® acrylic tub
In stock
The SUNBELT Typhoon Spa for 6 persons is part of the SUNBELT SPA range.
- Lucite® acrylic tub,
- LED BALBOA® control panel and LED lighting
- WATERWAY® nozzles
- PVC outer casing
- TIMBERSTONE structure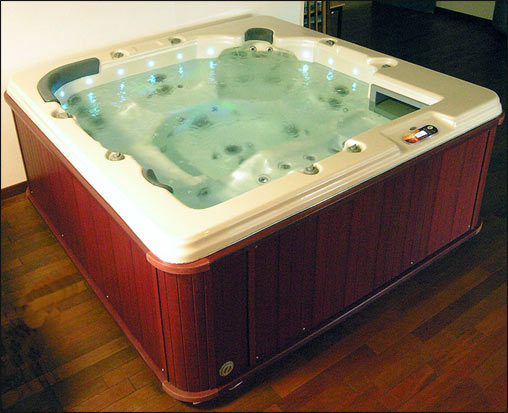 Featuring an ultra equipped hydro massage system, the Typhoon 6 place spa has the capacity to offer you a gentle or a more intense massage session.

The volcano jet situated on the spa floor gives a swirling effect, completing a foot massage.

Emitting LEDs are positioned on the inner side of the tub as well as a floor spot for the main lighting.

The ergonomic concept and depth of seating offer great comfort during your relaxation time. Your spa is sanitised by the ozone generator, creating a clear, clean and healthy water.

User-friendly, your spa will provide long, relaxing moments. The Typhoon spa does not require any further installation than being plugged into the domestic power supply. Fill with water using a hose and anticipate changing the water every three months.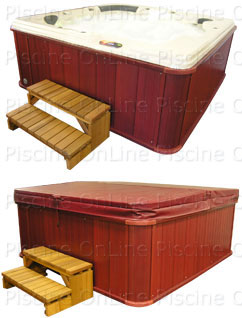 Dimensions
2,40 x 2,40 x 1,00 m
Luxury rotating jets
10 (equivilent to 30 direct jets)
Jets with adjustable nozzles
4
Filtration system
Balboa automatic
Multicoloured central lamp
12 Volts
Spa cover
supplied (10 cm thick)
Required electrical supply
240V / 20A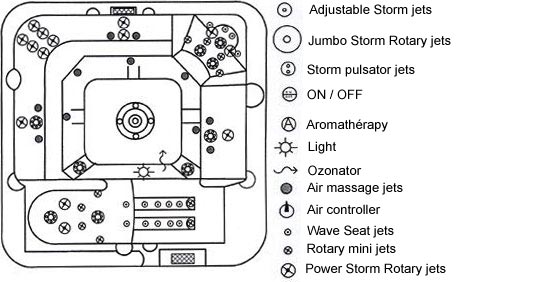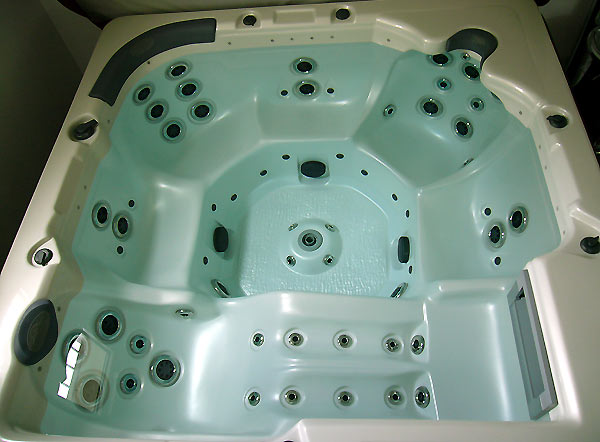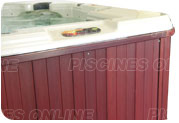 Outer casing
The outer casing of the spa is made from an ultra resistant PVC that guarantees your spa good insulation and an excellent resistance to UV rays.
Cover
Each spa is supplied with an insulating doubled cover that measures 10cm thick. This cover helps to maintain water temperature and protects spa access.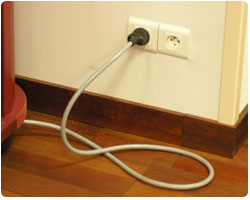 Electrical connection
The electrical connection of your spa requires only to be plugged into the domestic supply (taking into account the required amperage, protect your installation by using a 30mA - Norm C 15-100 circuit breaker).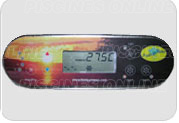 Display panel
The display panel of the spa gives you control over the pumps and lets you enjoy your choice of massage.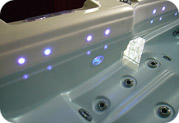 LED lighting
The integrated LED lighting on the floor and contour of the spa lets you enjoy a hydro massage in an agreeable ambience.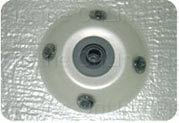 The volcano jet
The volcano jet gives the full benefit of foot massage.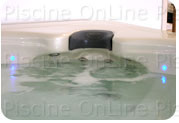 Integrated massage seats
This seat is equipped with 13 jets : Shoulder, neck and lower back massage.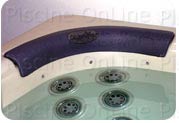 Head rest
The ergonomic headrest betters the user comfort during the massage.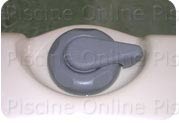 The regulation jet
The regulation jet means you can control the pumps and distribute massage intensity through different zones of your spa.
Colours and options

Starry Night Blue

Galaxy Green

Moonscape

Black Sparkle

Desert Horizon

Pearl Shadow

Pearl

Sapphire

Ruby
Escalier 2 marches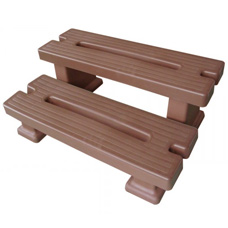 Treatment box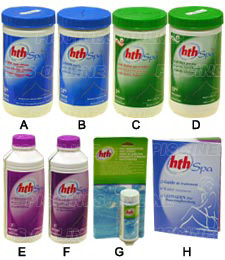 Including :

A - 1,2 Kg of Bromine pastels

B - 1,2 Kg of Chlorine shock without powder

C - 1,2 Kg of pH- micro-balls

D - 1,2 Kg of pH+ powder

E - 1 L 3 in 1 radient water

F - 1 L Spa cleaner

G - 1 Tube of 25 water quality testing strips

H - 1 Water treatment guide
CD/FM radio
CLARION "marine" XMD3 CD/FM Radio, totally waterproof integrated into spa sub.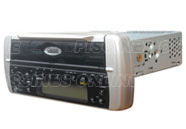 Poste CD/FM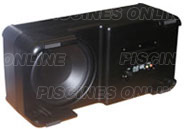 Subwoofer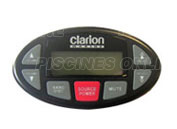 Displayl panel for CD/FM
(on option)
You need to have 3 or 4 persons to assist with the reception of your spa.
Warranty
25 years on structure
7 years on tub
2 years on all other material
Photos non-contractual
Price incl. VAT
Ask for a free quote typhoon spa
Other product : Typhoon spa
Starting from 15290 eur Including VAT.
Please fill in this form carefully. Our commercial service will handle your request promptly.
---
UK freephone hotline
Monday Friday 9.00 19.00, Saturday 10.00 18.00

---
Spare parts order
You are looking for a spare part for «Typhoon spa» ?
Please click the button below. Our commercial service will handle your request promptly.