Spas

Impact counter current swim spa
Impact counter current swim spa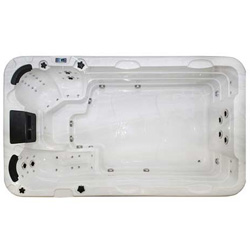 Recommended retail price 2023 starting from :
Our Price starting from :
Ref. Abatik 011827
Ref. Provider AQUATIC 1
Impact counter current spa swim spa
3 person capacity including 1 lounging zone,
35 water jets,
4 counter current water Jets,
4 4HP pumps + 1 filtration/circulation pump
Venturi control (personalised massage)
In stock
The Impact counter current swim spa combines physical activity and relaxation enjoying a 3 person capacity, 2 sitting and 1 lounging.
4 counter current jets creates water flow in the tub making it possible to practice on-the-spot swimming session. 35 water jets are dispatched to the two seated areas and the lounging zone. The position of each individual jet is studied to provide both stimulating and relaxing massages.
The Venturi control featured with the Swimspa Impact means you can select the quantity of air propulsed by the jets into the spa water as to regulate the intensity of your massage.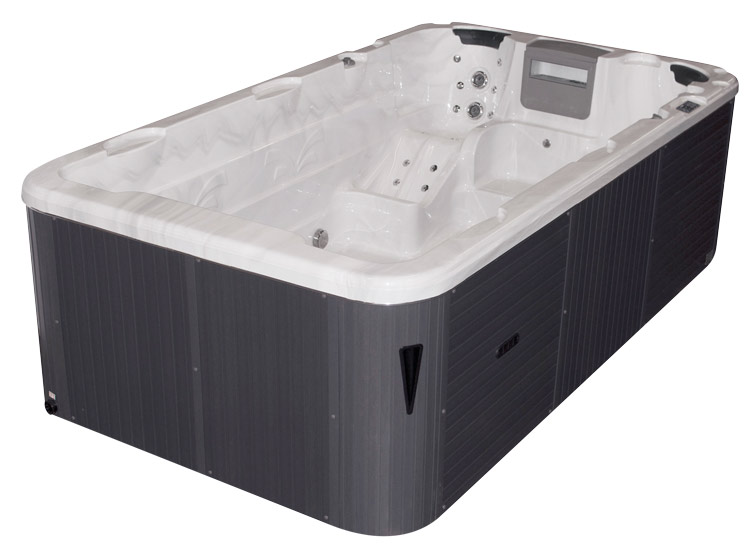 The tub of the Impact spa has a thermoformed leaf of Lucite® acrylic as a finish. Lucite® acrylic evokes quality, resistance and durability. The PVC outer casing is labour-free.
Using the electronic display panel situated on the tub side, all of the programmes and settings of the Swimspa Impact are accessible while using the spa.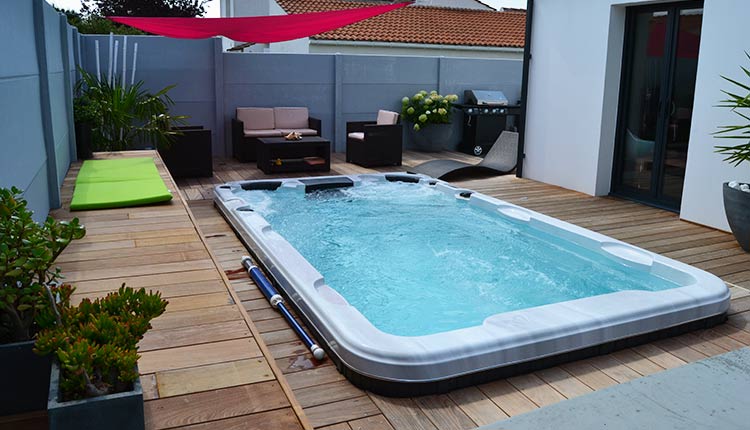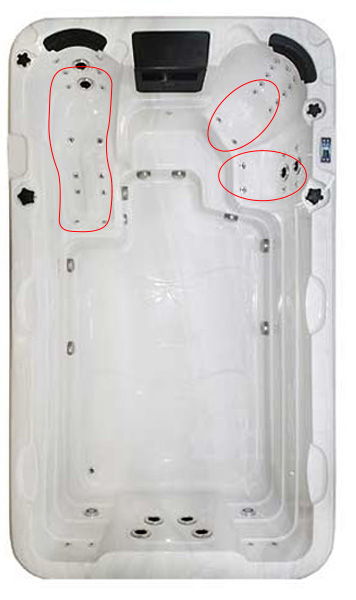 Dimensions
- Length : 400 cm
- Width : 228 cm
- Height : 126 cm,
- Empty weight : 1200 kg, Full weight : 8700 kg
- Water capacity: 7500 litres
Jets, seating and comfort
- 3 places: 2 sitting, 1 lounging
- 35 massage hydro jets
- 4 counter current swimming jets
- 2 soft headrests
- Venturi control (for personalised massage)
- LED starBrite lighting inside spa
- 4 lighting features on spa contour
- Multicoloured subaqua LED spot
Technical features
Outer casing
PVC labour-free
Insulation
Polyurethane against the tub and thermo-reflective against casing
Base/hood
ABS waterproof and insulating
Pumps
4, 4HP pumps + 1 filtration/circulation pump
Filtration
Programmable high-flow 3 cartridge microfilter
Water treatment
Ozone generator 600 mg/h
Required power supply
380V / 3 x 20A
Delivered with a thermic cover that secures spa access, conserves the temperature of your water and limits evaporation.
Situated in the cavity between the tub and outer casing, the insulation recuperates and absorbs the calories produced by the pumps and other electrical material to conserve water temperature. The water heater works in complement to the insulation, giving you and ideal water temperature at any time.
The Impact swim spa features a high flow 3 cartridge microfilter system that provides clear, fresh water. This is coupled with an ozone generator, guaranteeing disinfection and reducing your chemical water treatment budget.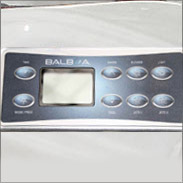 Balboa display panel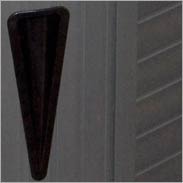 Outboard LED features on PVC outer casing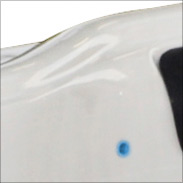 LED StarBrite inside tub
The 2 subaqua projectors and the backlit waterfall create a relaxing, soothing atmosphere, adding to your well being.
A thermal cover is supplied with the Impact spa, to conserve water temperature, limit heating costs and water evaporation. This also allows you to secure spa access when not in use.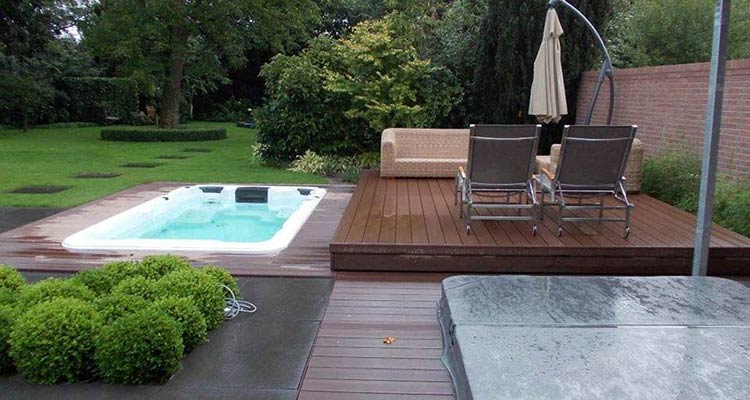 Warranty
10 years on structure
5 years on tub
2 years on material
Photos non-contractual
Price incl. VAT
Ask for a free quote impact counter current swim spa
Other product : Impact counter current swim spa
Starting from 16131 eur Including VAT.
Please fill in this form carefully. Our commercial service will handle your request promptly.
---
UK freephone hotline
Monday Friday 9.00 19.00, Saturday 10.00 18.00

---
Spare parts order
You are looking for a spare part for «Impact counter current swim spa» ?
Please click the button below. Our commercial service will handle your request promptly.