Spas

Barbades spa
Barbades spa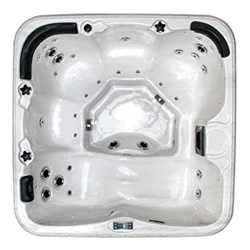 Recommended retail price 2023 starting from :
Our Price starting from :
Ref. Abatik 011824
Ref. Provider REFRESH
Barbades spa 5 person capacity
5 person capacity, 4 sitting, 1 lounging
26 massage jets,
3 soft headrests,
Waterfall.
In stock
The Barbades spa offers all the benefits of hydrotherapy: ideal water temperature, 26 massaging hydro jets and 8 soothing air jets create a convivial moment to share with friends and family.

To ensure pure, clear water with minimum maintenance, the Barbades is equipped with a filtering system that functions with a micro filter cartridge, capturing all impurities. This system is coupled with an ozone generator, creating impeccable hygiene, destroying bacteria present in the spa water.

The Barbades spa uses a multicoloured LED lighting system. 14 LEDs are positioned on the level of the waterline, the aromatherapy unit diffuses soothing essences into the water during your relaxation session.
The Barbades is designed for the well-being of the whole family. 4 persons can be seated, 1 lounging.
Using the Venturi controls that are accessible from the spa, you can dose the flow of air in the water flow to obtain a gentle massage, using only water pressure, or a more tonic massage, using a mix of water and air.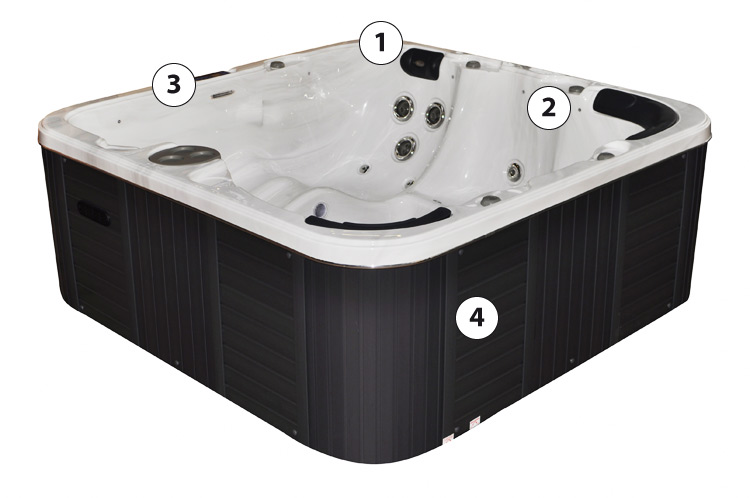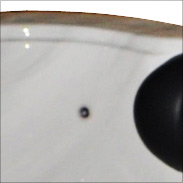 Multi layer tub
(1)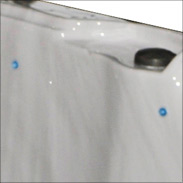 LED lighting
(2)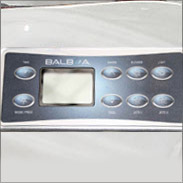 Display panel
(3)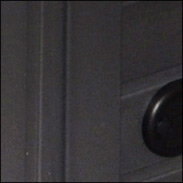 PVC outer casing
(4)
The tub of the Barbades has a thermoformed Lucite® acrylic finish. Lucite® acrylic evokes quality, resistance and durability. The PVC outer casing is labour-free. Esthetic, this spa integrates perfectly into your living environment, your veranda, your terrace or close to your pool.
The thermic insulation made from recycled polyurethane absorbs calories created by the pumps electric material to help maintain water temperature.
Supplied with a thermal cover that secures spa access, maintains water temperature and prevents evaporation.
Dimensions

• Length : 204 cm
• Width : 204 cm
• Height : 85 cm
• Empty weight : 250 kg , full weight : 1630 kg
• Capacity : 1380 L
Seating, jets and comfort

• 5 person capacity, 4 sitting, 1 lounging
• 26 massage hydrojets
• 8 air jets dispached in 4 zones
• Waterfall
• 14 LED mood lights
• Aromatherapy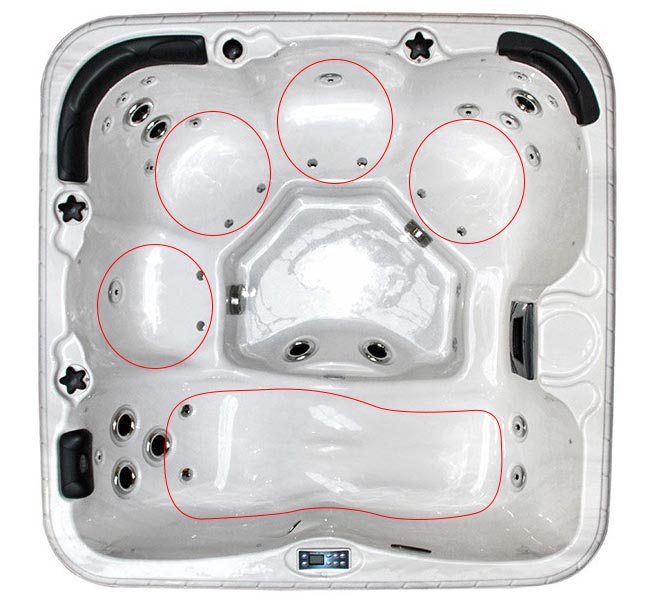 The Barbades spa in detail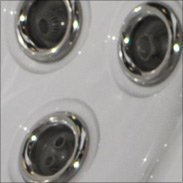 26 massaging water jets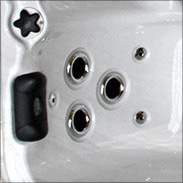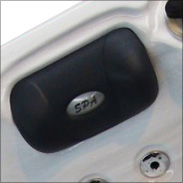 Comfortable headrests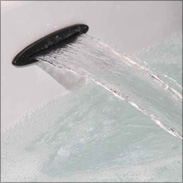 Backlit waterfall
Technical details
Outer casing
PVC - labour free
Insulation
Polyurethane against la tub
Isolation
Thermo-reflective against the outer casing
Base and hood
ABS waterproof and insulated
Pump
3 HP, 1 250W filtration/circulation pump, 1 300W blower
Filtration
Programmable high-flow microfilter cartridge
Required electrical supply
230 V / 16 A
Warranty
10 years on structure
5 years on tub
2 years on all other material
Photos non-contractual
Price incl. VAT
Ask for a free quote barbades spa
Other product : Barbades spa
Starting from 6390 eur Including VAT.
Please fill in this form carefully. Our commercial service will handle your request promptly.
---
UK freephone hotline
Monday Friday 9.00 19.00, Saturday 10.00 18.00

---
Spare parts order
You are looking for a spare part for «Barbades spa» ?
Please click the button below. Our commercial service will handle your request promptly.