Spas

Cirella spa
Cirella spa
Swimming pool online exclusively bring you the Cirella spa. Designed for family use, with a 5 person capacity, 3 massaging seats and 2 lounging positions.
34 water jets, intelligently dispatched throughout the spa offer a quality massage on the whole body. Each of the lounging areas is equipped with a Venturi control that allows a variation of massage power.
The Cirella features all the options of a top of the range spa. Powerful hydrotherapy combined with a 3 HP pump and air injection system Venturi giving you the choice between gentle or tonic massage, depending on what you want, at any given time.
To easily access your spa, a 2 step walk-up made from wooden composite, in the same tone as the outer casing of you spa is your free gift.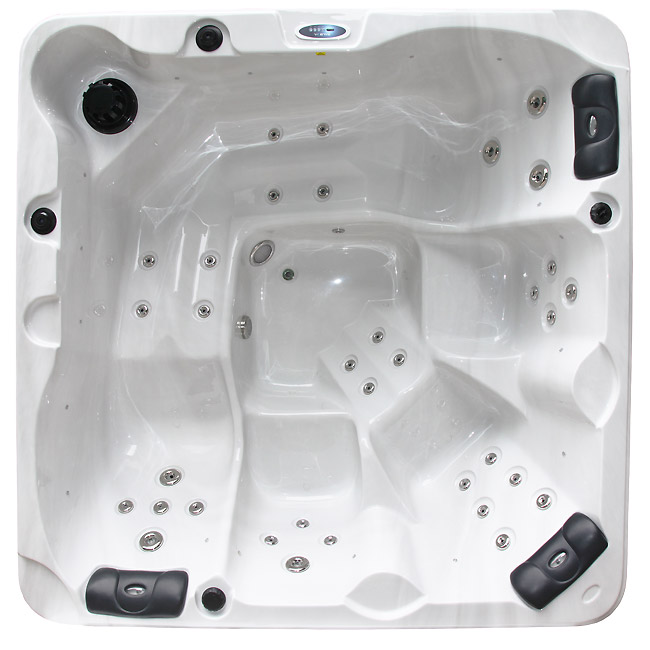 The tub of the Cirella is finished with a thermoformed leaf of Lucite® acrylic. Lucite® acrylic evokes quality, resistance and durability. There is also an anti-UV treatment and Microban® film on the Cirella spa tub.
A thick layer of polyurethane foam under the tub (which is a low heat conductor) insulates against heat loss and contributes to the phonic insulation of your spa.
The thermic cover allows you to secure spa access, conserve water temperature (making economies) and preventing water evaporation.
With elegant and robust PVC outer casing that does not require any particular maintenance.
All of the above points indicate that an installation of this spa indoors or outdoors is possible.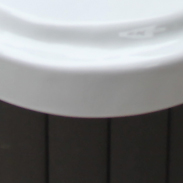 Lucite® acrylic tub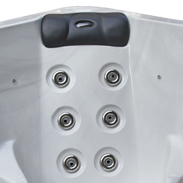 Powerful massage jets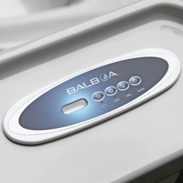 Balboa® control panel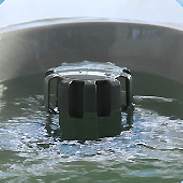 Ultra fine cartridge filter

Dimensions
• Length : 200cm
• Width : 200cm
• Height : 90cm
• Empty weight : 361kg, Full weight : 1560kg
• Water capacity : 900 litres

Seating, jets and comfort
• 3 sitting, 2 lounging
• 34 massage hydro jets
• 3 comfortable headrests
• 20 LEDs
• 2 step walk-up made from wooden composite
The Cirella spa has an ultra fine filter cartridge and a circulation pump that ensures a good water circulation.
Cirella features an ozone generator that keeps water pure and healthy, reducing the consumption of chemical water treatment products.
20 peripheral LEDs are synchronised with subaquatic lighting and controlled by the Balboa® display panel.
The Cirella spa in detail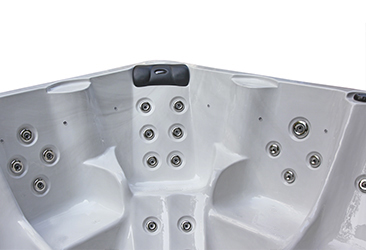 Le design ergonomique des sièges vous procure une grande qualité de massage.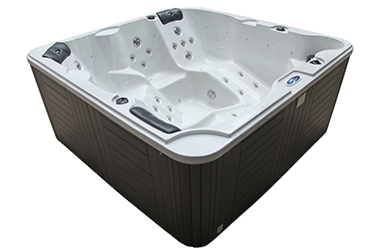 The outer casing of the Cirella is PVC and labour free.
Technical details
Thermic cover
Average thickness 10cm
Outer casing
Labour free PVC
Mood lighting
Multicoloured LED subaquatic spot
Seating capacity
3 sitting, 2 lounging
Pumps
1 single-phase 3hp hydrotherapy pump, 1 filtration/circulation 375W pump
Number of hydrotherapy jets
34 massage hydro jets
Venturi controls
Personalised massage
Filtration
Programmable high-flow microfilter cartridge
Base and hood
ABS waterproof and insulating
Diverse
Aromatherapy, 20 LEDs are placed in peripheric of the inside contour of the spa.
Required electrical supply
230V 16A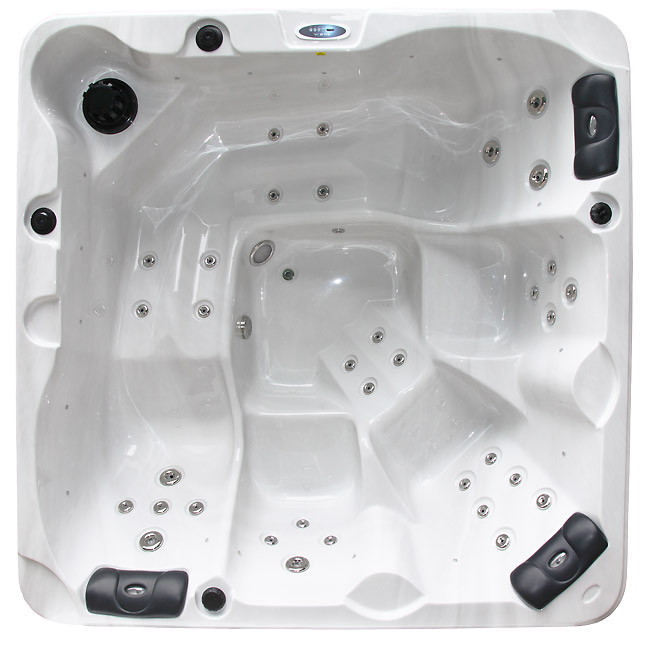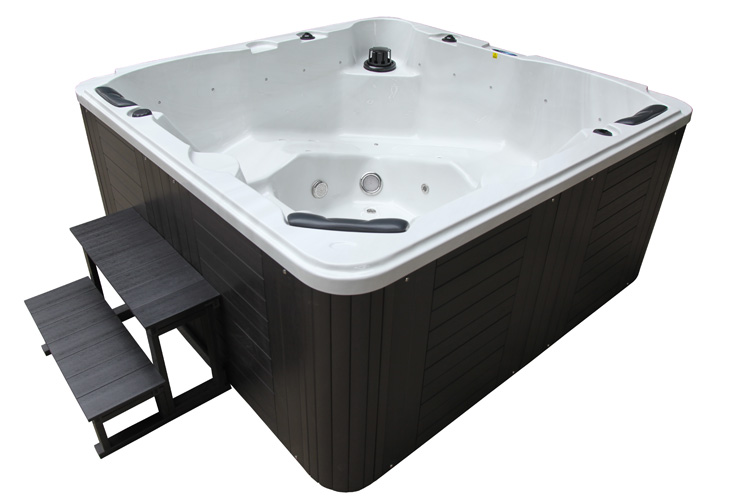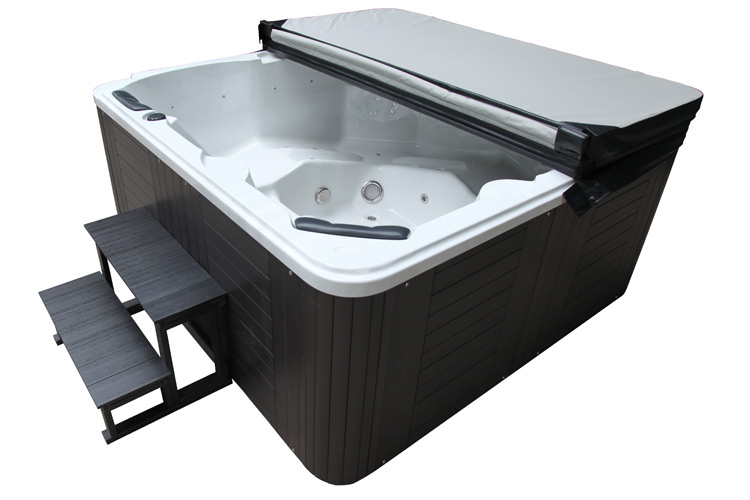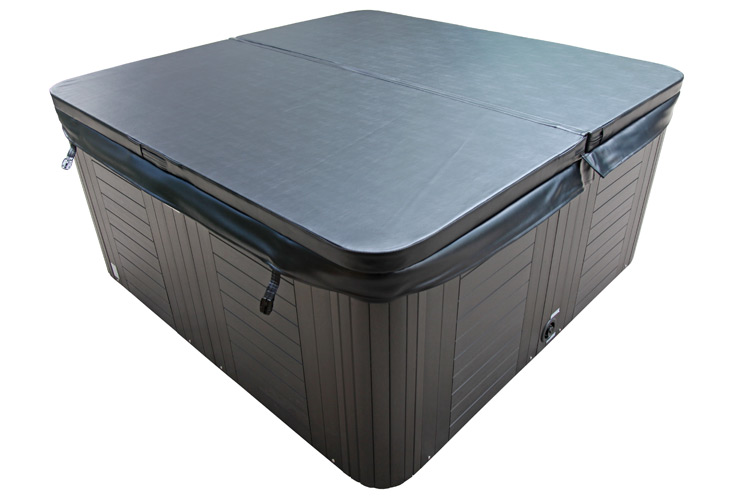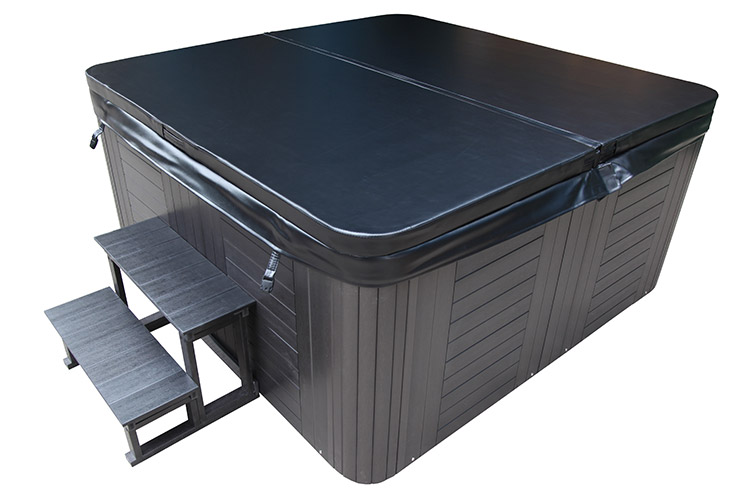 Warranty
5 years on tub
2 years for all other parts
Photos non-contractual
Price incl. VAT
Ask for a free quote cirella spa
Other product : Cirella spa
At best price 5990 eur Including VAT.
Please fill in this form carefully. Our commercial service will handle your request promptly.
---
UK freephone hotline
Monday Friday 9.00 19.00, Saturday 10.00 18.00

---
Spare parts order
You are looking for a spare part for «Cirella spa» ?
Please click the button below. Our commercial service will handle your request promptly.