Spas

Monoï spa
Monoï spa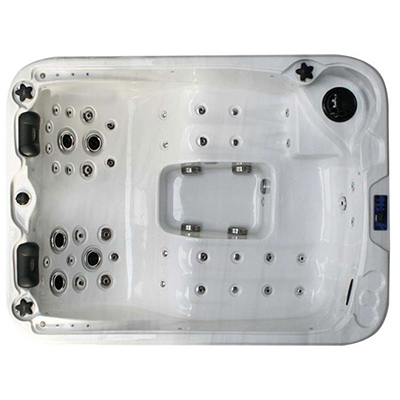 Recommended retail price 2023 starting from :
Our Price starting from :
Ref. Abatik 017102
Ref. Provider OXFORD
Monoï spa, 3 person capacity including 2 lounging zones
3 person capacity spa,
48 water jets, 3 Venturi controls, 1 blower
3 Kw heater,
Intuitive control panel,
Delivered with thermal cover
In stock
Featuring ergonomic seating and many options, the Monoï spa offers a comfortable capacity of 3 persons, two sitting and one lounging.
Comfort and options
48 jets, 5 of which rotate, ensuring a directional massage. Three Venturi controls allow you to regulate the quantity of air propulsed into the nozzles, choosing between a gentle or tonic massage. The blower injects micro bubbles into the spa water, creating a bubbling, soothing effect.
18 LED lighting features are situated at the waterline, waterfall and aromatherapy unit providing a relaxing atmosphere.
Control panel
The control panel facilitates control of your settings and programs. Easy to use, you can control the functions of your spa: regulate the water temperature, jets, filter programming, water treatment and heating.

Balboa® control panel
Venturi control
Massage jets
Maintainance and insulation
The filtration system uses micro filter cartridges and an ozone generator to eliminate bacteria and germs. This reduces the quantity of chemical water treatment products used.
Polyurethane mousse insulation coupled with the supplied thermic cover conserves water temperature and limits evaporation resulting in economical use.
Its tub is finished with a thermoformed leaf of Lucite® acrylic. Lucite® acrylic evokes quality, resistance and durability.
The outer casing of the spa is made from PVC. It is resistant to UV rays and weatherproof, and so, does not require any maintenance. Esthetic, this spa fits in perfectly to your environment.
When installed, the Monoï spa should be connected to a domestic plug, 220 V. Anticipate a circuit breaker with a 20-ampere fuse.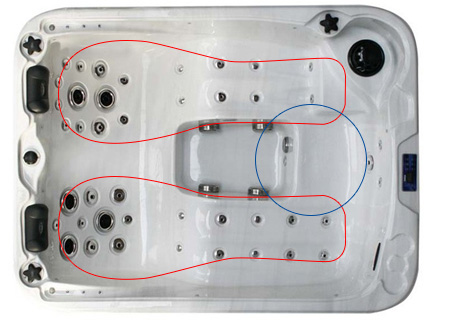 Dimensions

Length : 204 cm
Width : 155 cm
Height : 82 cm
Empty weight : 275 kg, Full weight : 1325 kg
Capacity : 1050 litres


Configuration, jets and comfort

2 lounging, 1 sitting
2 comfortable head rests
48 massaging hydro jets
3 Venturi controls
1 blower
18 LED mood lights
Waterfall and aromatherapy
YouTube conditions the playback of its videos on the deposit of tracers in order to offer you targeted advertising based on your browsing.
By clicking on "I authorize" the plotters will be deposited and you will be able to view the video. You have the option of withdrawing your consent at any time.

For more information, visit the YouTube cookies policy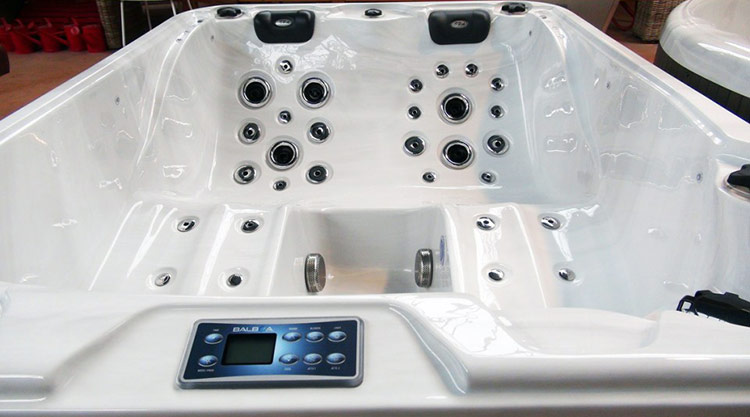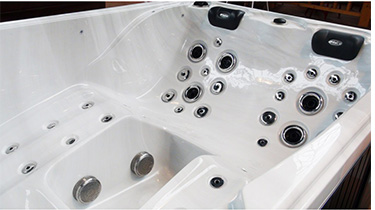 Seats with comfortable head rests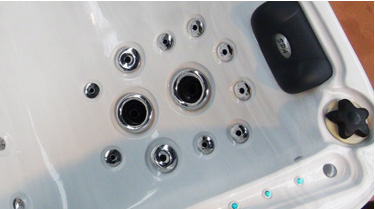 18 LEDs at the waterline
Technical details
Outer casing
PVC - no labor
Filtration/circulation pumps
1/4 HP
Filtration
Programable micro filter cartridge
Insulation
Polyurethane foam
Base and hood
ABS waterproof and insulating
Number of lighting features on outer casing contour
2
Required electrical supply
240 V / 20 A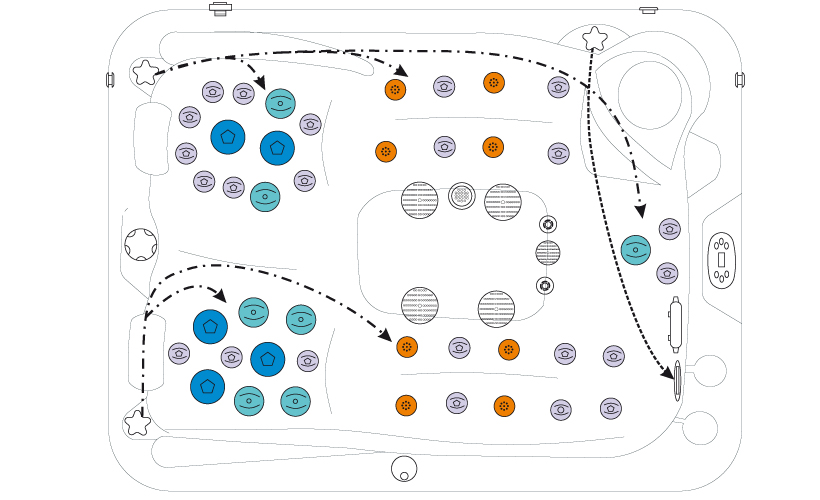 Massage jet

Massage jet

Massage jet

Blower jet

Spa lighting

Suction

Suction
Delivered with a thermic cover that secures spa access, limits evaporation and maintains water temperature.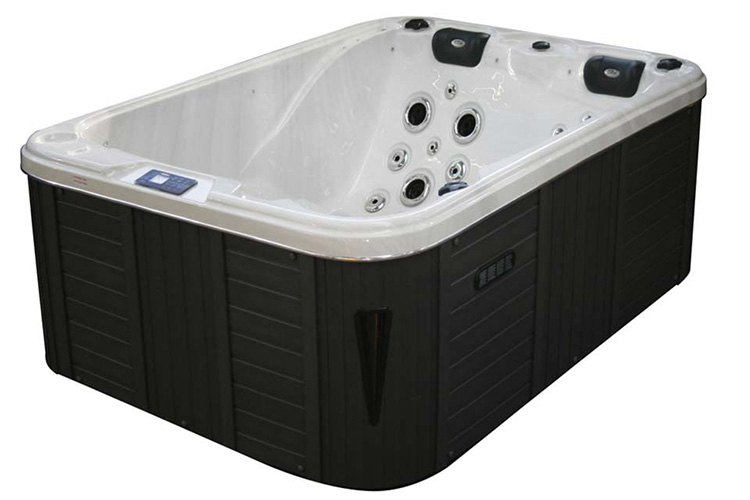 Warranty
10 years on structure
5 years on tub
2 years on all other parts
Photos non-contractual
Price incl. VAT
Ask for a free quote monoï spa
Other product : Monoï spa
Starting from 6490 eur Including VAT.
Please fill in this form carefully. Our commercial service will handle your request promptly.
---
UK freephone hotline
Monday Friday 9.00 19.00, Saturday 10.00 18.00

---
Spare parts order
You are looking for a spare part for «Monoï spa» ?
Please click the button below. Our commercial service will handle your request promptly.