Automatic pool cleaners

Hydraulic pool cleaners

Blue Rebel
Blue Rebel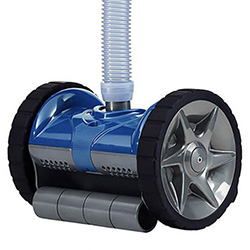 Recommended retail price 2023 :
Our Price :
Ref. Abatik 020676
Ref. Provider 49704BR
Blue Rebel pool cleaner
Easy connection to you pools brush adaptor or skimmer,
pre-programmed trajectory and obstacle management,
automatic directional change, finned turbine,
reduced clogging risk.
Easy installation, use and maintenance.
The
Blue Rebel hydraulic cleaner
is the ideal cleaning partner for your pool. Very quiet in operation, maintaining independently your pool as a whole : floor, walls and waterline. Its trajectory is pre-programmed, to ensure total cleaning without being blocked by an obstacle.
Easy to use, requiring minimum maintenance. Its turbine is finned, avoiding clogging of the unit and its suction tube. Devoid of electronic components, the
Blue Rebel
completes its movements by hydraulic power sourced from the filter pump.
This
hydraulic cleaner
is a durable and economic solution to ensure the cleanliness of your pool, whatever its finish may be.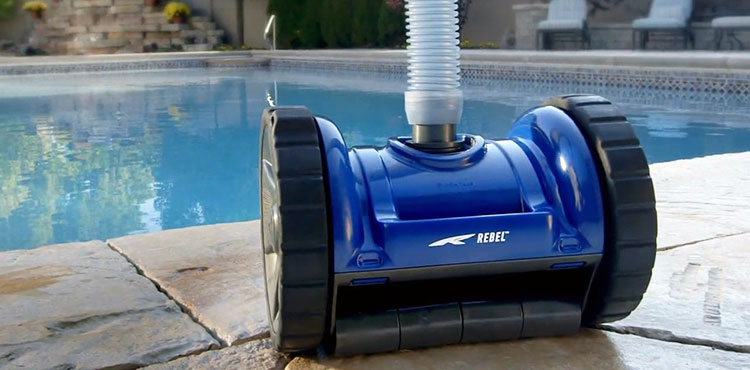 Suction power and efficiency
The
Blue Rebel hydraulic cleaner
has been designed to efficiently and rapidly clean your pool. Its trajectory is powered by the water flow of the filtration pump connected to the brush adaptor or skimmer in your pool. Performant, even if your pump power is low or variable.
It's robust, adhesive rolling tracks indicate this cleaner can advance in its movements without becoming blocked, perfectly managing obstacles. Thanks to this unit's compact shape, this cleaner can reach the most inaccessible corners and recesses of your pool.
In order to guarantee an efficient cleaning cycle, the
Blue Rebel hydraulic pool cleaner
automatically changes direction, ensuring the total maintenance of the pool.
The
Blue Rebel pool cleaner
guarantees optimal cleanliness. Equipped with an ultra performant turbine designed to deal with all types of impurities : debris, leaves, sand... The
Blue Rebel
sends all dirt and debris into the pool filter without a clogging risk : the turbine fins auto-adapt to the debris that the cleaner is dealing with so the suction tube does not become blocked.
YouTube conditions the playback of its videos on the deposit of tracers in order to offer you targeted advertising based on your browsing.
By clicking on "I authorize" the plotters will be deposited and you will be able to view the video. You have the option of withdrawing your consent at any time.

For more information, visit the YouTube cookies policy
.
Easy and economic
The
Blue Rebel
is an economic solution for the
maintenance
of your
poolwater
. This unit does not require any electrical connection. Its operation is exclusively mechanical, ensuring the sustainability of its operational lifespan.
All you need to do is connect the unit to the brush adaptor or skimmer of your pool so the impurities collected are sent to the filter. Light in weight, the unit is easily immersed and after, removed from your pool water.
The lid is situated on the upper casing of the cleaner and facilitates access to the unit's components, including the turbine, making maintenance easier.
Supplied accessories
The
Blue Rebel pool cleaner
is delivered complete with accessories.
Including :
1) Waterflow regulator
Allowing the unit to have a Waterflow sufficient to operate and complete trajectory in an optimal manner.
2) Tube float
Avoids the formation of knots and ensures the balance of the unit
3) Cone formed adaptor for brush connection
Ensures easy connection
4) Flowmeter
Checks available Waterflow and ensures the correct operation of the unit.

Waterflow regulator
Tube float
Cone formed adaptor for brush connection
Flowmeter
Technical features
Minimum waterflow for operation
6 m³
Hydraulic connection pipe (included)
10,4 m
Maximum dimensions of pool
12 x 6 m
Connection
Brush adaptor skimmer
Dimensions
107 x 39 x 23 cm
Adapted pool finish
All finishes compatible
Access to turbine
Top Access (situated on the upper casing of the unit)
Pre-programmed trajectory
Yes
Waterflow regulator
Supplied
Adaptor for brush adaptor
Supplied
Types of debris collected
Sand, leaves, small stones, random debris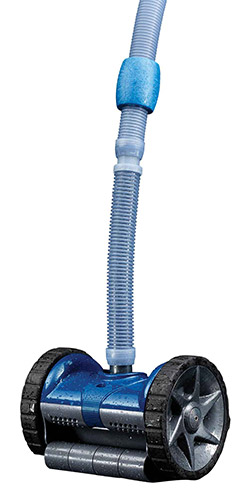 Warranty
2 years
Photos non-contractual
Price incl. VAT
Ask for a free quote blue rebel
Other product : Blue Rebel
At best price 399 eur Including VAT.
Please fill in this form carefully. Our commercial service will handle your request promptly.
---
UK freephone hotline
Monday Friday 9.00 19.00, Saturday 10.00 18.00

---