Automatic pool cleaners

Hydraulic pool cleaners

Hayward Pool Vac Ultra
Hayward Pool Vac Ultra
The Hayward Pool Vac Ultra hydraulic pool cleaner has been designed to clean flat pool floors.
Its connection is easy, simply fit the cleaner's pipe to the brush adaptor or skimmer of your pool (this cleaner is operational without a booster pump).
An ultra wide suction mouth efficiently collects debris for faster cleaning.
This unit is equipped with a guiding system called
Aquapilot
to completely clean your pool in 2h30.
Very quiet in operation, you benefit from a dependable unit, with few wear and tear components.
You can opt for the leaf catcher, available on option, to avoid the clogging of your pool filtration system.
Technical features
Minimum pool pump capacity
1hp
Motorisation
Pool filtration system
Installation
Skimmer or brush adaptor
Debris collection
Leaf catcher and pool filter
Trajectory
AquaPilot® guiding system
Type of impurities
Dust, sand, gravel, leaves
Connection schema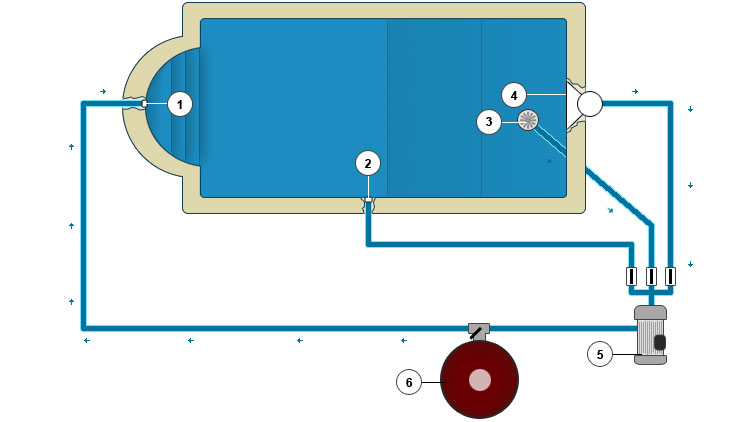 Discharge nozzle (possible to connect unit) (
1
), Brush adaptor (
2
), Main drain (
3
), Skimmer (
4
), Pool pump (
5
), Filter (
6
).
Warranty
2 years
Photos non-contractual
Price incl. VAT
Ask for a free quote hayward pool vac ultra
Other product : Hayward Pool Vac Ultra
At best price 349 eur Including VAT.
Please fill in this form carefully. Our commercial service will handle your request promptly.
---
UK freephone hotline
Monday Friday 9.00 19.00, Saturday 10.00 18.00

---
Spare parts order
You are looking for a spare part for «Hayward Pool Vac Ultra» ?
Please click the button below. Our commercial service will handle your request promptly.