Limpido XC LAB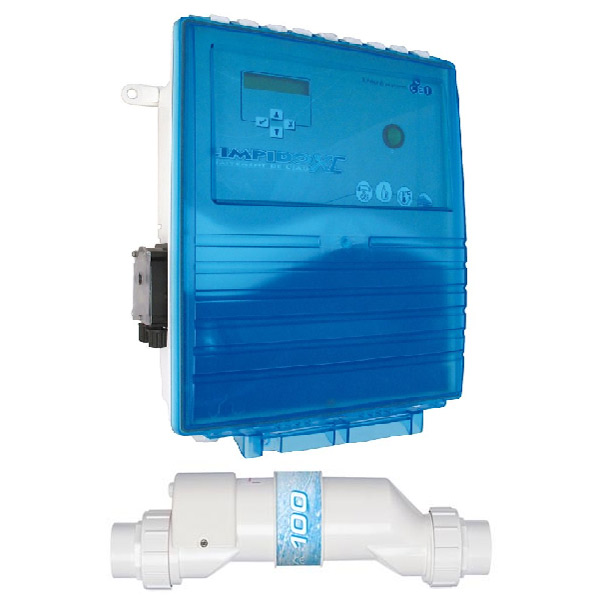 Recommended retail price 2023 starting from :
Our Price starting from :
Ref. Abatik 014515
Ref. Provider PF10I041
Limpido XC LAB 60 electrolyser
Salt electrolyser
Automatic pool cover detection
Integrated pH regulation
Self-cleaning system by polarity inversion
Pool treatment up to 100m3
In stock
The Limpido XC LAB is a totally automated water treatment system
combining electrolysis with pH regulation.

Designed for persons who wish to enjoy their pool without having
concerns of excess or lack of chemical treatment products.
Ideal for secondary residences.

When using the Limpido XC LAB, water treatment maintenance
is automated, even during your absence.

The XC LAB features a detector to know when your automatic
pool cover is closed, economically adjusting chlorine production
depending on water temperature and UV exposure.

This electrolyser requires a by-pass installation on the hydraulic
circuit.


Operational system
ELECTROLYSIS


Two models are available : the XC LAB 60 can treat pools
up to 60m3, XC LAB 100 can treat pools up to 100m3.

The module features all the management and security
settings of the electrolyser.

4 buttons to program the unit and an LCD 16 character
display showing all relevant information.

On/off switch (a), LCD display (b),
Program buttons (c).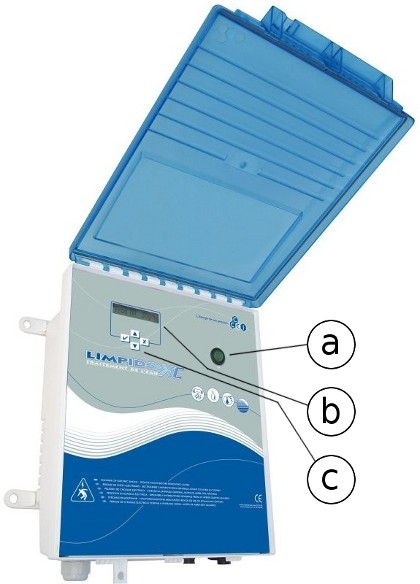 The Limpido XC LAB uses a cell with massif titanium plates coated
with ruthenium oxide ensuring an excellent lifespan, limiting maintenance operations.

To protect your unit, the Limpido XC LAB uses a flow detector that interrupts
operation in the absence of water circulation through
the electrolyser's cell.
This feature avoids all risk of hydrogen gas accumulation or
overheating of the unit.

The Limpido produces chlorine only during filtration cycles.
During chlorine production, there are two stages
- normal and inverted.

These cycles alternate electrode polarity, avoiding limescale
deposits and guaranteeing a quality chlorine production
and long life for your material.

Following each filtration cycle, the Limpido XC LAB electrolyser
stops immediately.
When filtration starts a new cycle, the electrolyser is actioned
at the same point at which it was interrupted.

This operating method allows the unit to guarantee an equal
production time even in the case of a power cut ensuring the
best possible descaling of your cell.

The quantity of chlorine needed in a pool rises with the temperature
and water pH which is the reason why the Limpido XC LAB is equipped
with a pH regulator.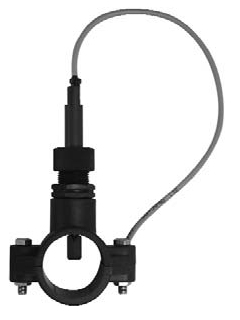 PH regulation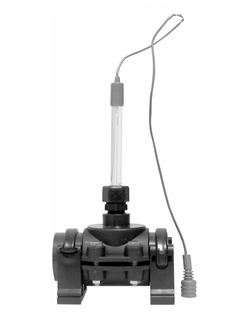 Water is neutral at a pH level of 7. For swimmers comfort,
the efficiency of treatment and the dependability of the installation,
pH should be maintained between 7 and 7,6.

The Limpido XC LAB uses a sensor that measures water pH.
Depending on the obtained measure, a dosing pump can be actioned
to correct pH by injection. This procedure maintains pool water limpid
and healthy, with minimum maintenance.

The XC LAB uses 4 pre-determined ranges 7/ 7,2/7,4/7,6. Just calibrate
the sensor when you put the unit into use for the first time.
The unit should be positioned so that its extremity is situated halfway
deep in pipework to be constantly immersed.

To maintain the sensor when out of use, we recommend that it is kept in an
aquatic solution.
The advantages of the Limpido XC LAB

Environmentally friendly

- Economical and ecological system reducing the regular use of disinfecting products.
You can make economies by means of the adjustment of chlorine production depending
on water temperature and the detection of an automatic pool cover..

Peace of mind
- Independant treatment system, you no longer have to worry about lack or surplus of chemical
treatment products. The maintenance of your water is entirely automated even during your absence.

Swimming comfort
- When using this unit, you no longer have to manipulate chemical products or deal with a surplus of chlorine
: no more skin and eye irritations.
Technical characteristics
Maximum chlorine production
30g/h
Cell maintenance
by polarity inversion
Maximum consumed power
90w
Maximum pressure in cell
3 bars
Maximum flow through cell
22m3/h
Electrodes
Massif titanium plates coated with ruthenium
Pump
Peristaltic with a flow of 1,5l/h
Temperature measure
from 0 to 40°
Precision of temperature measure
0,2°
Dimensions of module
290 x 350 x 150mm
Power supply
single-phase 230v/50Hz
The electrolyser kit includes :
- 1 Limpido XC LAB module
- 1 electrolytic cell with integrated temperature sensor
- 1 flow switch
- 1 nipple connection 3/4 / 3/4
- 1 POOL-TERRE electrode
- 3 ø50mm paddle clamps / 1/2"
- 1 ø50mm paddle clamps/ 3/4"
- 1 analysis kit (chlorine, pH, TAC, Saline, Stabilising)
- 1 users manual
- 1 buffering solution pH7 and 1 pH9
- 1 pH sensor
- 1 sensor support
- 1 injector
- 4m of crystal tubing
- 1 suction sieve for pH tray
Warranty
2 years
Photos non-contractual
Price incl. VAT
Ask for a free quote limpido xc lab
Other product : Limpido XC LAB
Starting from 1669 eur Including VAT.
Please fill in this form carefully. Our commercial service will handle your request promptly.
---
UK freephone hotline
Monday Friday 9.00 19.00, Saturday 10.00 18.00

---
Spare parts order
You are looking for a spare part for «Limpido XC LAB» ?
Please click the button below. Our commercial service will handle your request promptly.