POOL PILOT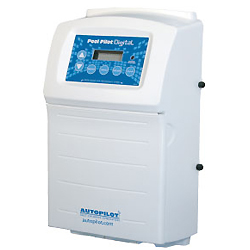 Recommended retail price 2023 starting from :
Our Price starting from :
Ref. Abatik 000646
Ref. Provider DIG-220+94105M
POOL PILOT, Digital, for a maximum pool volume of 130 m³
Operates with 2,5gr/l of salt
Self-cleaning using polarity inversion
For pools up to 192m²
In stock
Operational method
Your pool water is pre-salted (2,5 grams of salt per litre of water is dissolved in your pool) to allow the procedure of electrolysis to be effectuated when water passes through the unit's cell (using plates named Anodes and Cathodes), positioned on the filtration circuit. During this procedure, ions (sodium hypochlorite ) are created and act as a disinfectant, eliminating algae and bacteria contained in the pool water.
These ions will then transform to salt when exposed to the sun's ultraviolet rays.
A certain quantity of salt must be added to pool water at the beginning of the season as active properties are lost during pool maintenance operations such as backwash, purging...).
An electronic earth connection
eliminates "stray currents" that can be present in the pool. Stray currents can cause corrosion of metallic parts that are in contact with pool water if they are not made of "Marine" quality metal.
Polarity inversion
avoids limescale deposits inside the cell. The inversion system is designed with an alternative anode and cathode plates to eliminate deposits and auto-clean.
The microprocessor used with POOL PILOT offers unique advantages such as - One command unit with 3 cells, digital display diagnosis, automatic temperature compensation of self-cleaning cell, low salt content in water (2,5 gr/l), patented bypass system. A pool electrolysis system that uses polarity inversion.
The POOL PILOT system includes
The command module:

The command module permanently controls the chlorine level in your pool via a digital display when unit cells are connected to the power supply. Position the command module on a vertical surface protected from excessive heat or dampness. Requires protection from frost and lightning.
A: Digital: Command module with digital display.
Command module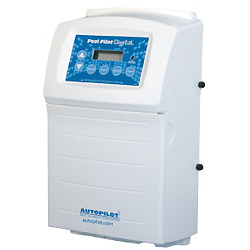 POOL PILOT electrolysis system:

1. The filter:
The filter protects the electrolytic cell and TRI SENSOR against debris that can obstruct components. Its position in the unit allows easy periodical cleaning.

2. TRI SENSOR:
The sensor (or probe) ensures the measurement of three principal elements that can stop the cell from operating correctly under unfavourable conditions:

-The presence of a water flow equal to 3,4 m³/h.
-A salt content present in water in the range of 2500 - 3500 ppm (2,5 - 3,5 gr/l).
-Water temperature over 10°C for chlorine production.

3. The electrolytic cell:
Receives a low tension continual current sent from the command unit that actions the electrolytic process, which transforms regular salt into sodium hypochlorite (liquid chlorine) 100% pure, to cleanse the pool water.
4. Automatic regulating valve:
Installed on "by-pass" allowing the automatic regulation of water flow to optimise the POOL PILOT system.
POOL PILOT electrolysis system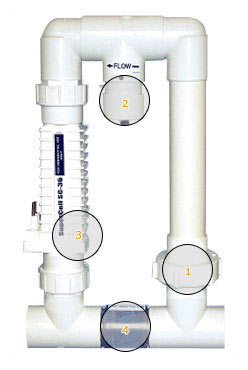 It is important to position the cell after all other equipment on the hydraulic circuit (heater, filter etc...)
The POOL PILOT system is installed in patented automatic bypass pipework . Tri-sensor connections and cell are supplied with the system. Ensure the pipework is situated at the correct distance from the control module. The unit's digital display supplies all the information required for the maintenance and operation of the system. Setting programs are memorised by a microprocessor and timeclock, saved on a CR-2025 lithium battery.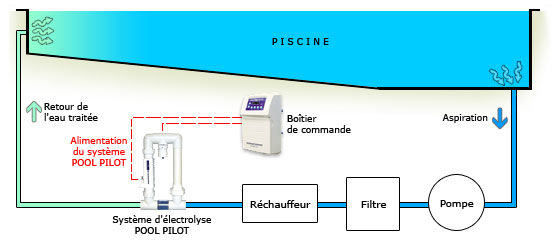 Installation schema of POOL PILOT system
Guarantee : 2 years
Warranty
2 years
Photos non-contractual
Price incl. VAT
Ask for a free quote pool pilot
Other product : POOL PILOT
Starting from 1565 eur Including VAT.
Please fill in this form carefully. Our commercial service will handle your request promptly.
---
UK freephone hotline
Monday Friday 9.00 19.00, Saturday 10.00 18.00

---
Spare parts order
You are looking for a spare part for «POOL PILOT» ?
Please click the button below. Our commercial service will handle your request promptly.