MAMBA XS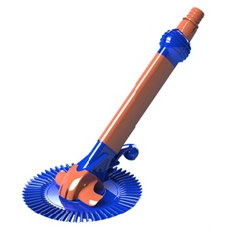 The MAMBA XS hydraulic pool cleaner is specific for above ground pools and is installed in a few minutes, without tools and without any modification to your pool.

This pool cleaner functions with suction power sourced from the flow of the filtration circuit. The suction pipe simply connects manually to the skimmer or brush adaptor using the universal connector supplied with the unit.

Standard pool cleaners need a minimum water depth of 1m to operate. This pool cleaner can work from a depth of 0.70cm.
Furthermore, the reduced dimensions of the MAMBA XS give it the advantage of being able to operate in above ground pools with low flow pumps and pressure up to ½hp.

Robust, the MAMBA XS pool cleaner is constructed from ABS and TPU and so is resistant to chemical treatments and temperature variations.

The Mamba XS automatic pool cleaner is delivered with multiple connectors for above ground pools.
Photos non-contractual
Price incl. VAT
Ask for a free quote mamba xs
Other product : MAMBA XS
At best price 98 eur Including VAT.
Please fill in this form carefully. Our commercial service will handle your request promptly.
---
UK freephone hotline
Monday Friday 9.00 19.00, Saturday 10.00 18.00

---
Spare parts order
You are looking for a spare part for «MAMBA XS» ?
Please click the button below. Our commercial service will handle your request promptly.